Romtec designs, manufactures, supplies, and constructs buildings and shelters for all types of parks and recreation applications across the nation. Many of our building products are constructed with durable and economical concrete, CMU blocks. Concrete construction materials are time-tested for reliable use in many different construction scenarios. As experts and innovators in our industry, Romtec offers a unique style of CMU block we developed called Dry-Stack Block. Our dry-stack block is a great material for the construction of any building, and here are some of its advantages.
Concrete block walls require grout layers or mortar joints between each block run. The grout binds each block layer together, but dry-stack block is able to be installed without a grout layer between the runs. Dry-stack block uses keyed joints that fit each block to the block at the sides and on top of the run. This creates a custom fit that is much tighter and more structural that stacking standard CMU block. The dry-stack design allows buildings to be installed without grout layers, which can have advantages for building owners.
The first advantage of avoid a mortar joint is the cost associated with grout and installation times. When each block needs to be grouted or "buttered" as it is often called in the field, it takes time to apply and level the blocks. A skilled installer can do this quickly, but not every contractor is trained or experienced with concrete block construction. Dry-stack block makes this process much simpler, especially for contractors that do not have a lot of experience laying mortar joints. The other big advantage of no grout layer is the aesthetic of the wall. Grout lines appear different and age differently on a wall, especially on the interior of a restroom. Eliminating the grout layers makes the walls appear more solid and consistent. Some Romtec customers only use dry-stack because of its signature appearance.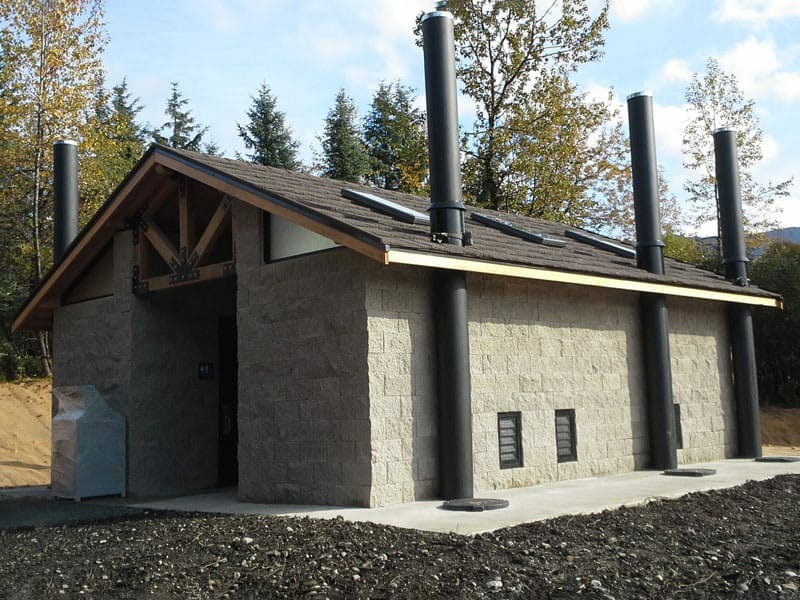 Dry-stack blocks provide the same strength as traditional CMU construction materials, and are often thicker than precast concrete units and materials. This provides customers and engineers with a reliable material that is well understood from a structural and durability standpoint. Dry-stack walls are easy to waterproof with many different sealants, paints, and epoxies readily available. Without a grout layer, dry-stack seals better to make waterproof surfaces that are easy to maintain and clean for the hygiene of the building.
Dry-stack block is a great construction material available through Romtec that can be consistently installed to high standards by most contractors nationally. With improvements to the speed and grout requirements, dry-stack block also can help building projects get completed quicker. It also offers a signature appearance that will enhance all types of public building applications. To learn more about our dry-stack block, contact Romtec today!