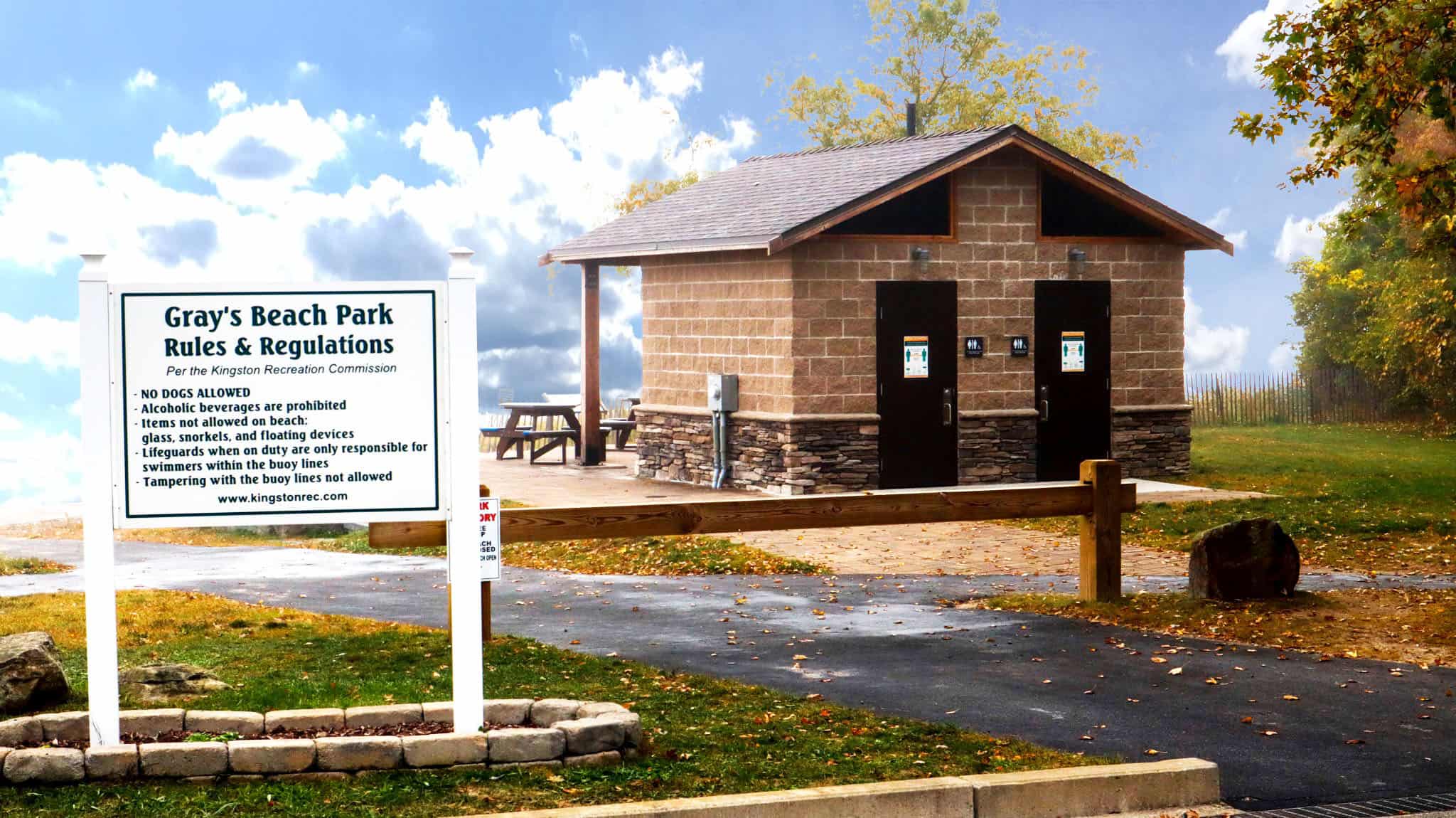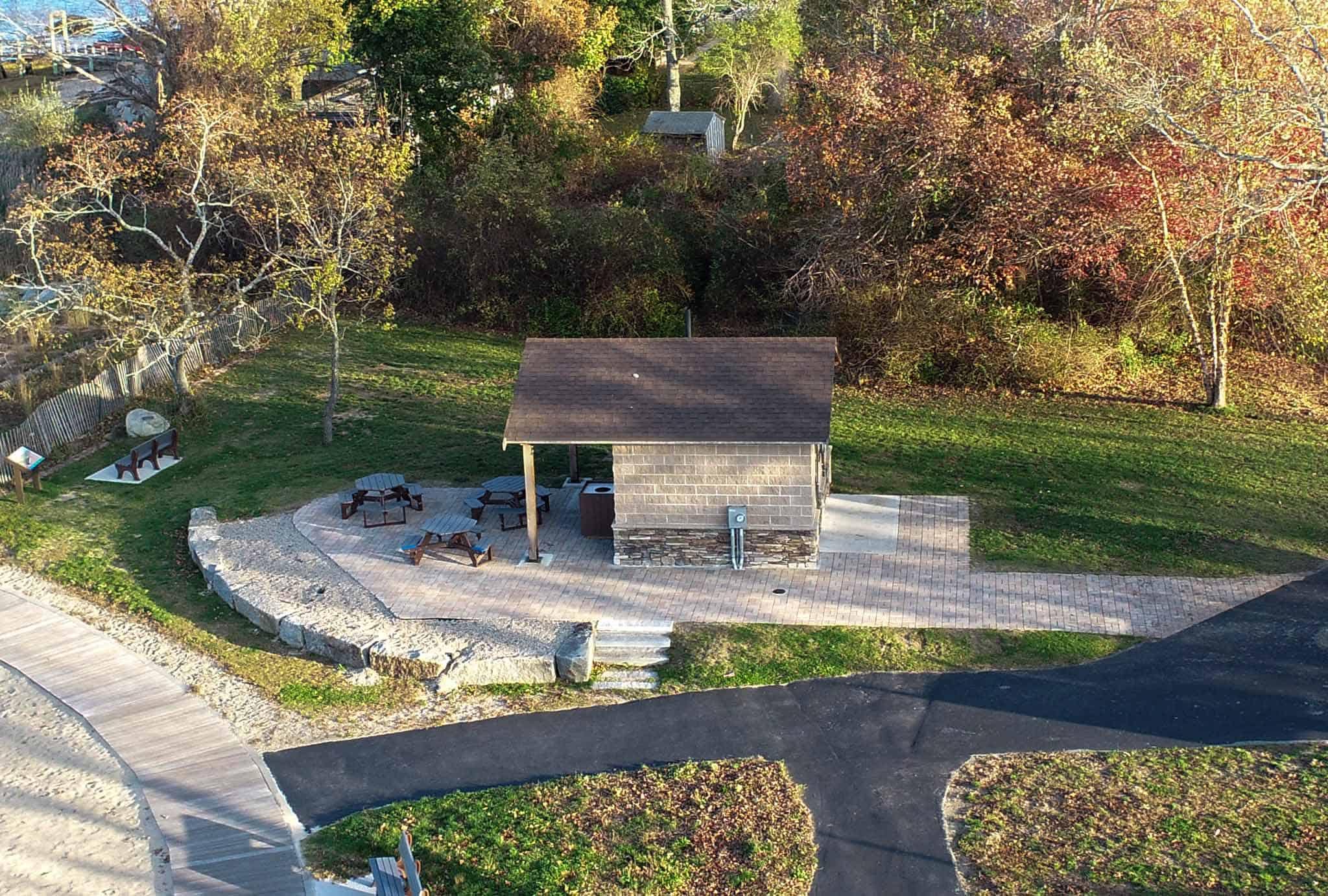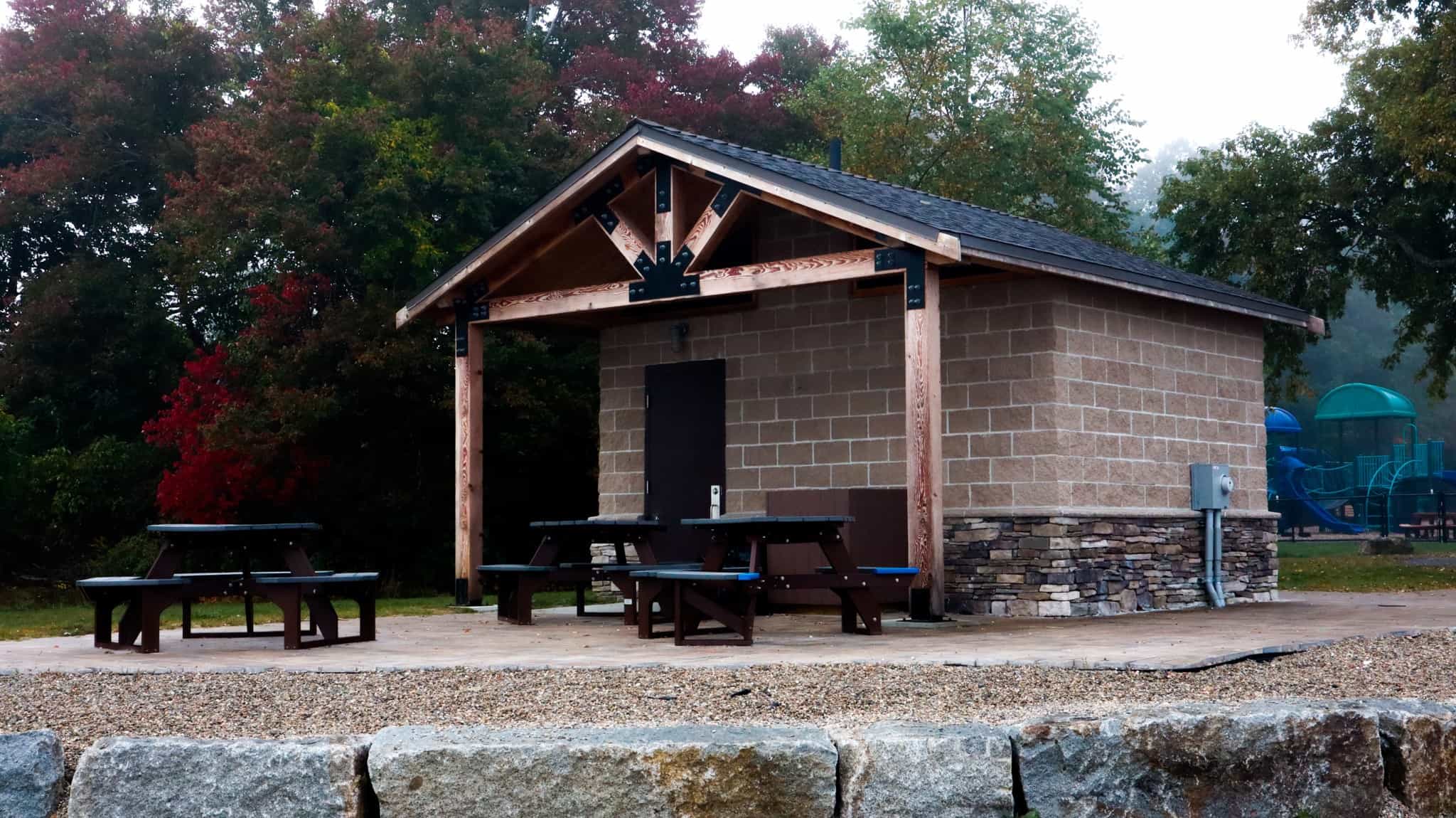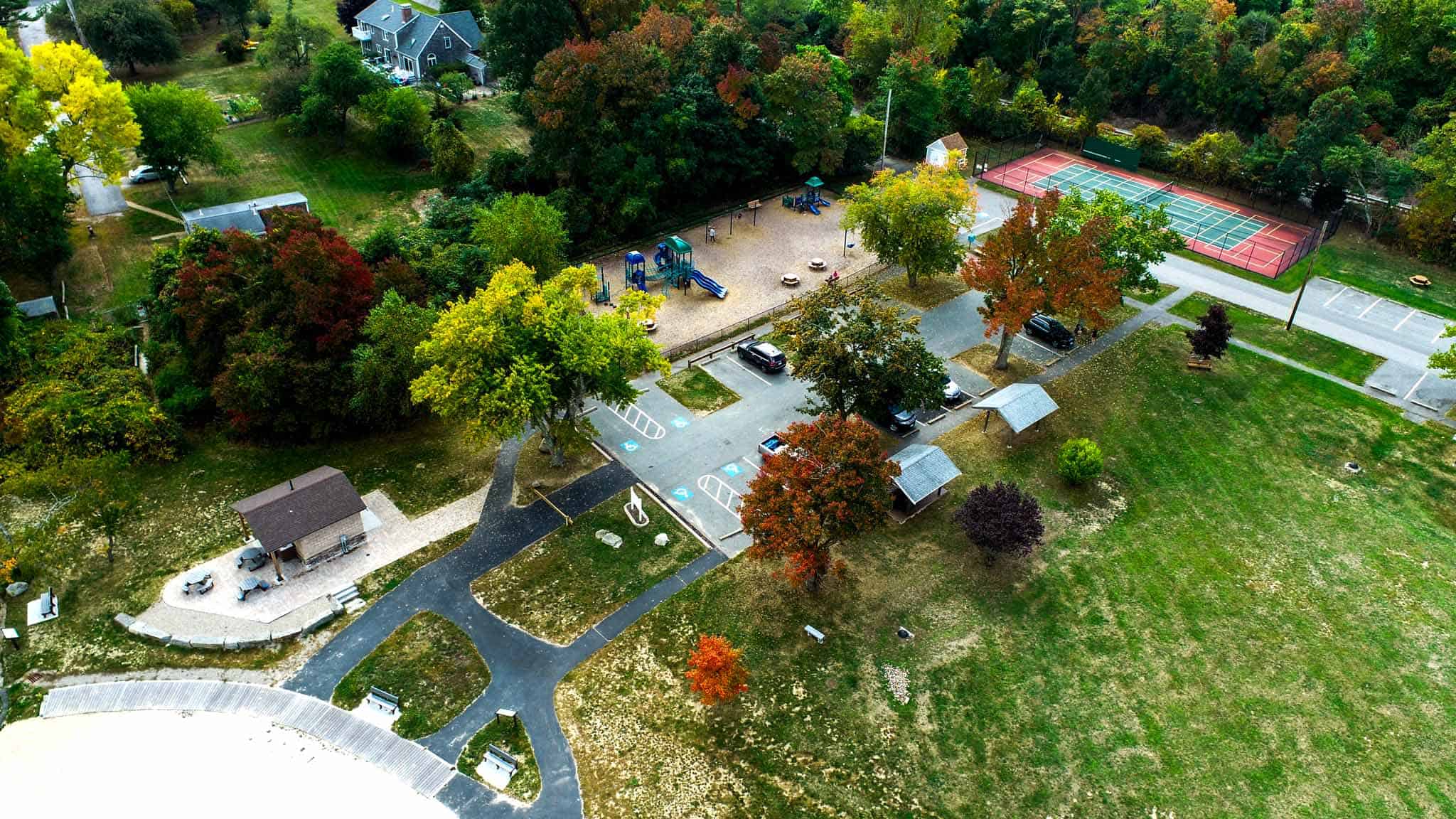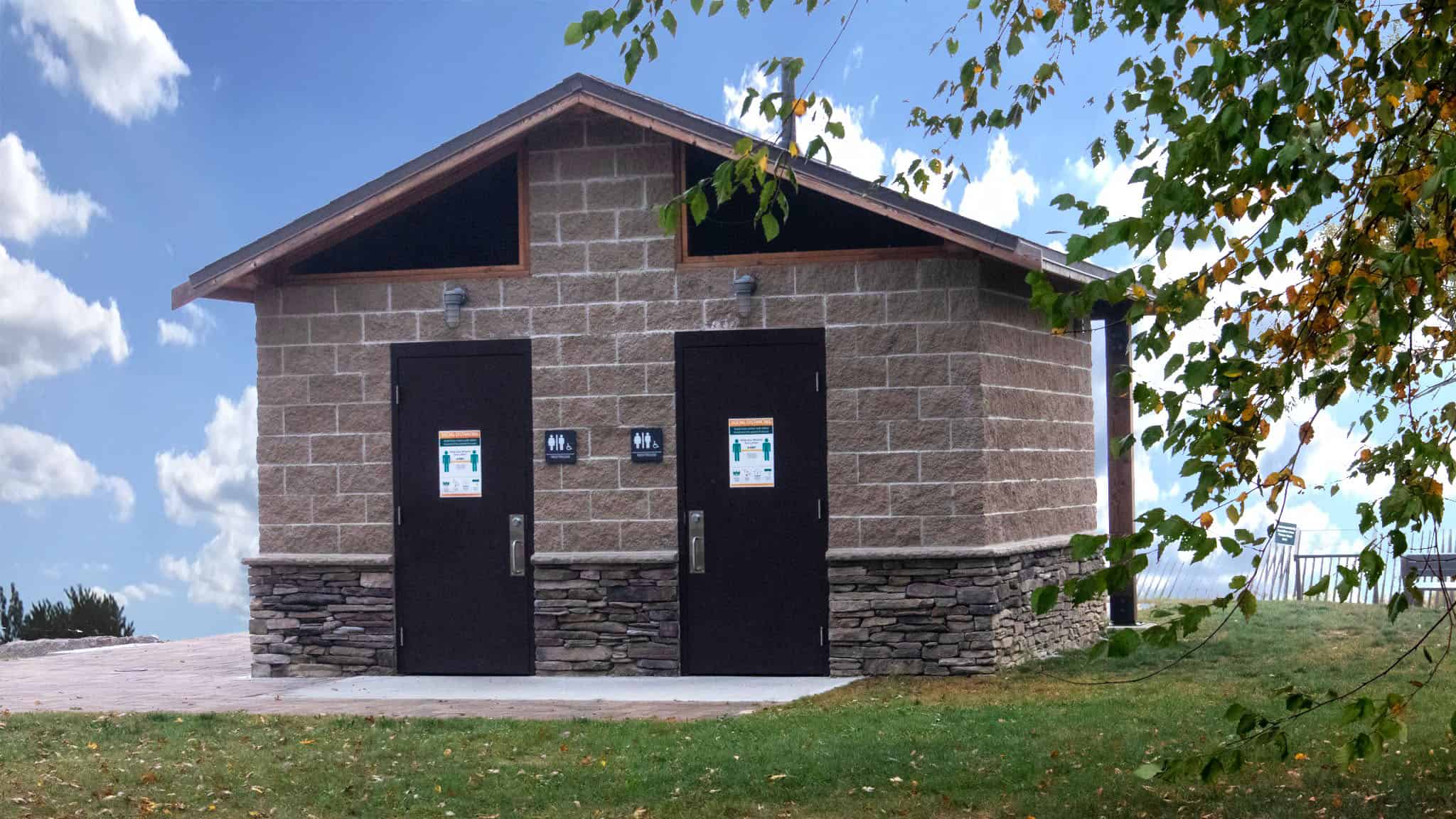 Grays Beach is a park that features beachfront, picnic areas, a pavilion, and a boardwalk above a saltwater marsh for visitors to enjoy. Located in Kingston, Massachusetts, this project is on the opposite side of the country from Romtec's headquarters. When the Town of Kingston came to us to purchase the restroom for the park, the distance was no issue; Romtec frequently supplies buildings nationwide, and works closely with our customers to coordinate the details of delivery to make the process as easy as possible.
The bathroom provided in this project consists of two unisex restrooms on the face of the building, and a mechanical room on the back; both restrooms are compliant with the American Disability Act (ADA) with room to maneuver a wheel chair and fixtures mounted at an ADA compliant height. The walls of the building are composed of split-face, mortar joint block in a Saddle Tan color, accented at the bottom by a stone wainscot, and with exterior wall mount lights for night visibility. While many of the buildings that Romtec supplies are metal-roofed, the Grays Beach Park restroom has shingle roofing in the color Teak and a Weathered Copper metal trim for a more subdued look. In each of the individual use restrooms are white china toilets and sinks; the sinks are equipped with chrome plated faucets, and visitors can dry their hands at the automatic hand dryers.
The Town of Kingston purchased a restroom that will suit the many types of visitors that enjoy their time strolling along the boardwalk marshes, playing along the beach, picnicking, watching the sunsets, and gathering with family and friends to enjoy a beautiful day outside. The subdued, natural tones and textures on the restroom building complement the landscape of the park and ensure that the beauty of the area is not interrupted by the addition of the building. Romtec would like to thank the Town of Kingston and the Zander Corporation for the hard work and cooperation provided throughout the project, and we hope to work with you again soon.