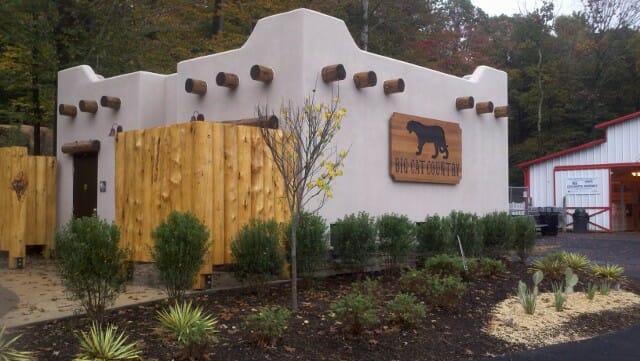 Stucco Siding
Stucco siding is a great low maintenance option that comes in many different colors to accommodate your aesthetic needs.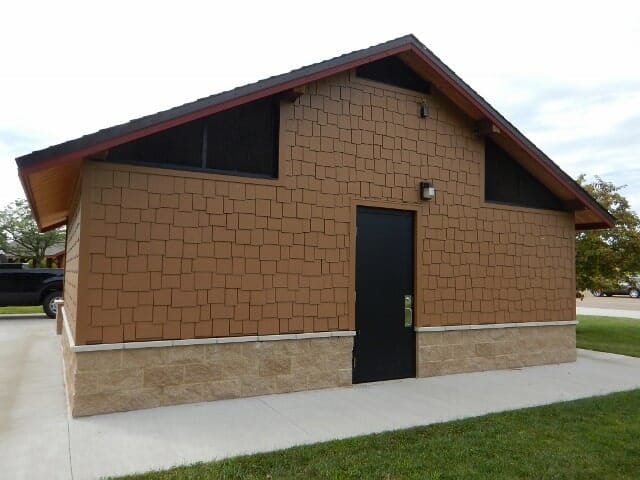 Hardie Shake Siding
Hardie Shake Siding is a shingle siding that is durable and requires low maintenance.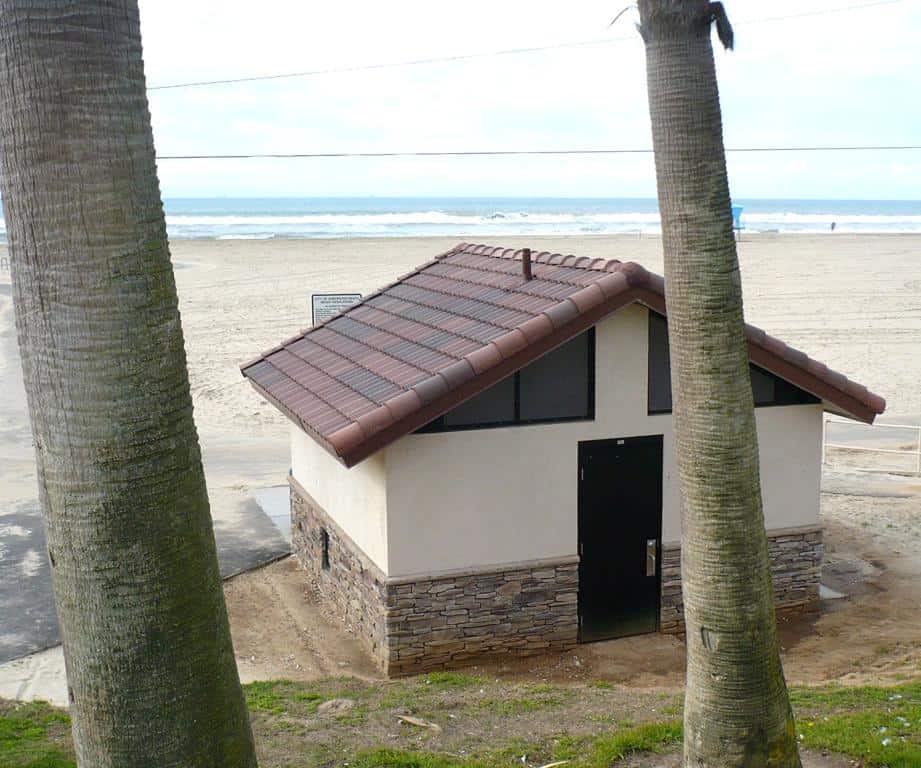 Tile Roofing
Ceramic tile is heat resistant and available in many shapes and natural colors.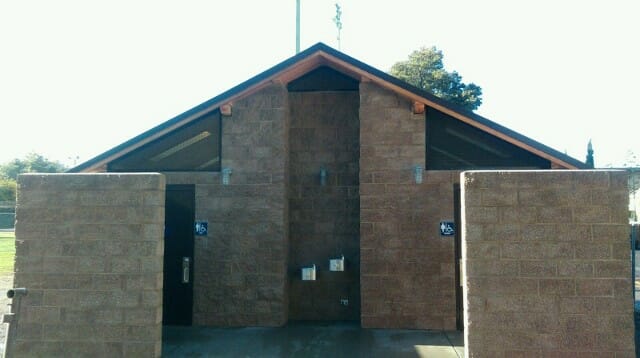 Block Privacy Wall
Privacy Walls obscure viewing angles into restroom entrances.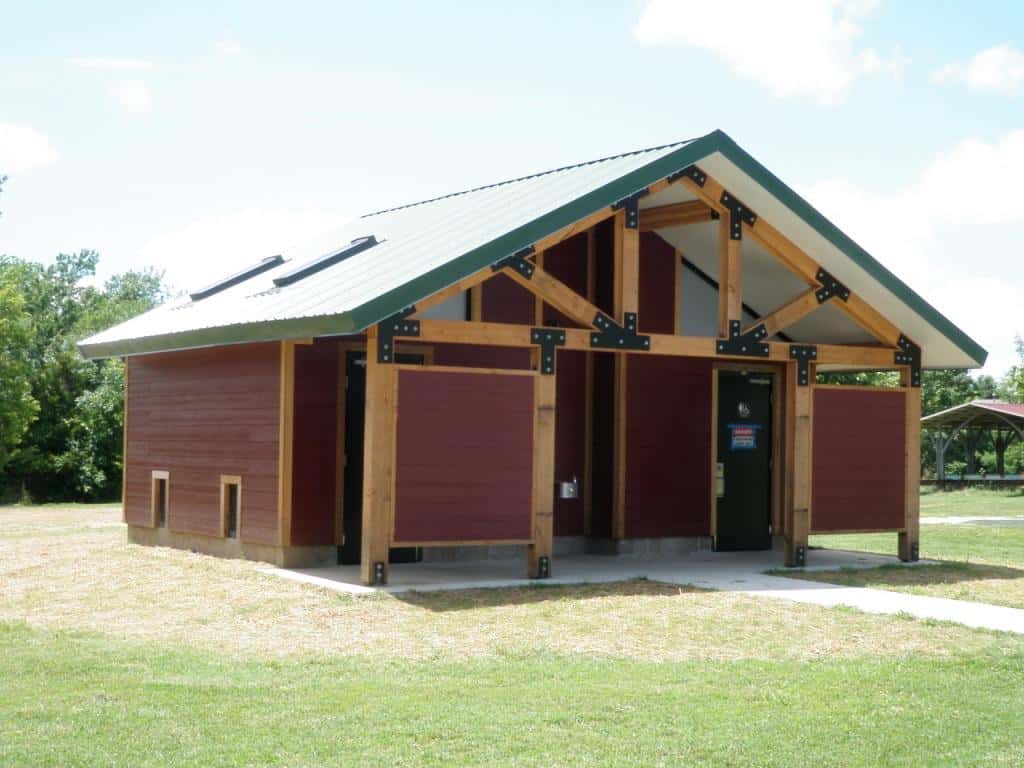 Timber Privacy Walls
These privacy walls are sleeker than concrete while still providing privacy.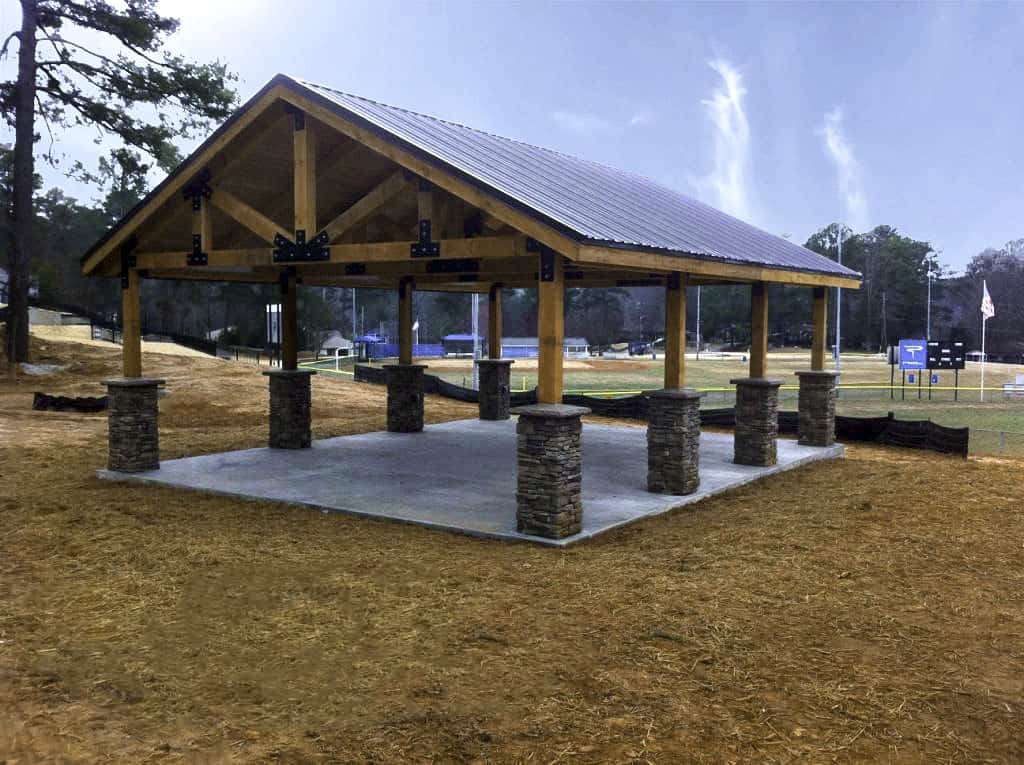 Stone Columns
Stone Columns offer a clean stone finish at the base of the structures' posts.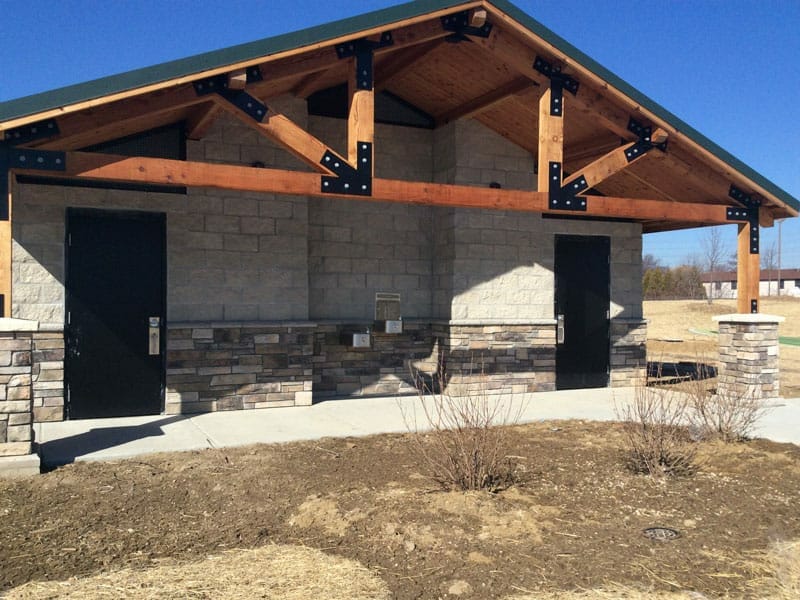 Roof Extension
Roof extensions offer cover for entrances and water fountains.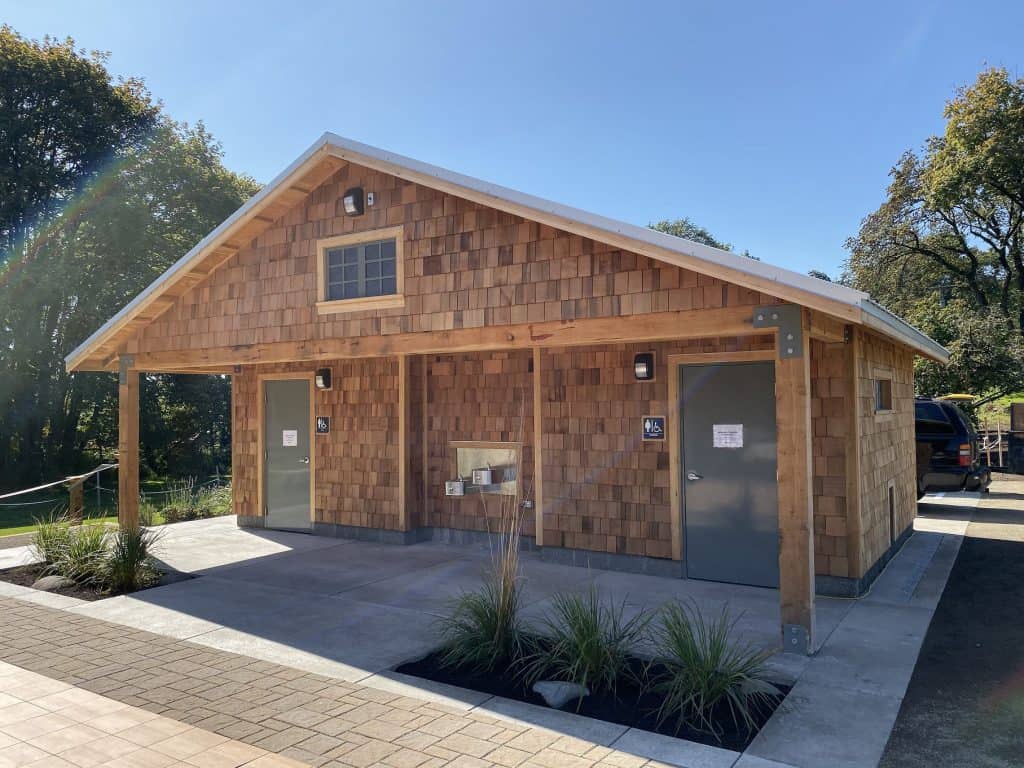 Cedar Shake Siding
Cedar shakes siding is installed in rustic overlapping rows over a moisture barrier.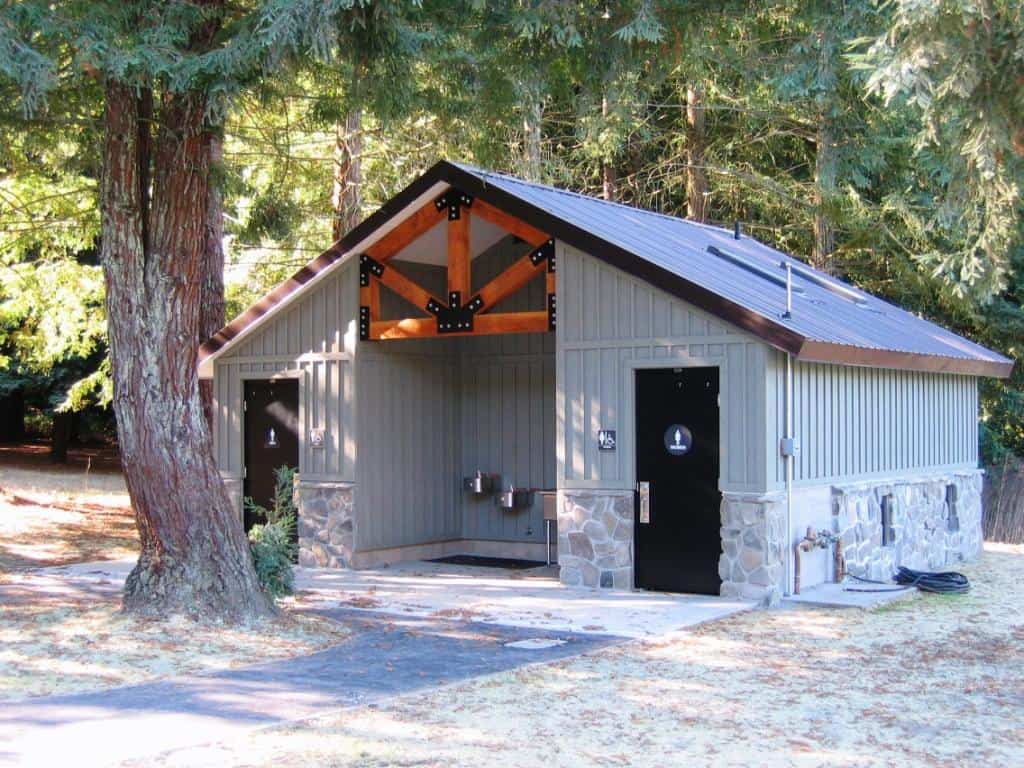 River Rock Wainscot
River Rock Wainscot adds a natural and inviting look to each building.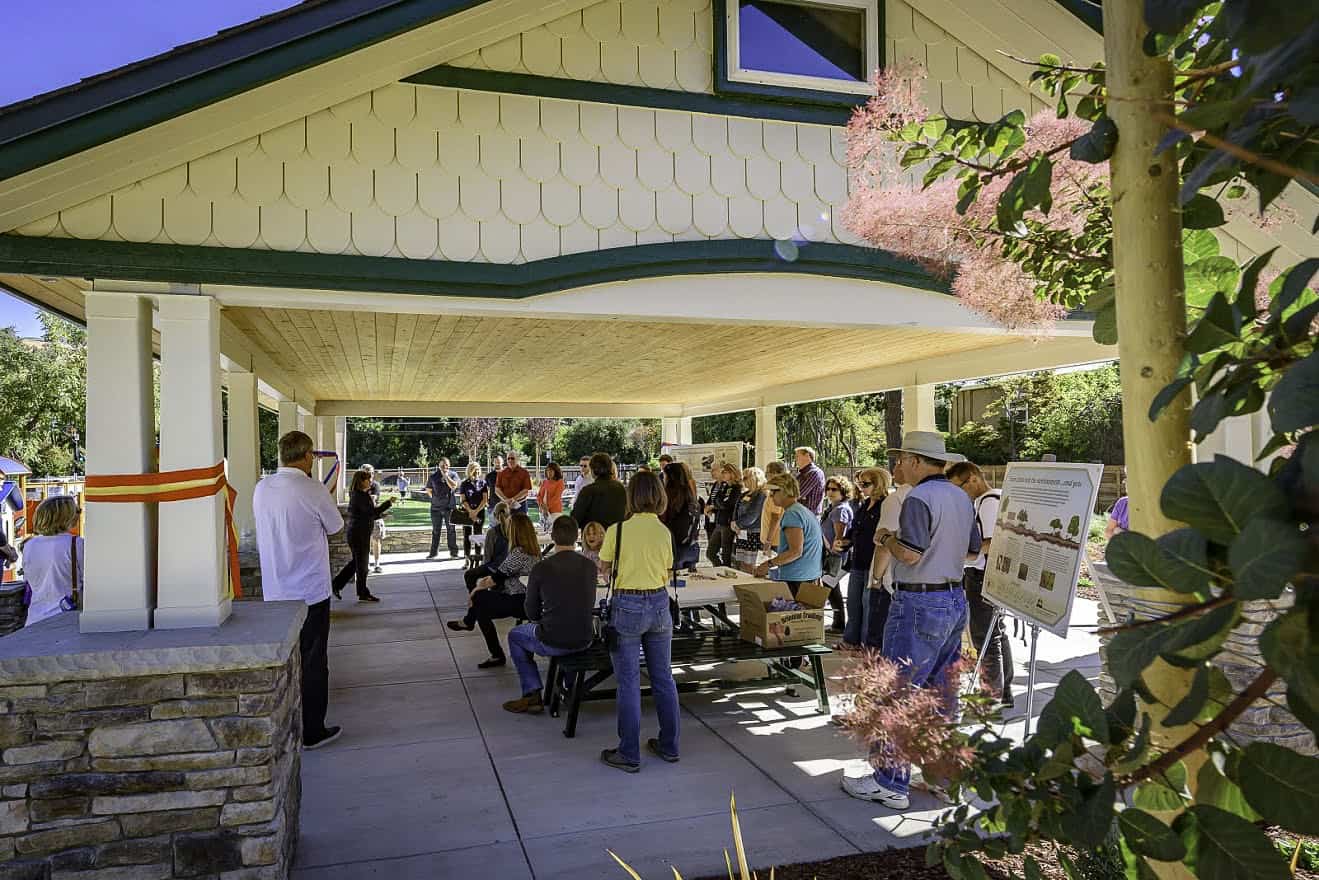 Fish Scale Siding and Fixed Windows
Fixed windows offer the design you want without the maintenance.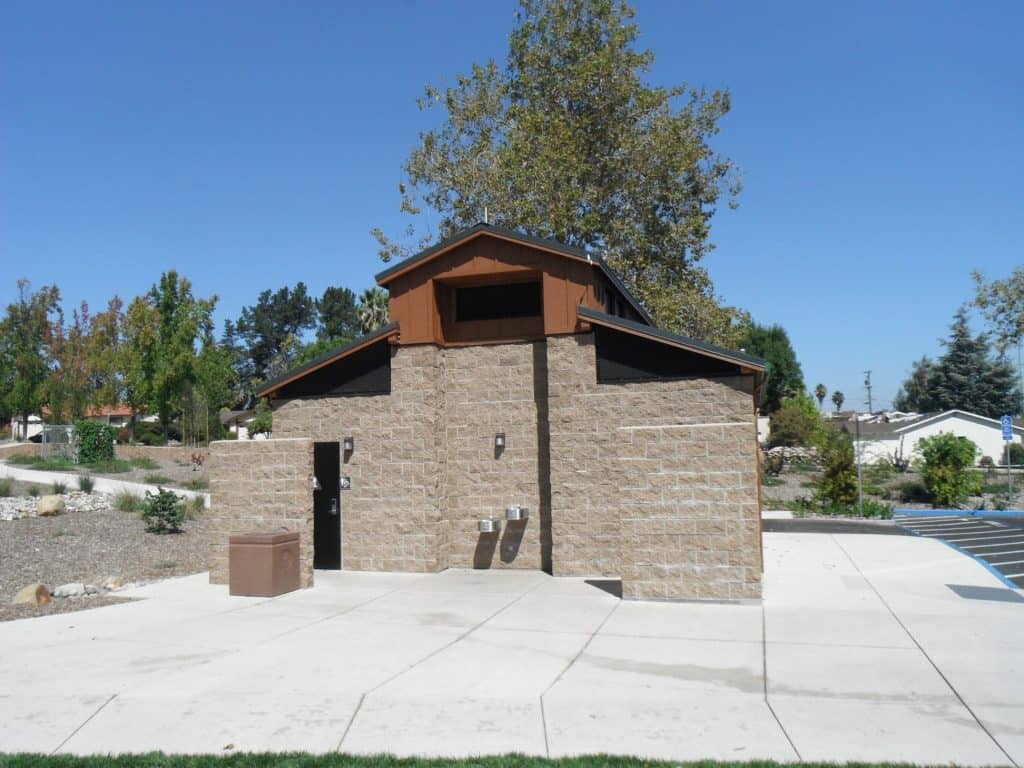 Multi-Tier Roof
Give your building character with a unique roof design.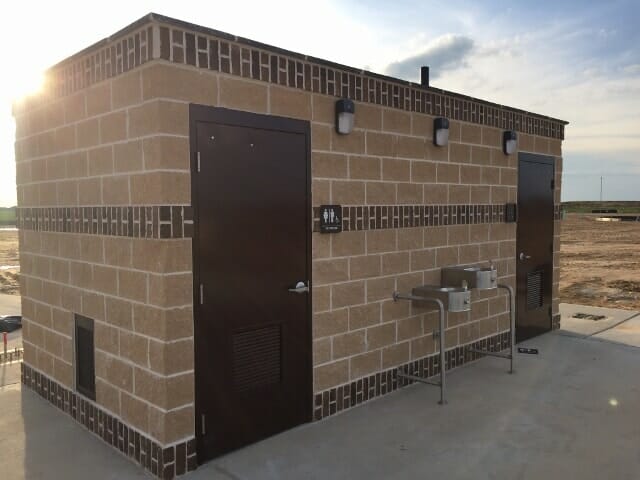 Flat Roof
A flat roof is easily installed and cost effective in maintenance and installation.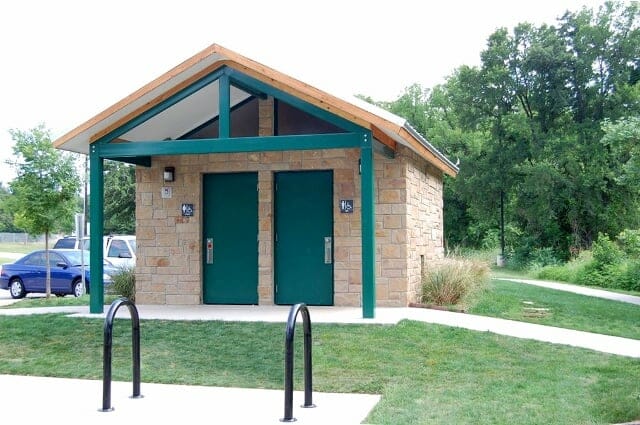 Steel Extension
Roof extensions offer covered entrances to buildings and shelter water fountains from weather.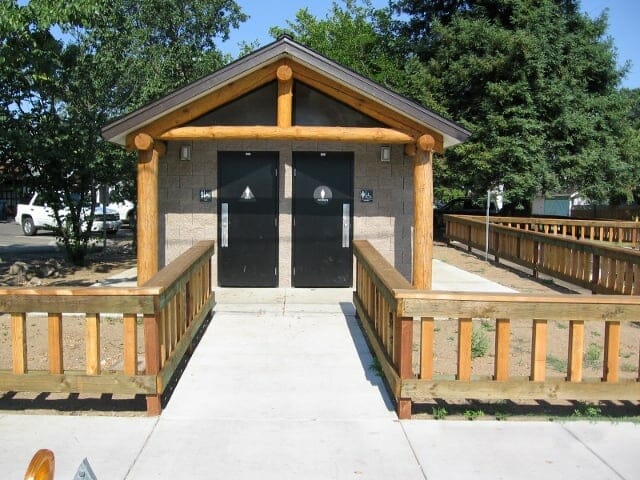 Log Roof Extension
Romtec offers custom Log extensions crafted at our facility out of Douglas Fir.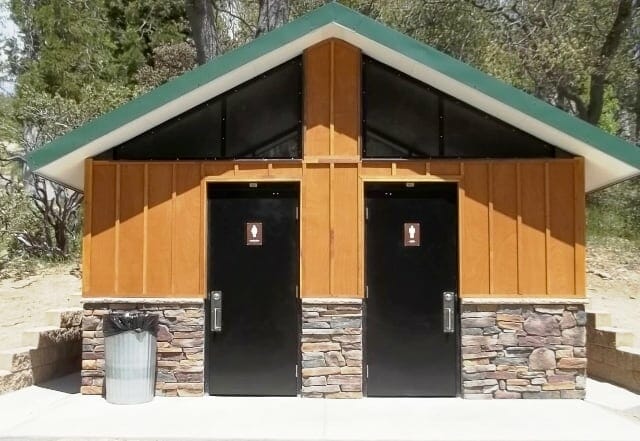 Cedar Board and Batten
Cedar Board and Batten siding is made up of vertical wood panels with battens over the joining seams.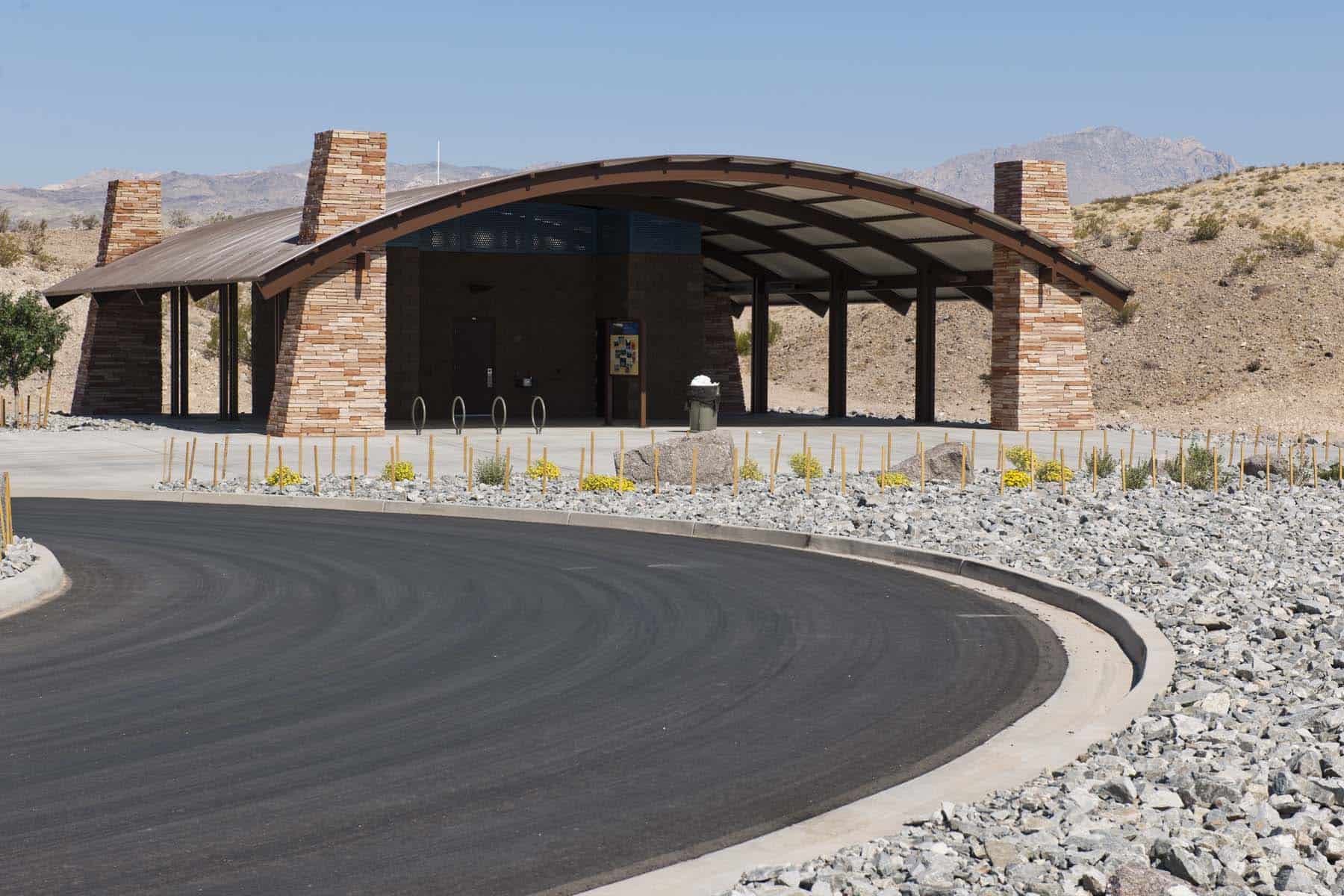 Dome Roof
A dome style roof can be a stylish addition to any building or structure.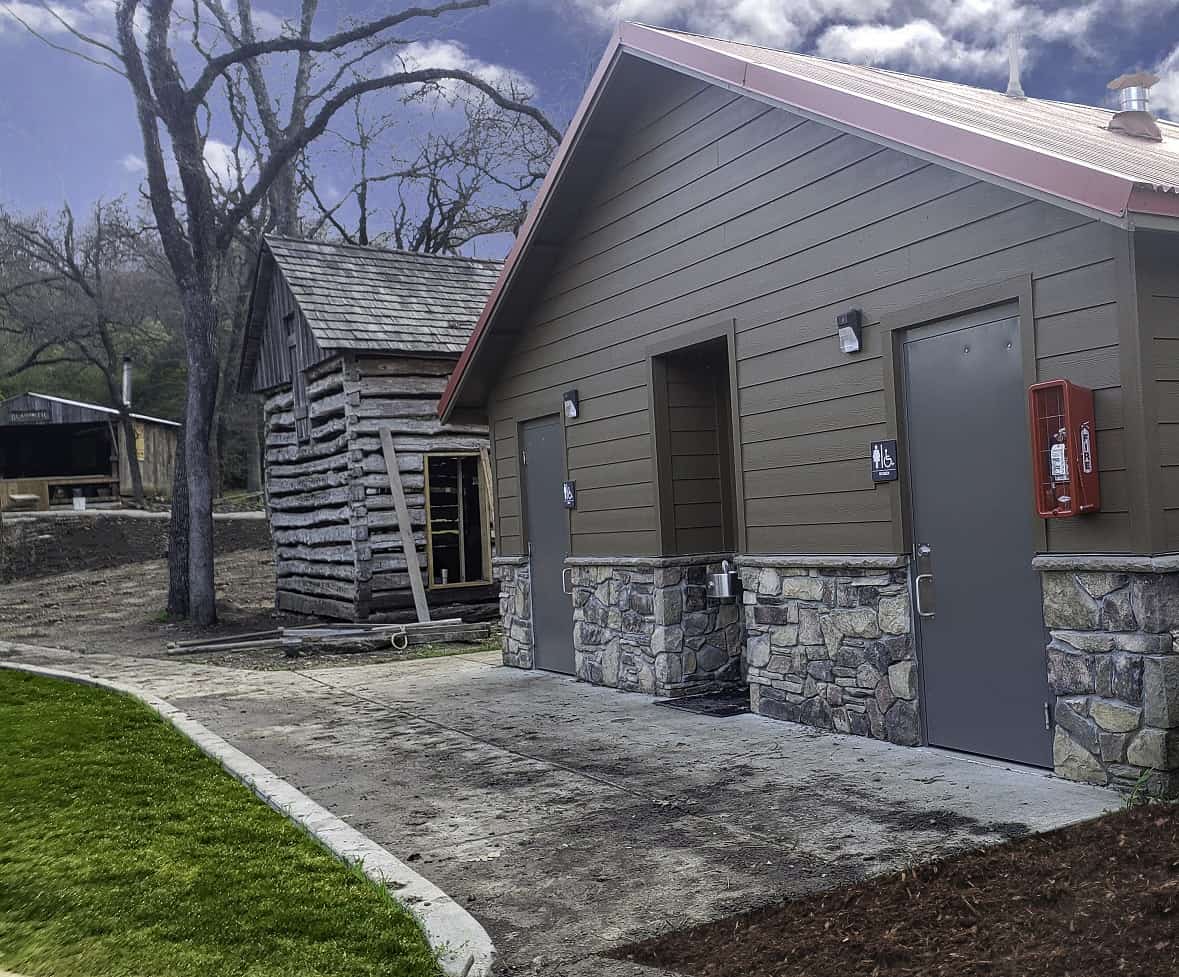 Hardi Lap
Hardi Lap Siding comes in a full spectrum of colors and textures.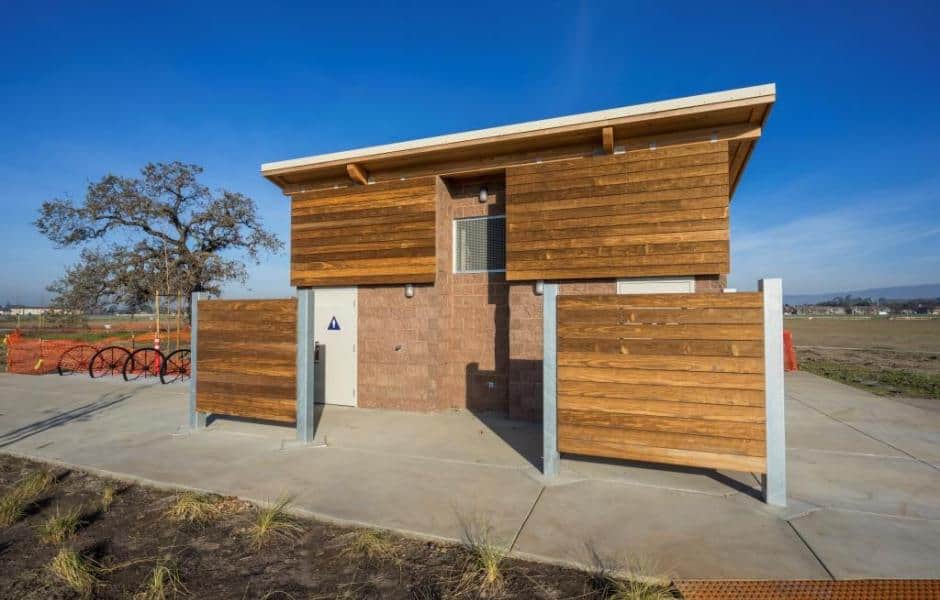 Cedar Boards
Cedar Boards can be a stylish addition to your project and can function as a rain screen.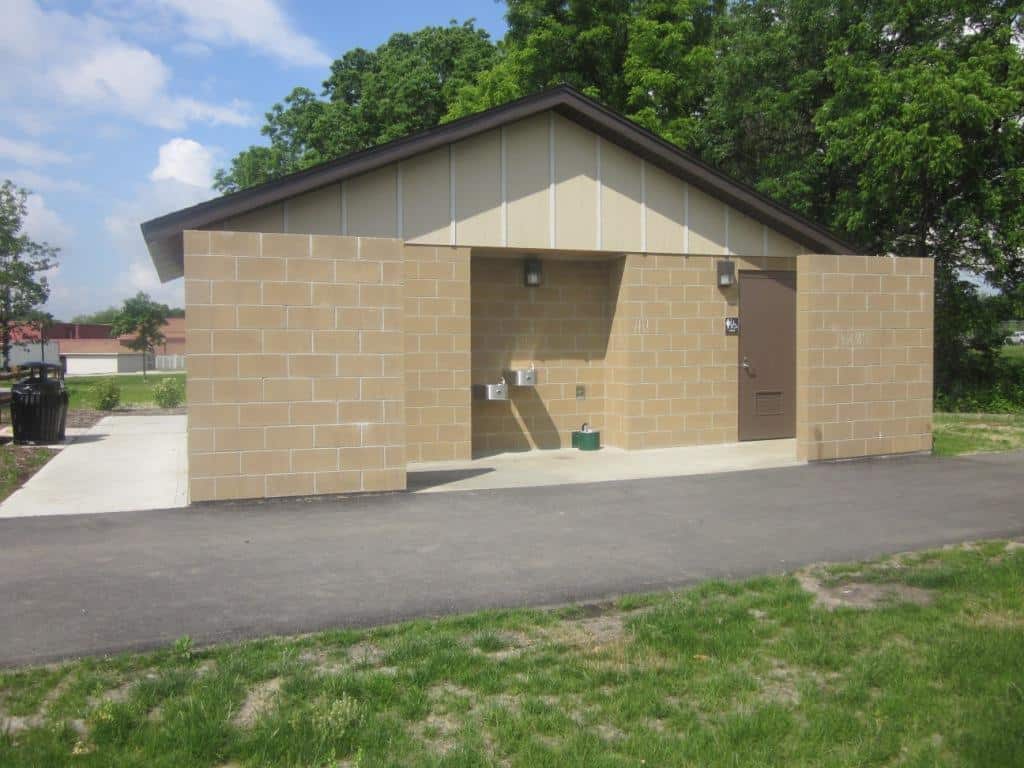 Tan Block
Standard CMU block walls manufactured with colored dyes and mortar.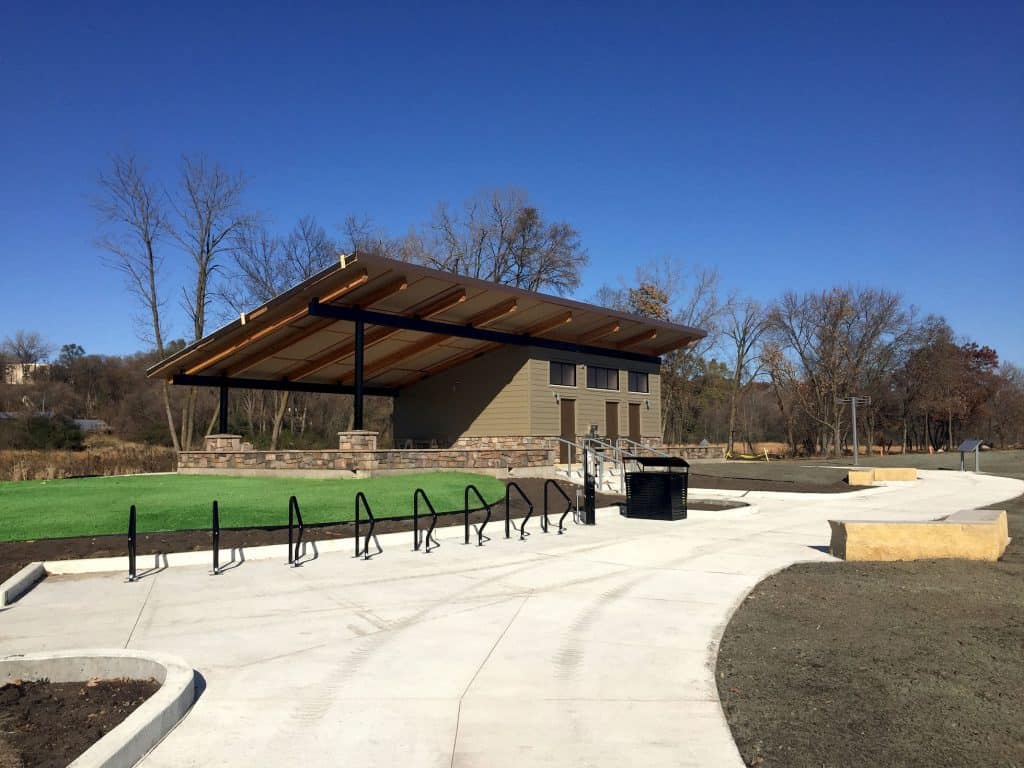 Single Slope Roof Extension
Single slope roofs only slope one direction for a sleek and modern style.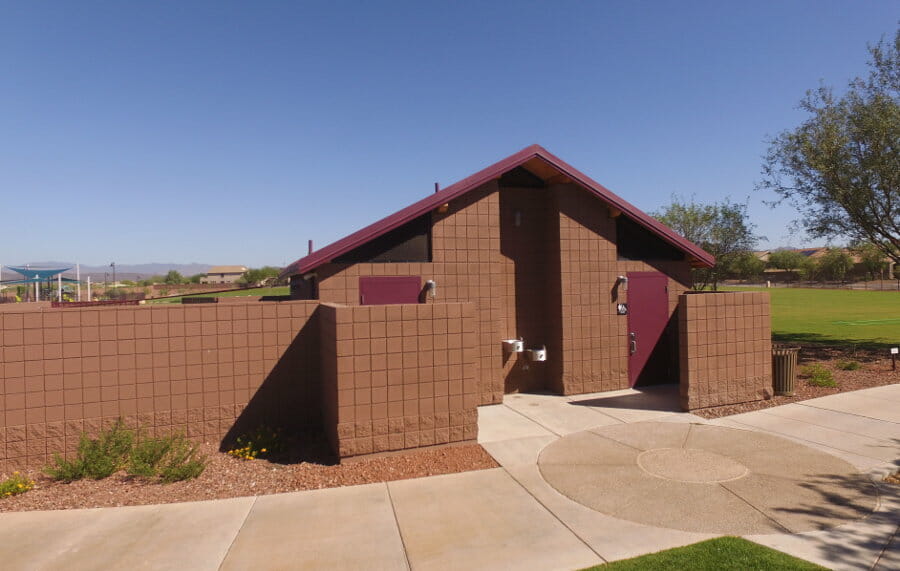 Multi-Textured Colored CMU Block
CMU block can be colored to fit your project needs and different textures can be combined for a unique design.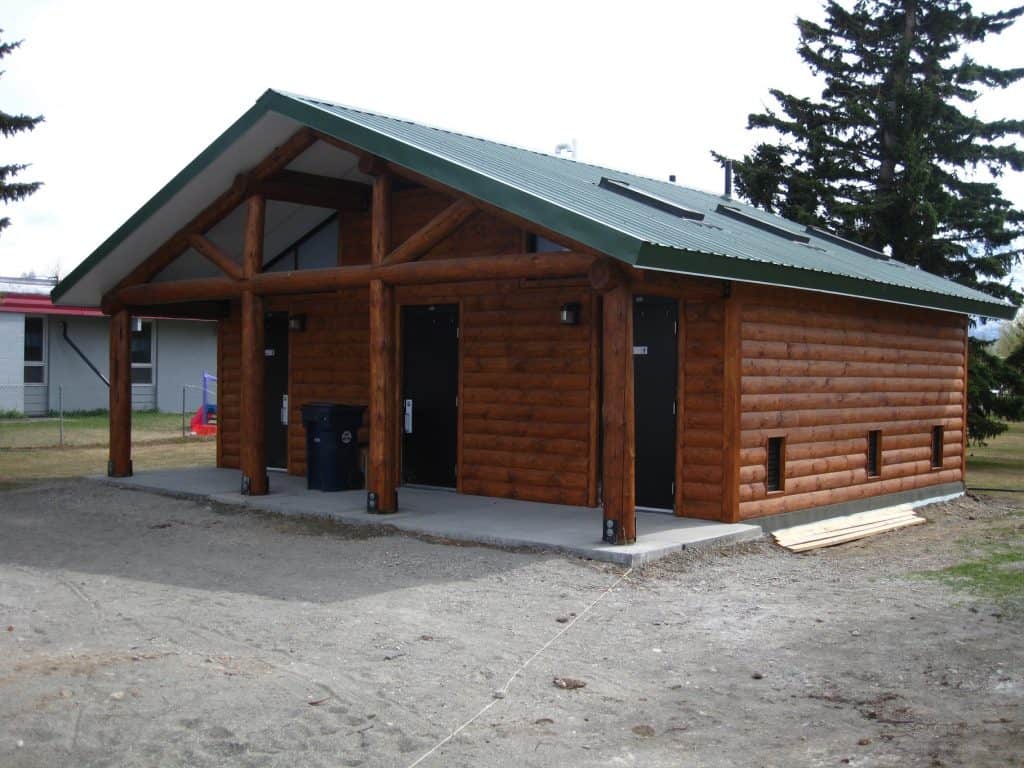 Log Siding
This real wood siding is milled with a log appearance and installed as lap siding.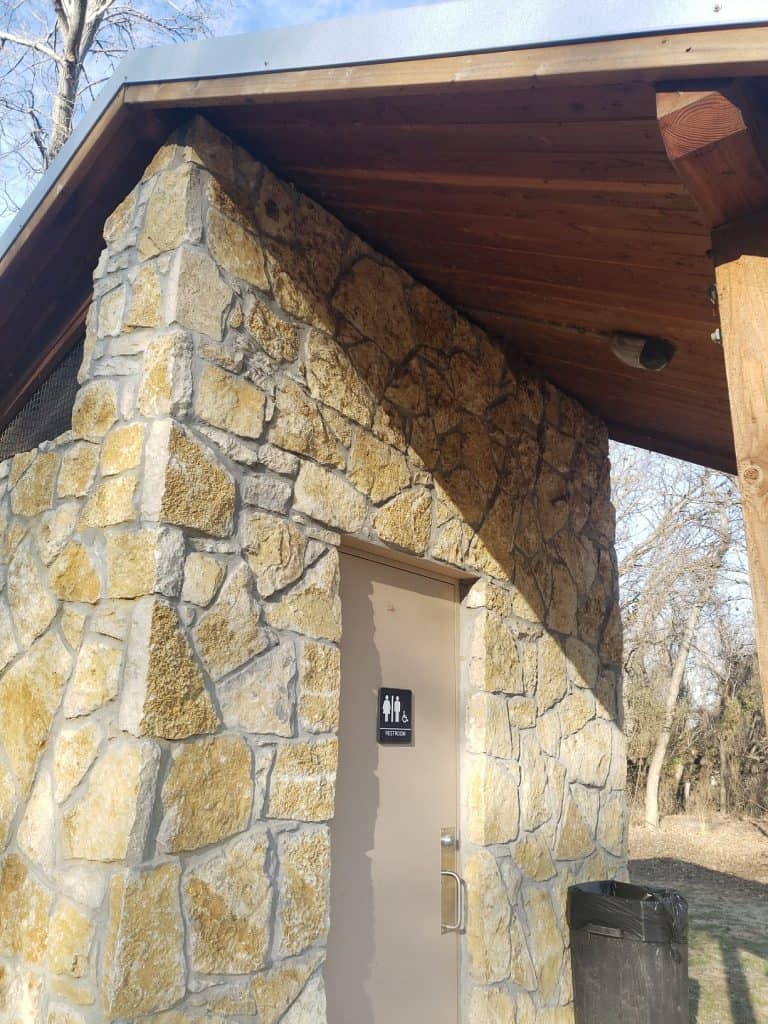 Stone Siding
Natural stone includes many options like river rock, lava rock, shale, or slate.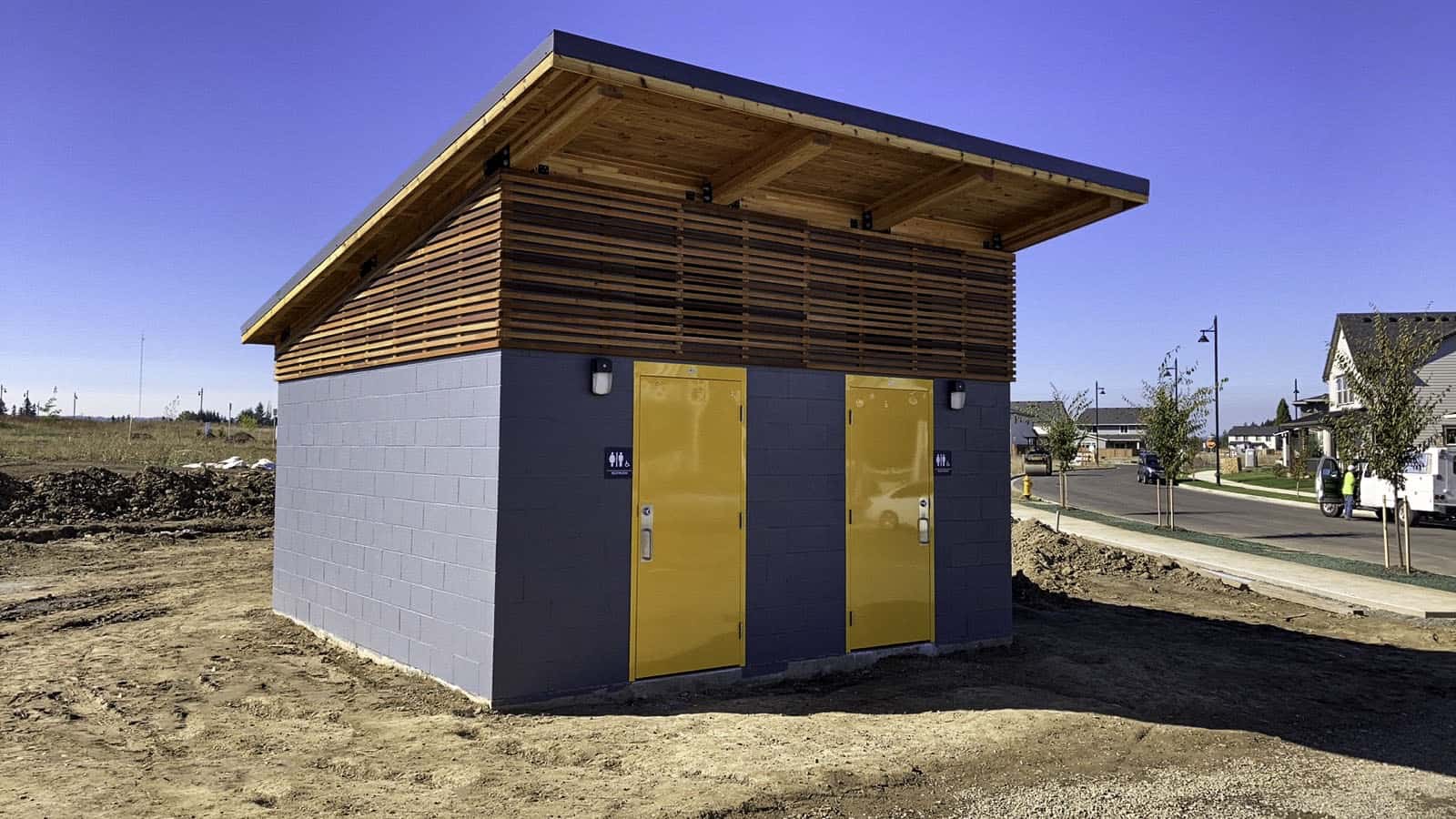 Cedar Slats
Cedar slats add a nice texture and natural feel to a modern design.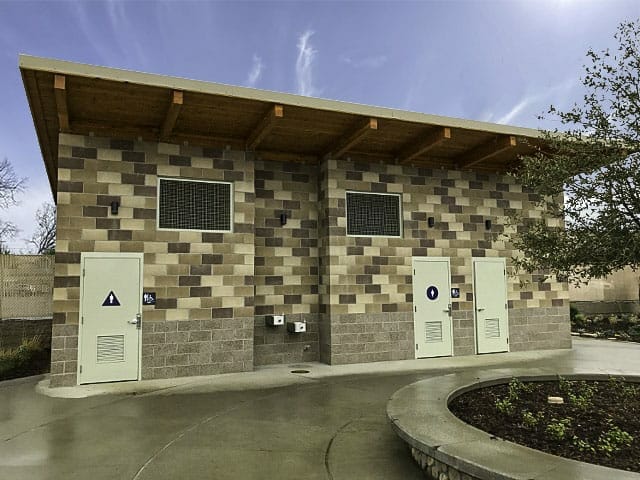 Colored Block
Dyed CMU blocks installed in a specified pattern or style.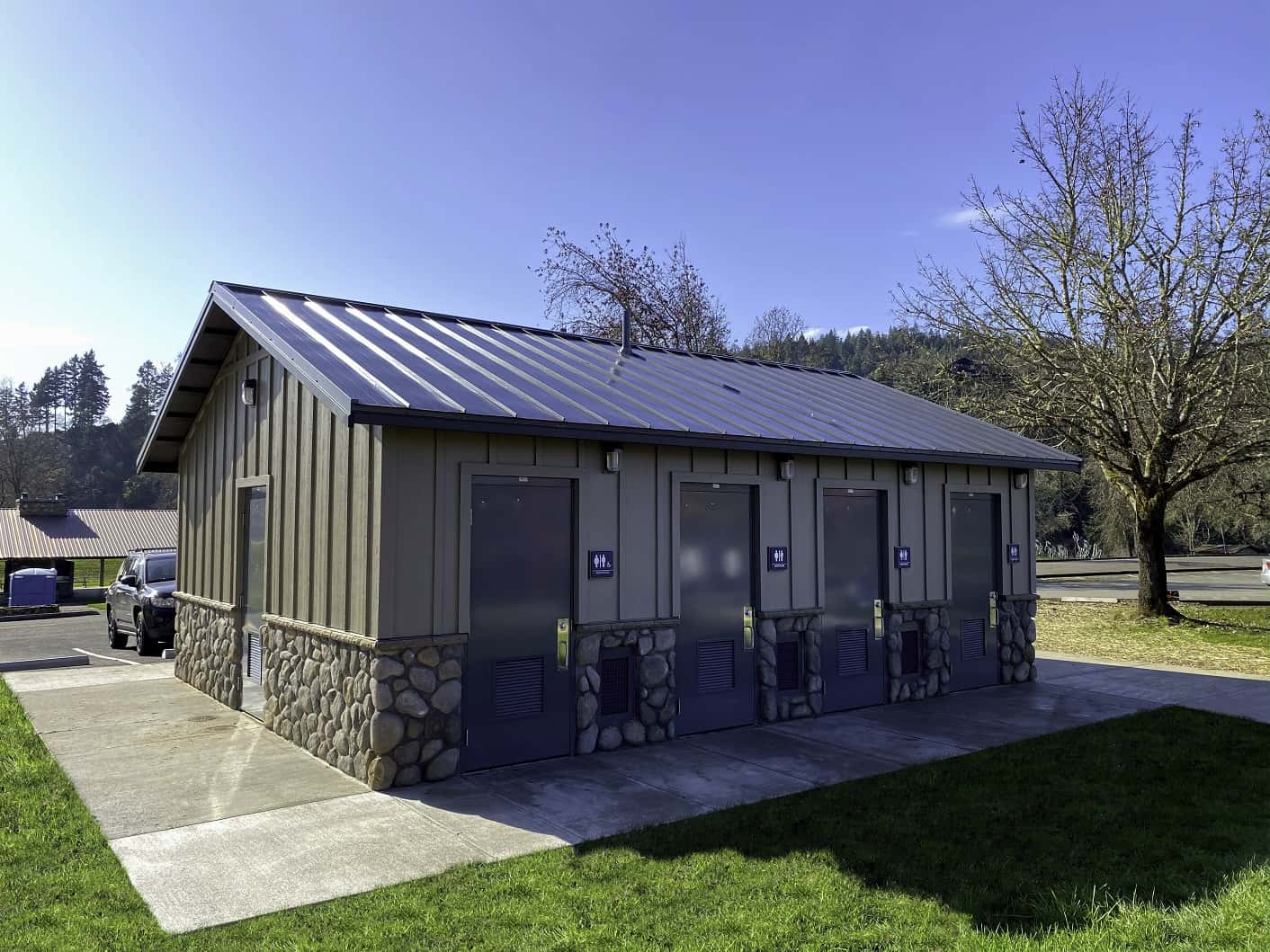 Hardi Board and Batten
Hardi Board and Batten siding is made up of vertical panels with battens over the joining seams.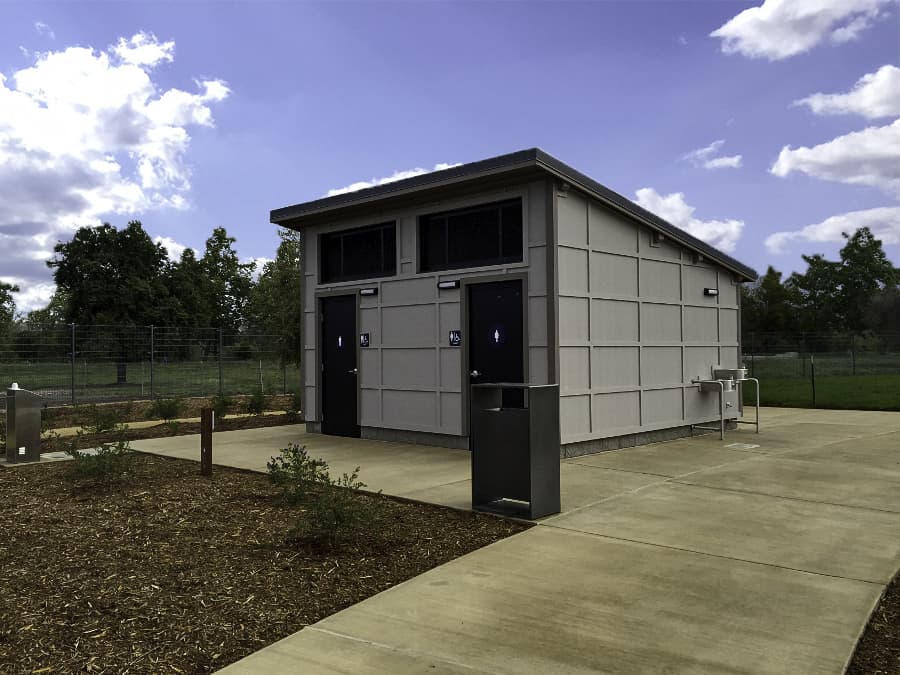 Hardi Fiber Cement Siding
The grid layout is created with Hardi fiber cement boards with fiber cement trim pieces placed at the seams.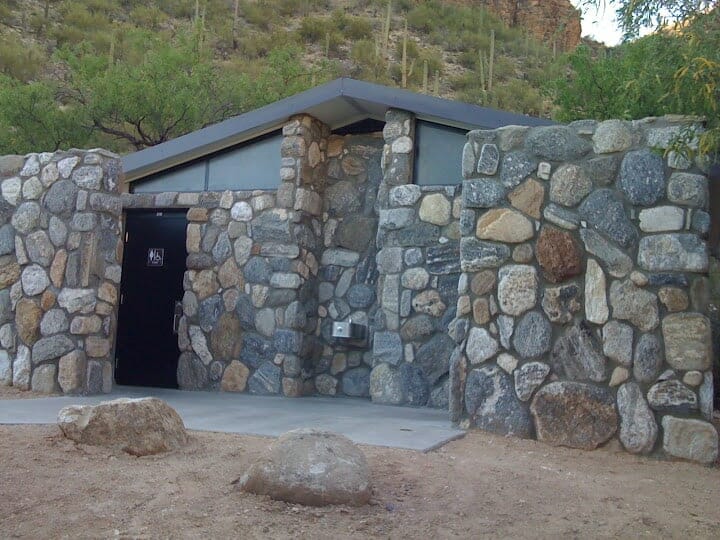 Stone Siding
A round style of cultured stone with many options for installation.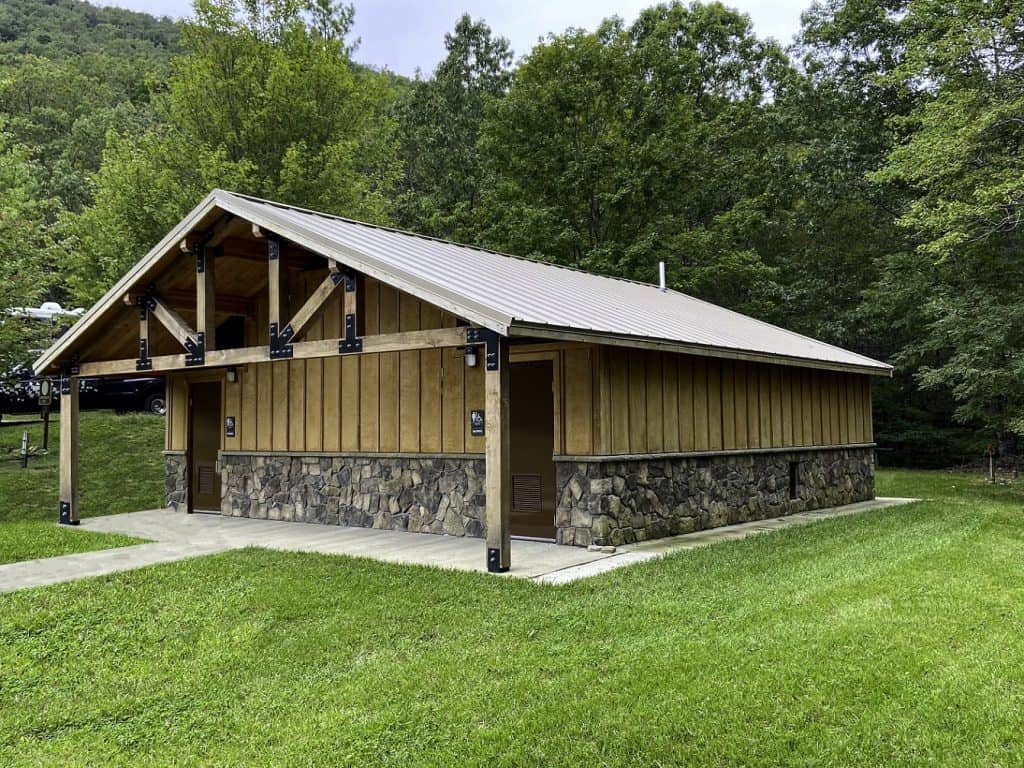 Stone Wainscot
Stone siding on buildings can look historic, rustic, regional, and even modern with newer cutting and installation methods.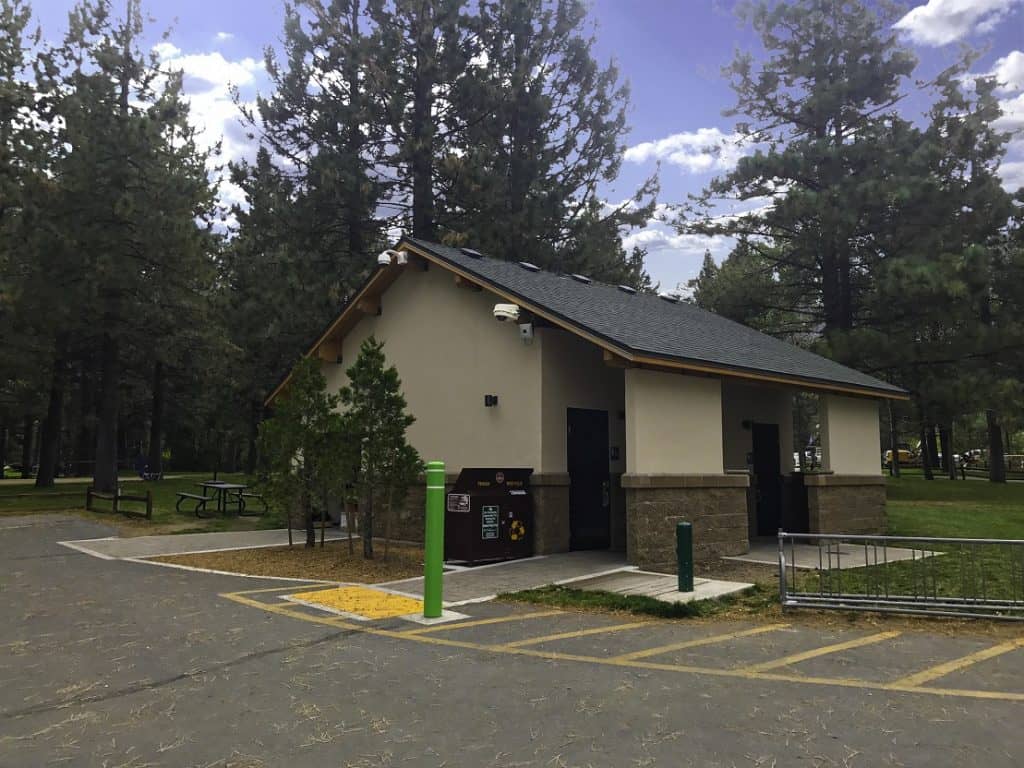 CMU Block Wainscot
An affordable option for adding something extra to the style of your building.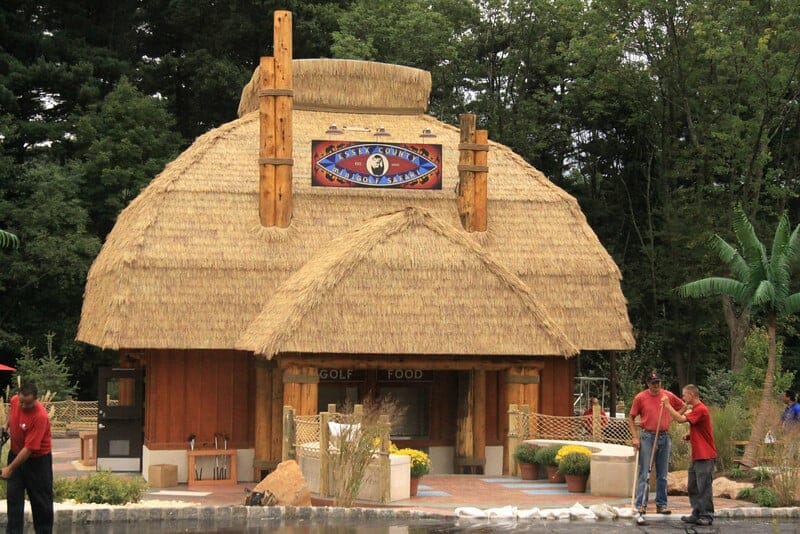 Themed Design
Romtec is capable of meeting any design requirements including special themes or specified materials.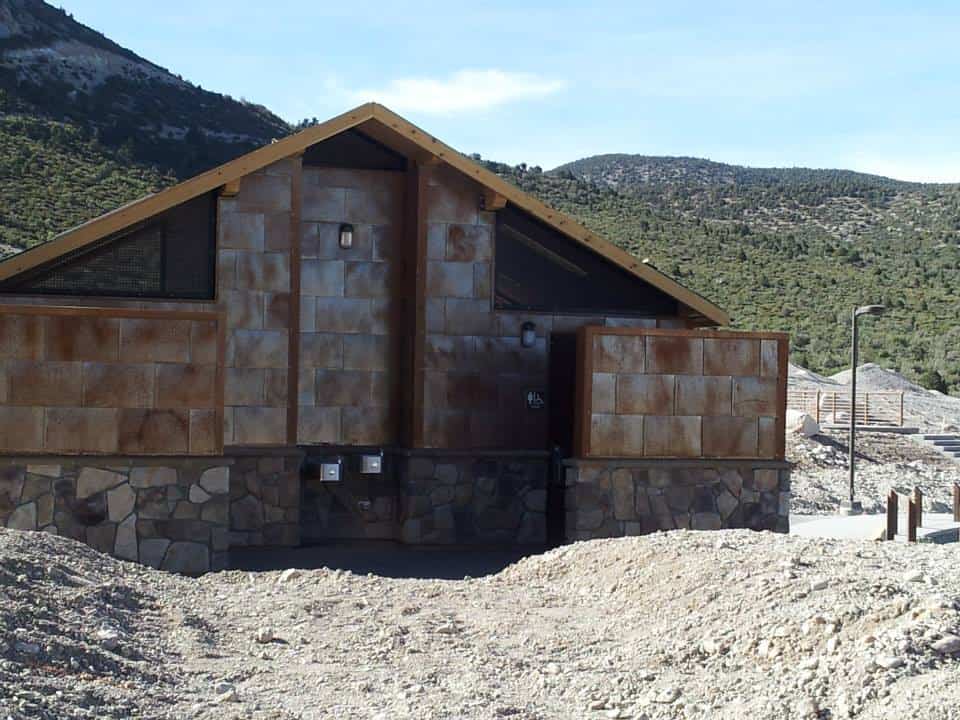 Steel Siding
Steel siding is low maintenance, fire resistant, and durable.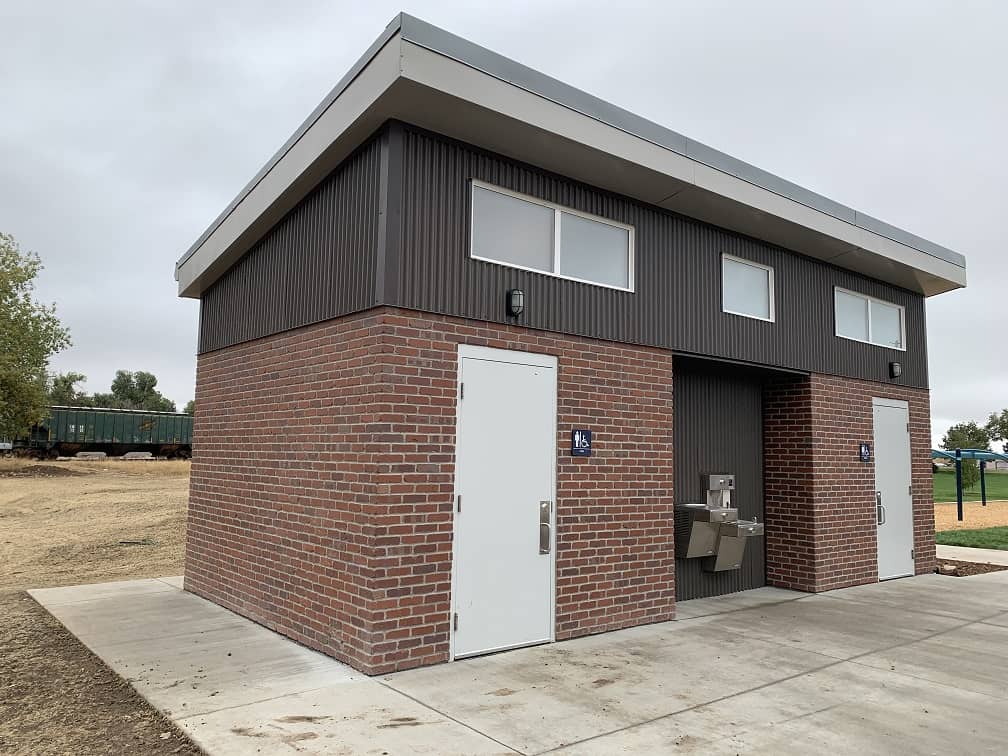 Brick Siding
Brick veneer siding is installed over smooth face CMU block.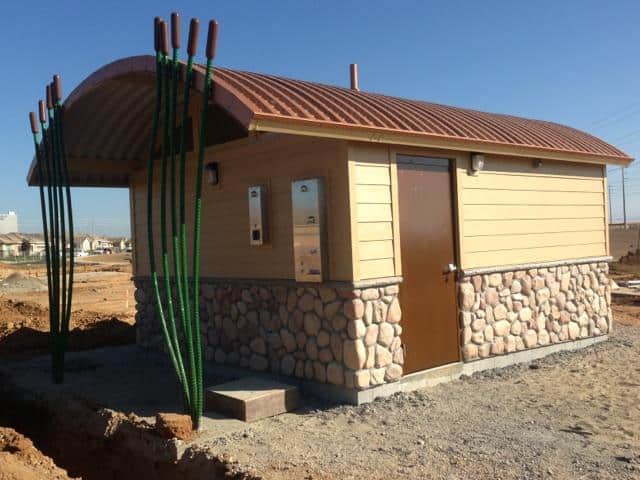 Custom Features - Cattails
Romtec offers custom design aspects as requested for each project.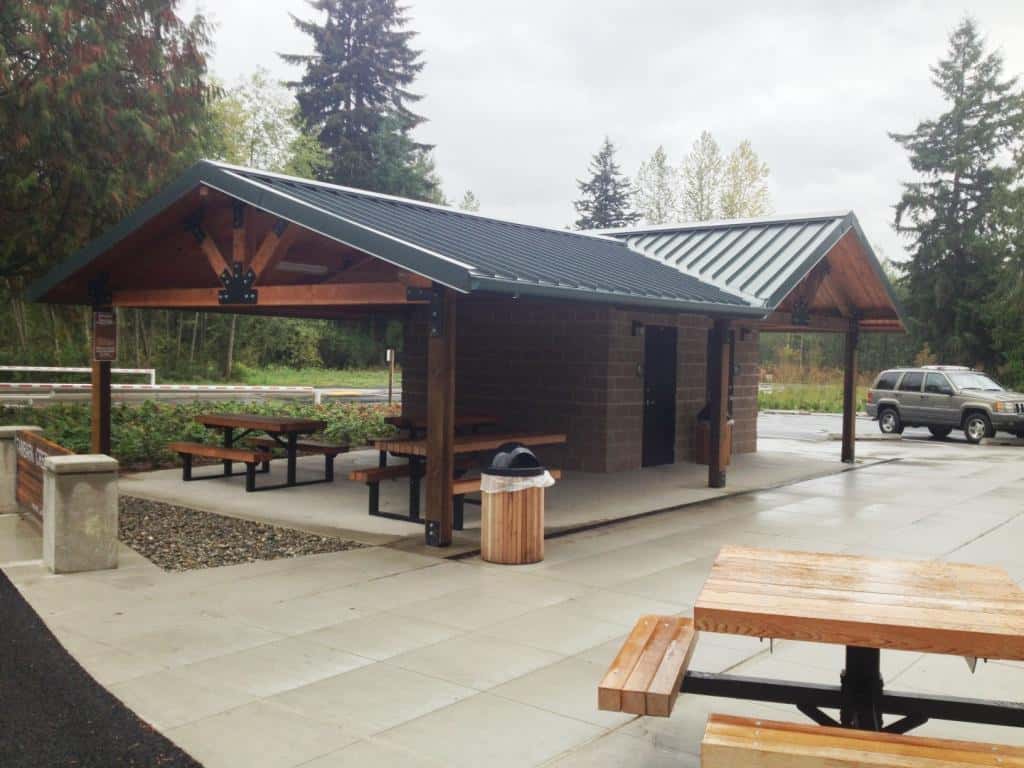 Porch Extension
Porch extensions offer covered dining space and more recreation opportunities.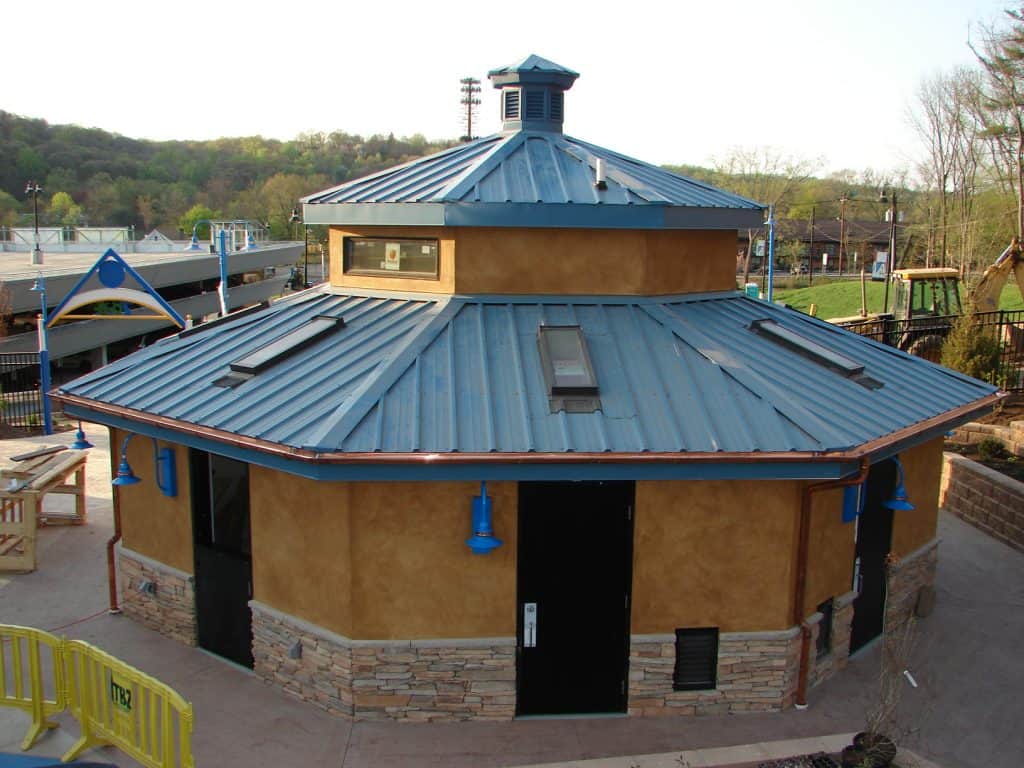 Metal Roofing
Metal roofing is affordable and offers a traditional look.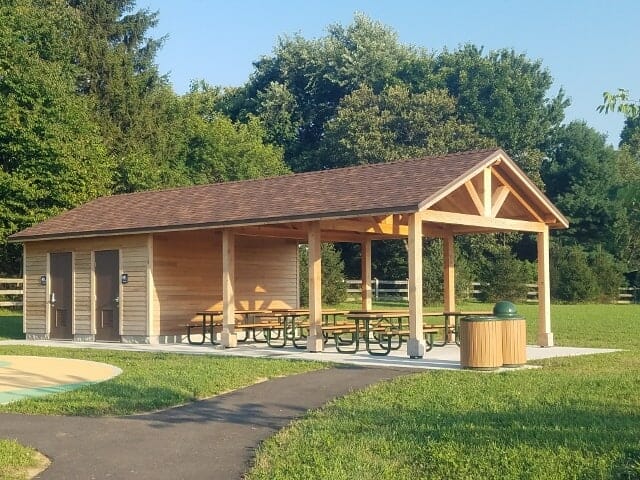 Cedar Lap
Natural cedar siding installed in a horizontal overlapping pattern.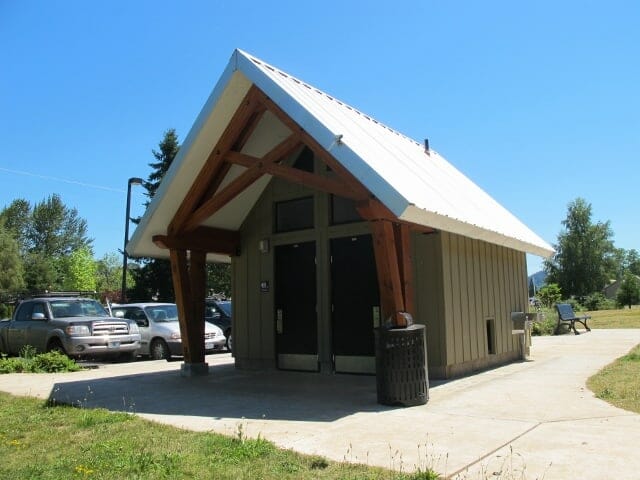 Scissor Truss
Add a unique twist to the porch extension of your building with a scissor truss.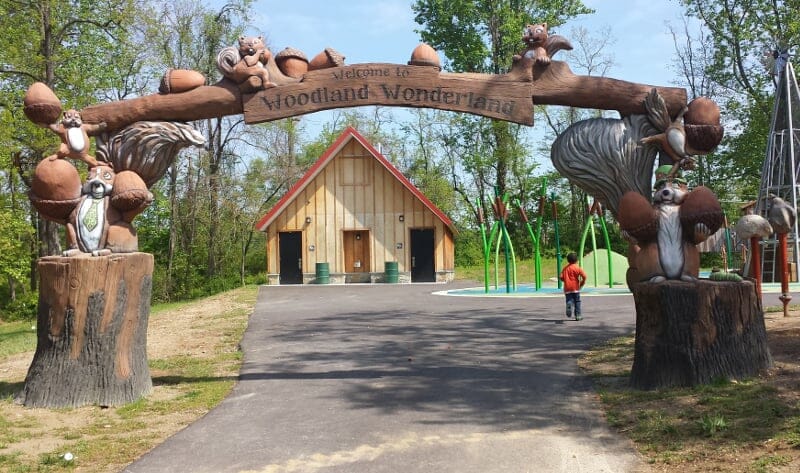 Steep Gables
A steeper gable may be a better option for areas with high winds or heavy rains.
Request a Quote
Fill out our short and easy form and receive a quote on any building.