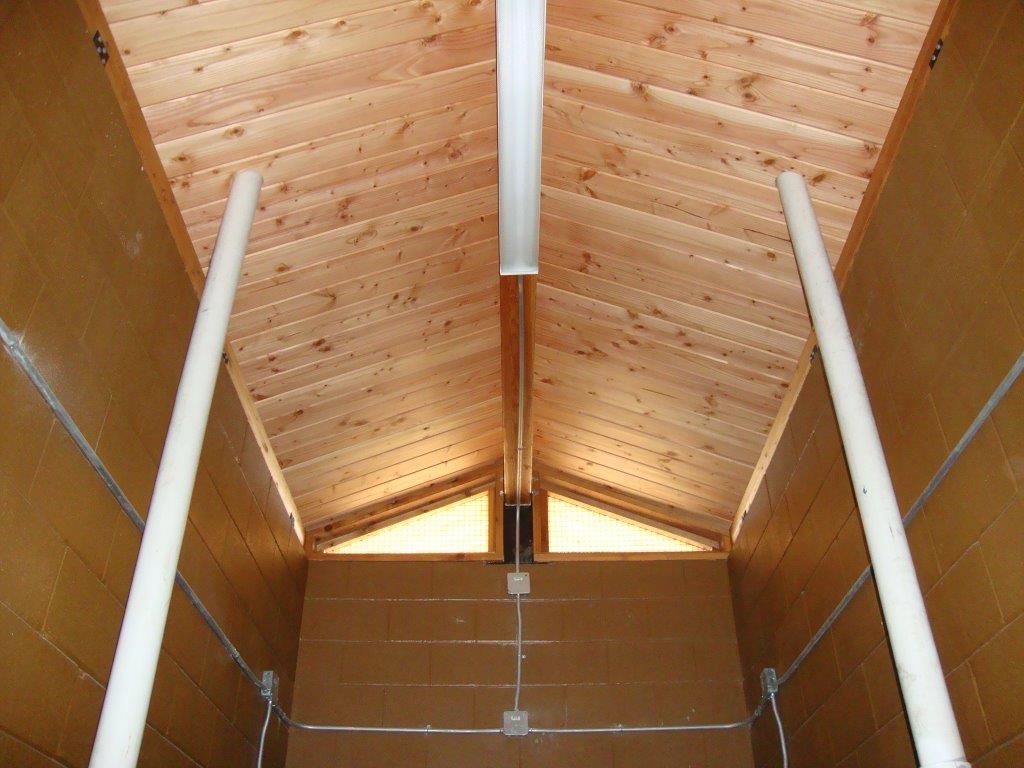 Gable Windows
Textured for privacy, Romtec includes Lexan windows in the gables for additional lighting.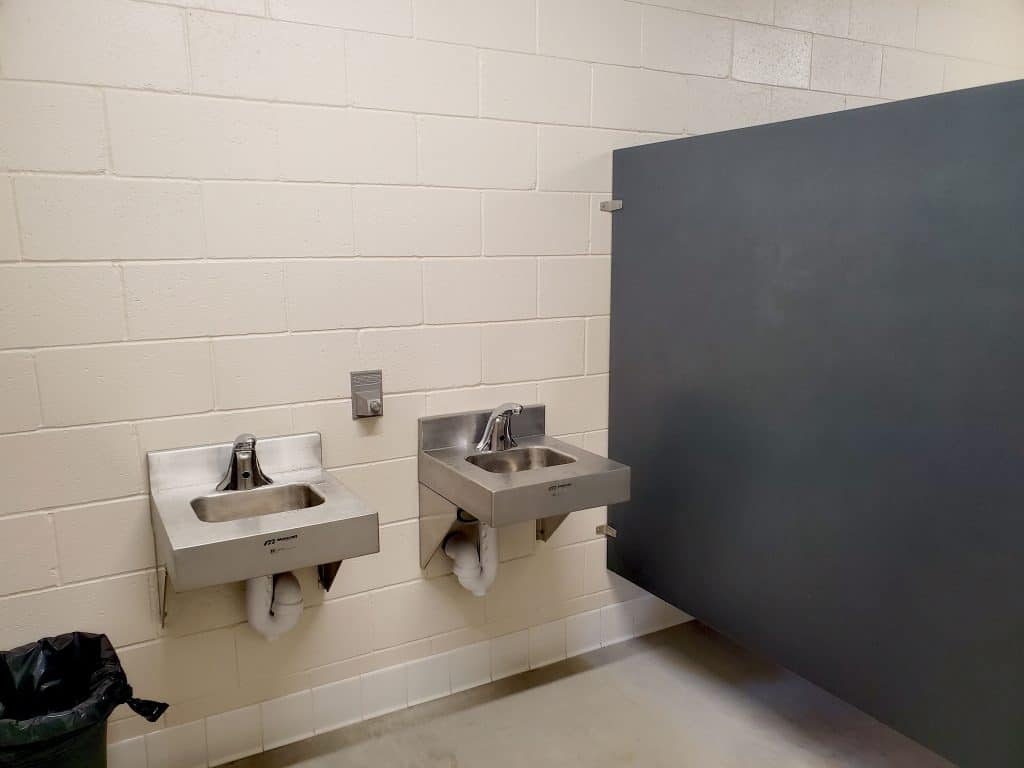 Stainless Steel Sinks
Steel fixtures are the perfect solution for vandal-resistance.

Stainless Steel Toilets
Stainless Steel Toilets are the most appropriate application for public restroom buildings.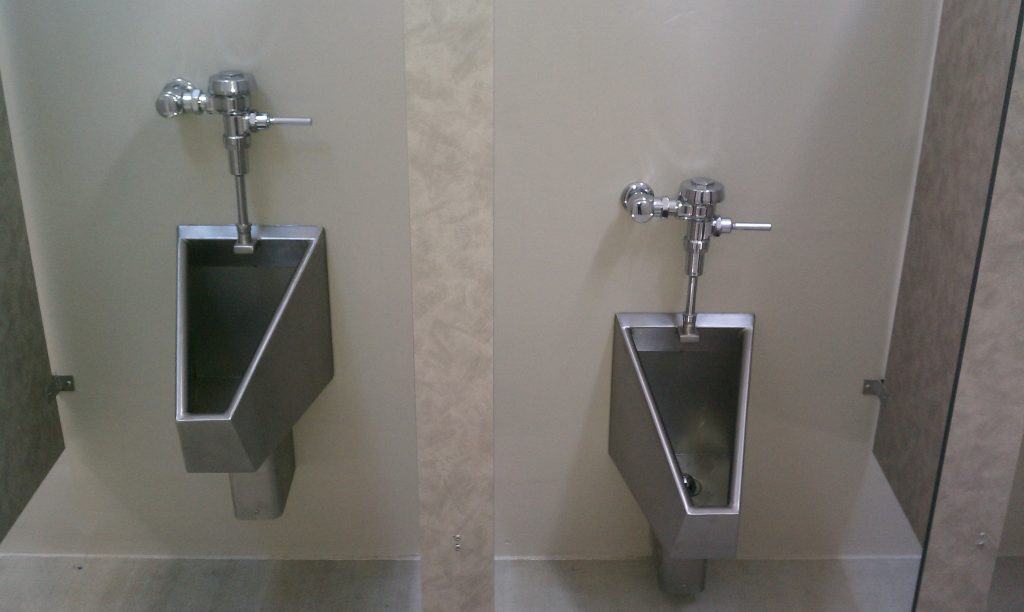 Stainless Steel Urinals
Stainless Steel Urinals are a standard fixture for multi-user restroom buildings.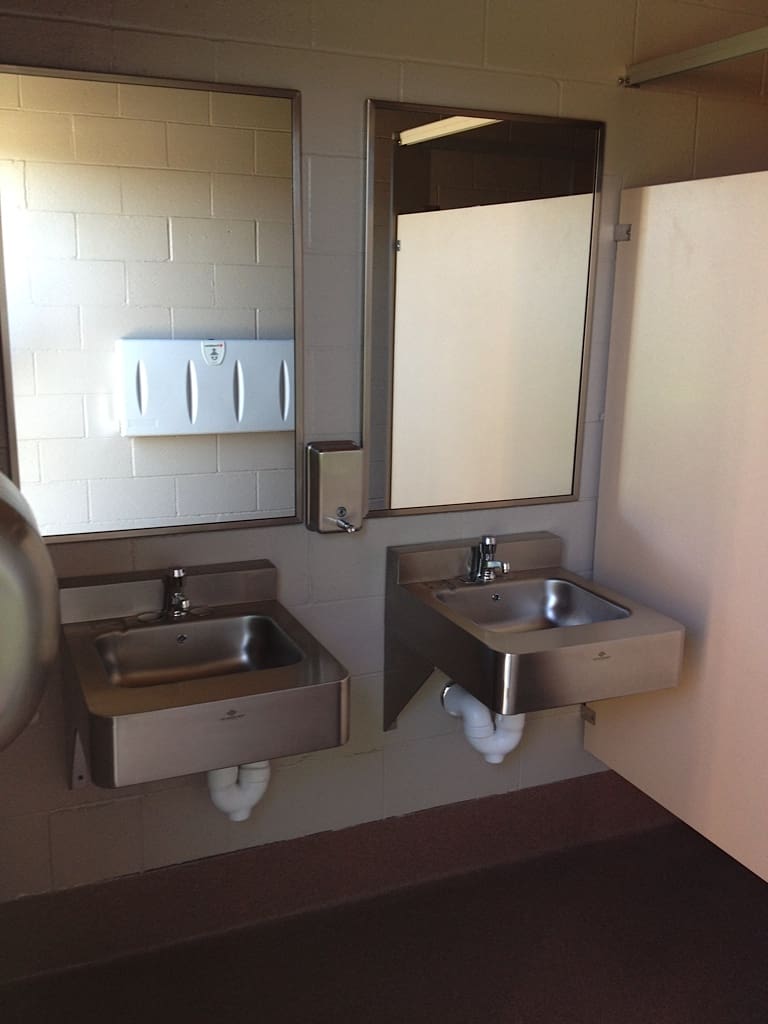 Stainless Steel Framed Mirrors
Romtec offers many vandal resistant options for fixtures.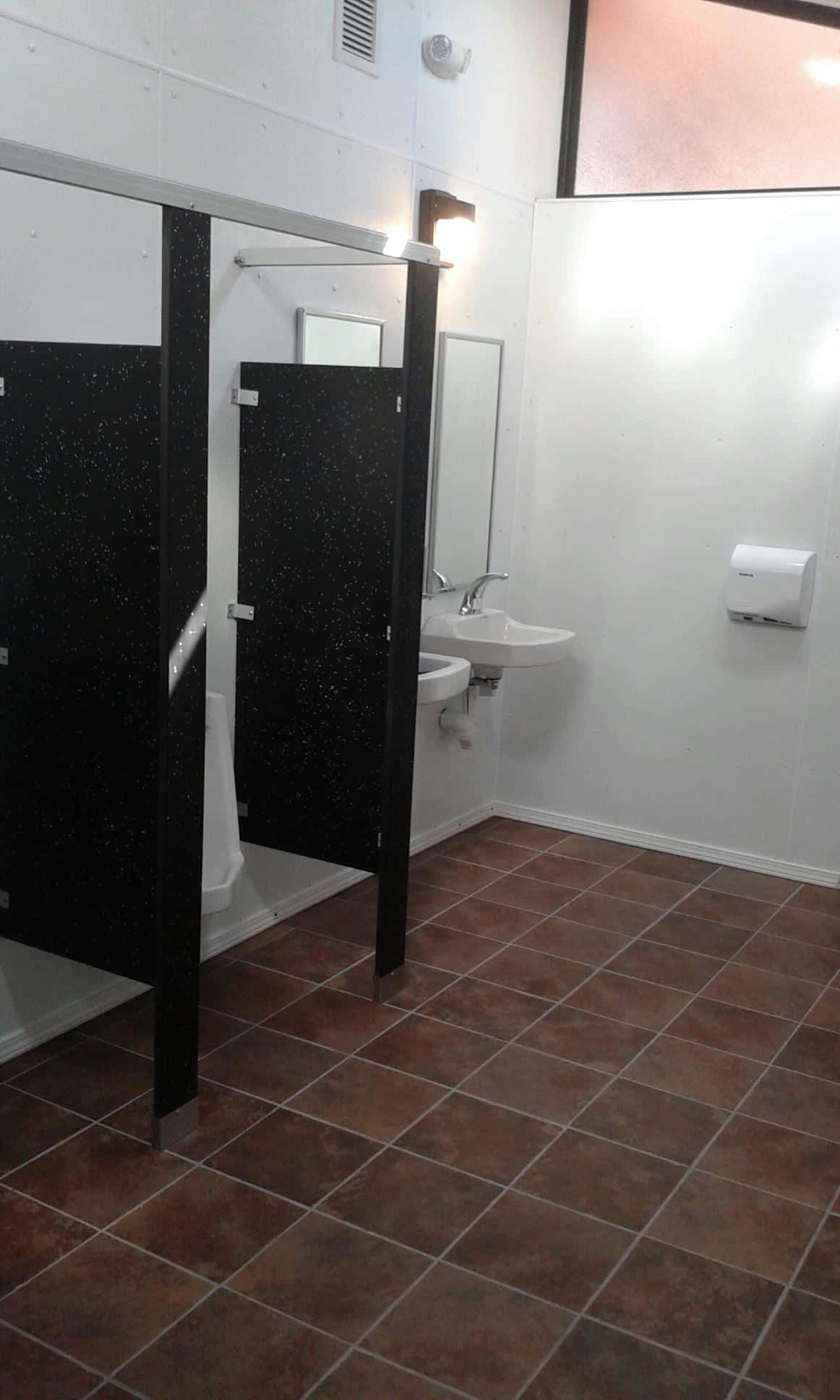 Tile Flooring
Elevate your restroom design with tile flooring.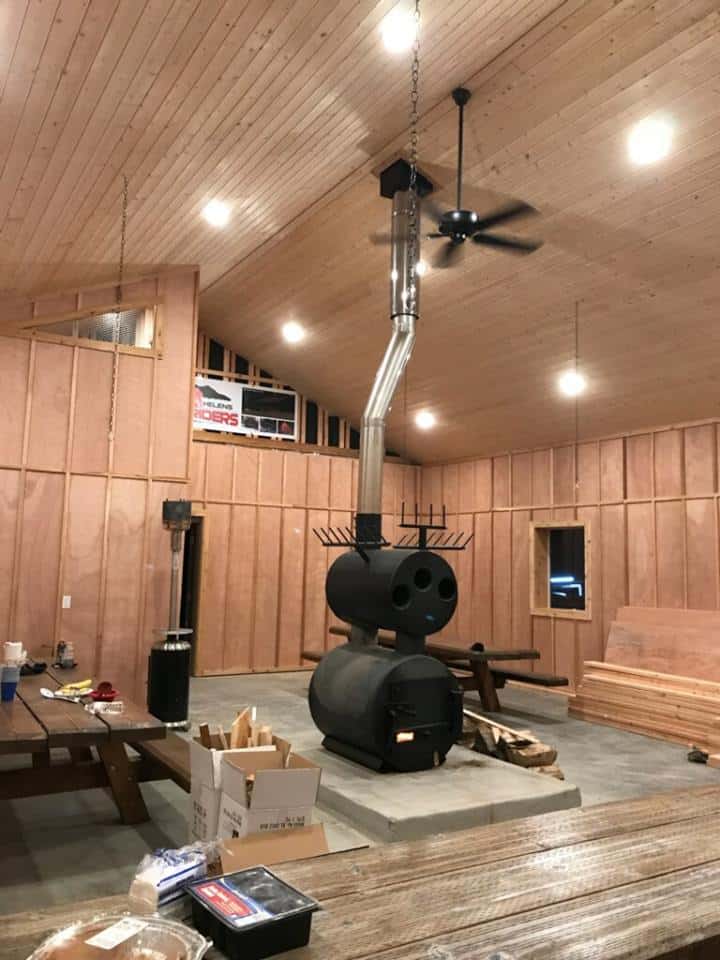 Cedar Board and Batten
For a rustic feel, include cedar board and batten on the interior walls.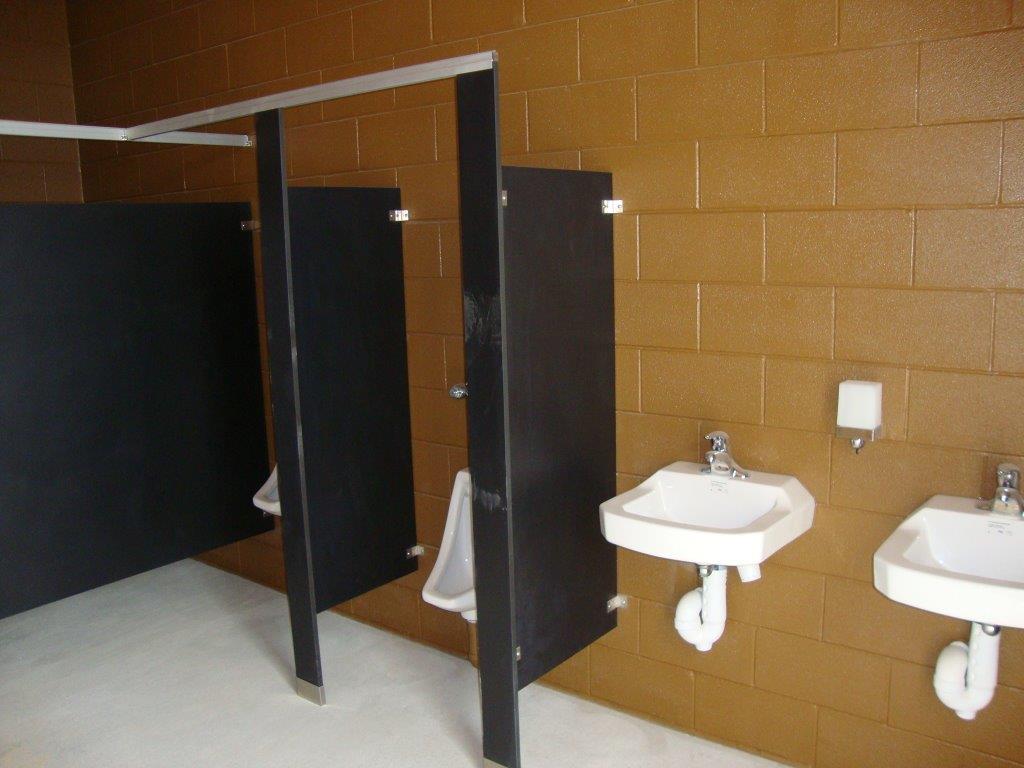 Painted CMU Block
For an affordable upgrade, include painted CMU on your interior walls.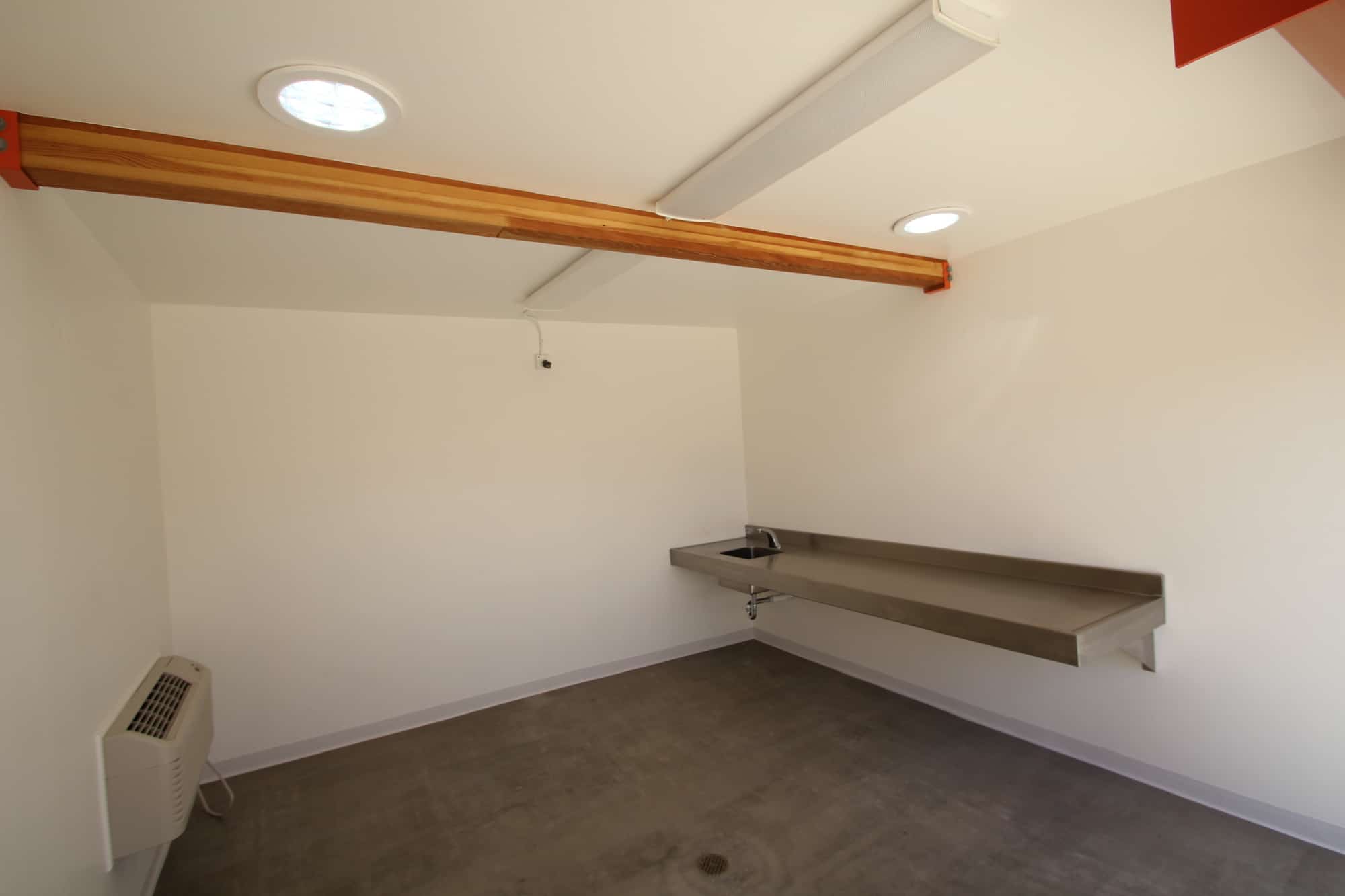 Bike Repair Room
Add unique utility space to your Romtec building for added community services.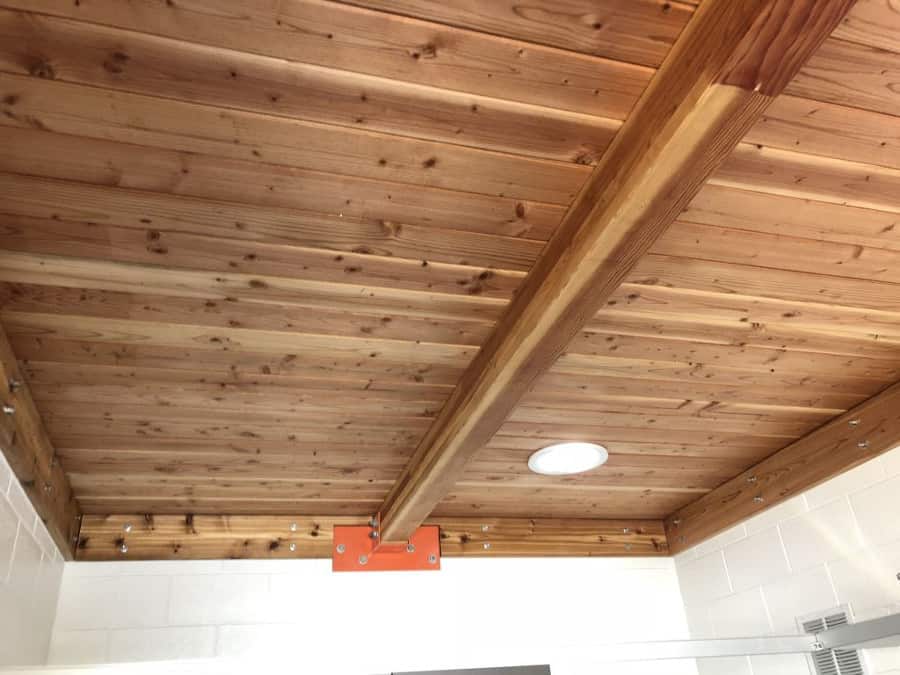 Tongue & Groove
Romtec uses Tongue and Groove (T&G) as the standard roof decking material on every building.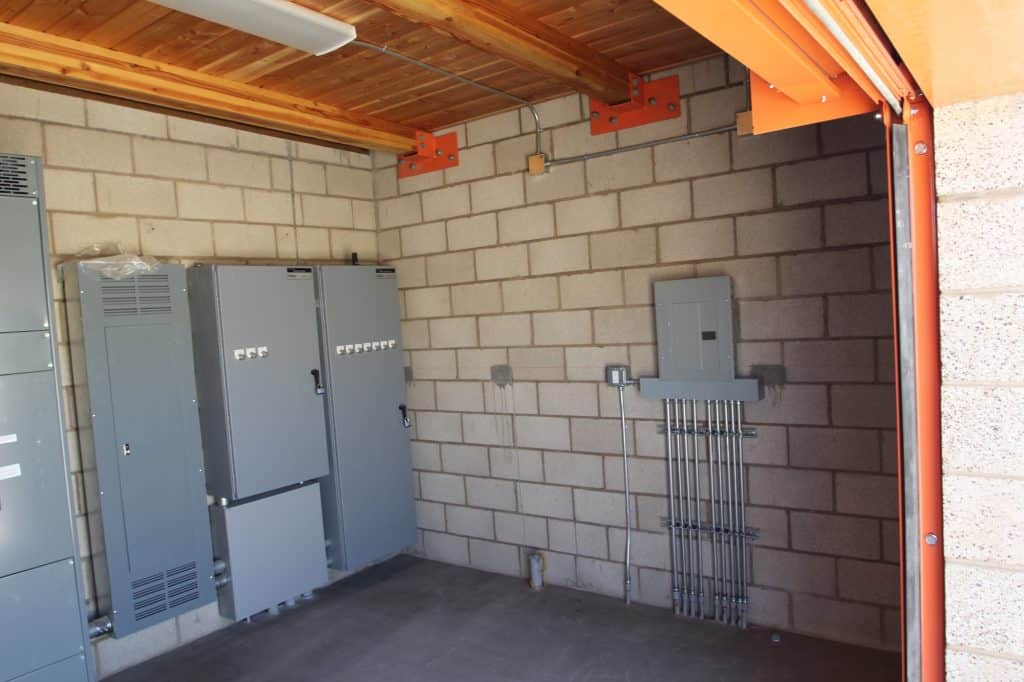 Mechanical Space
Add a mechanical space to your Romtec building for utility storage.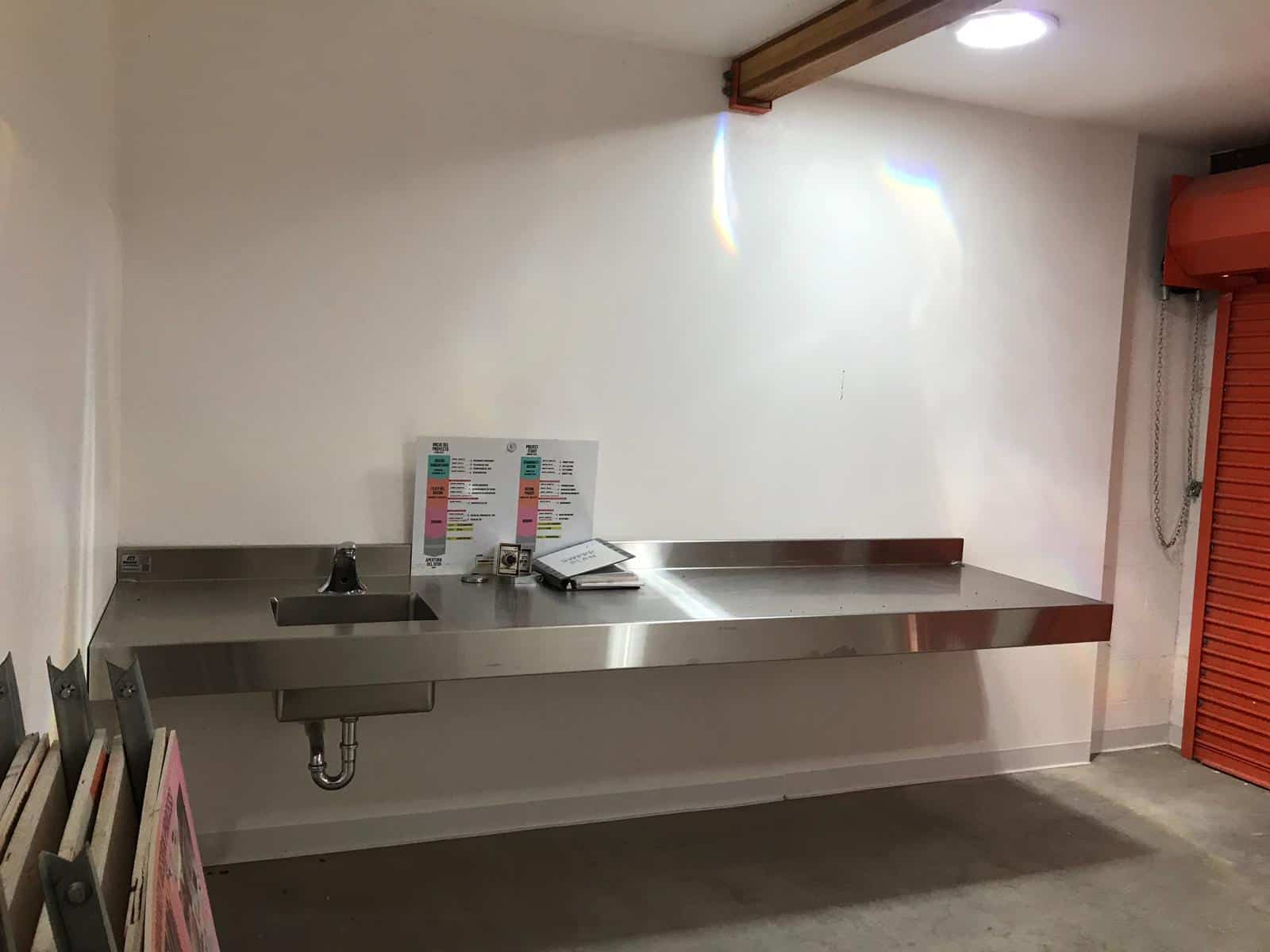 Stainless Steel Counters & Sinks
Stainless Steel Counters and Sinks add beneficial workspace to the interior of your building.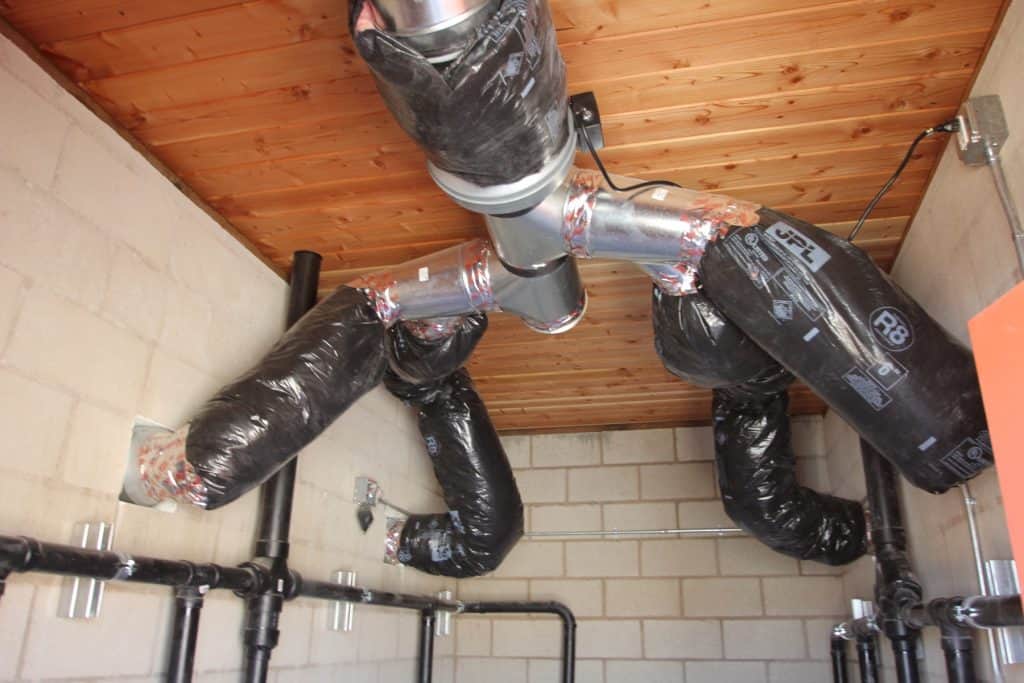 HVAC - Heating, Ventilation, & Air-Conditioning
Create a more comfortable space with a temperature controlled building.

ADA Handrails
Romtec buildings meet all ADA standards including ADA stalls with handrails.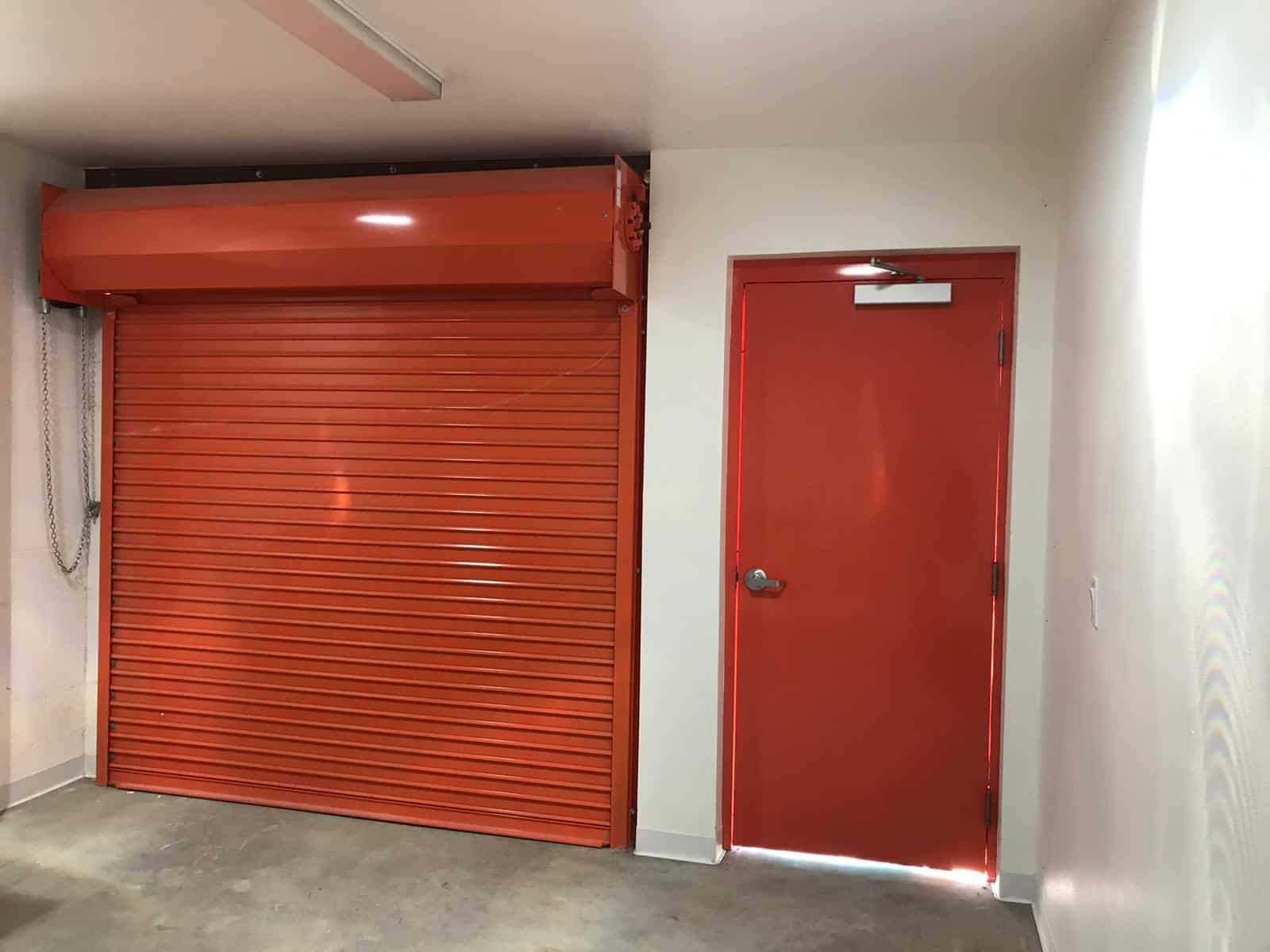 Roll Up Door
Romtec provides roll-up doors in a array of colors and sizes.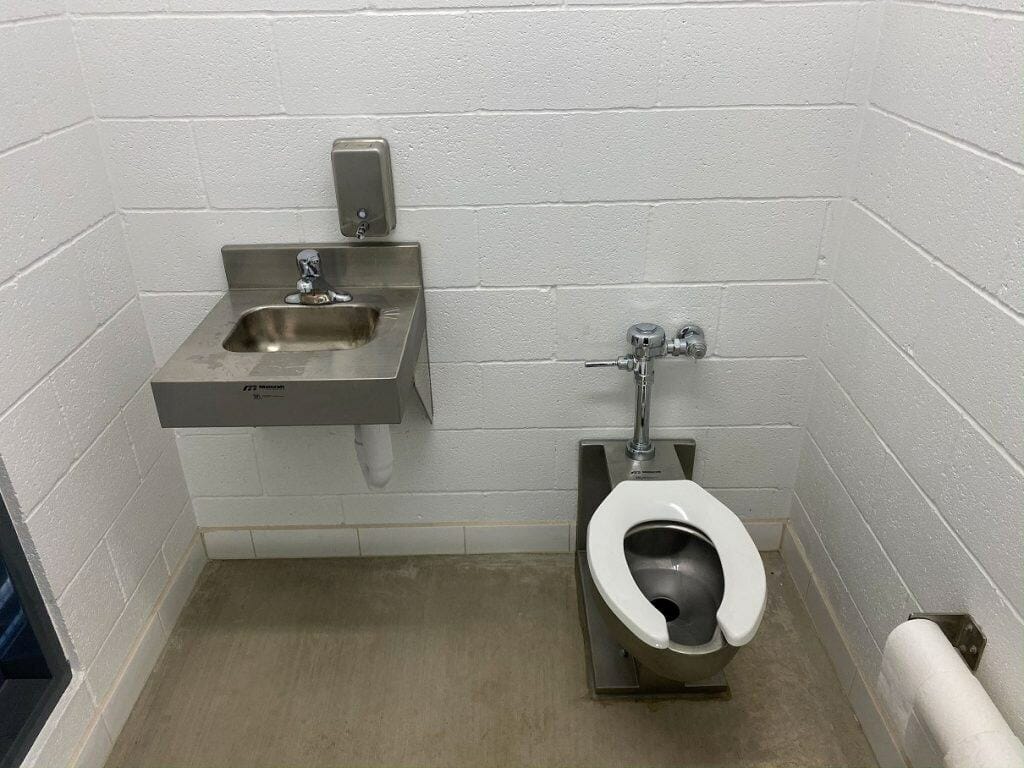 Single-User Restroom
Save space by providing unisex single-user restrooms with your Romtec building.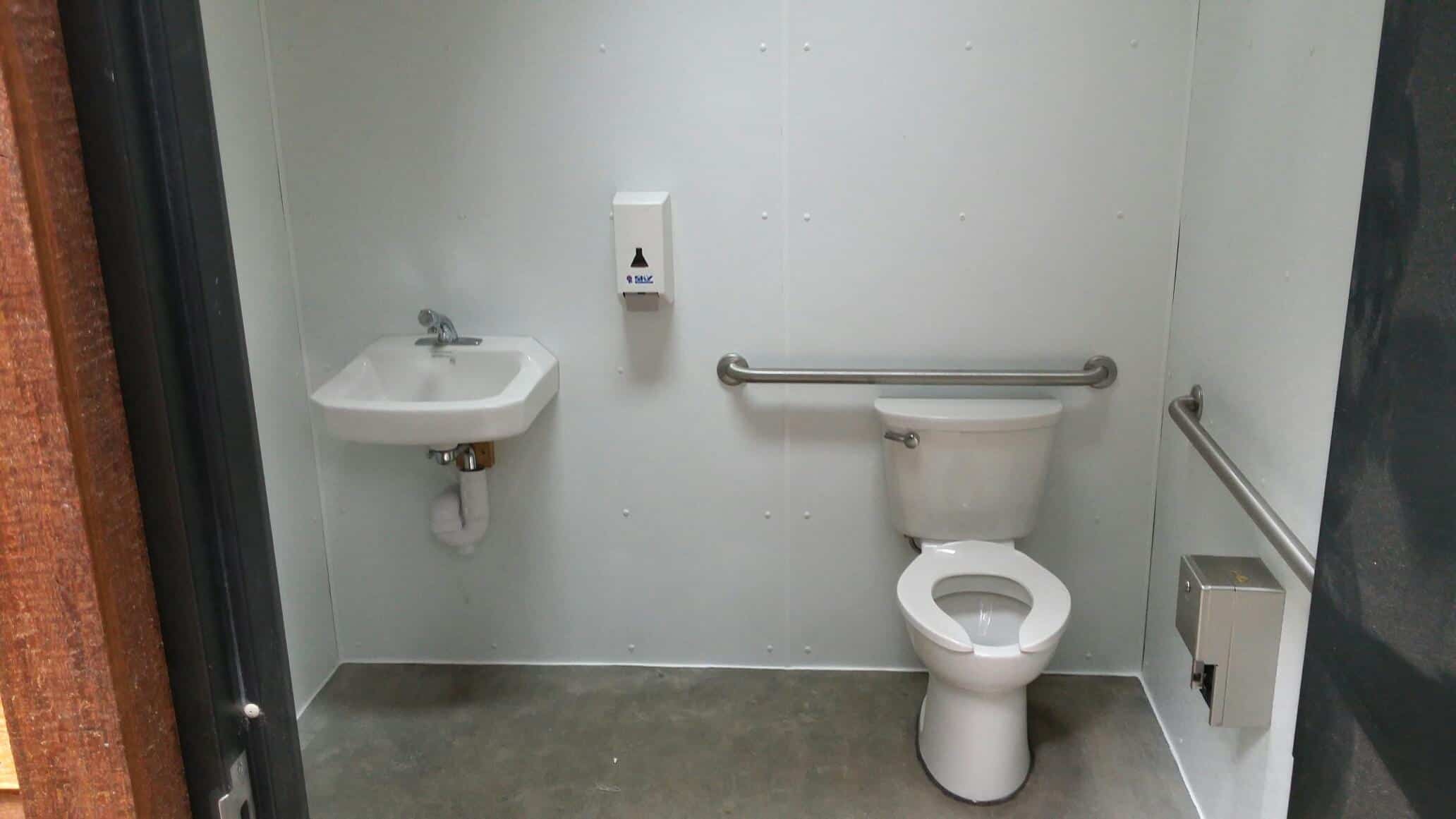 China Fixtures
For a more comfortable space, include china fixtures in your Romtec restroom building.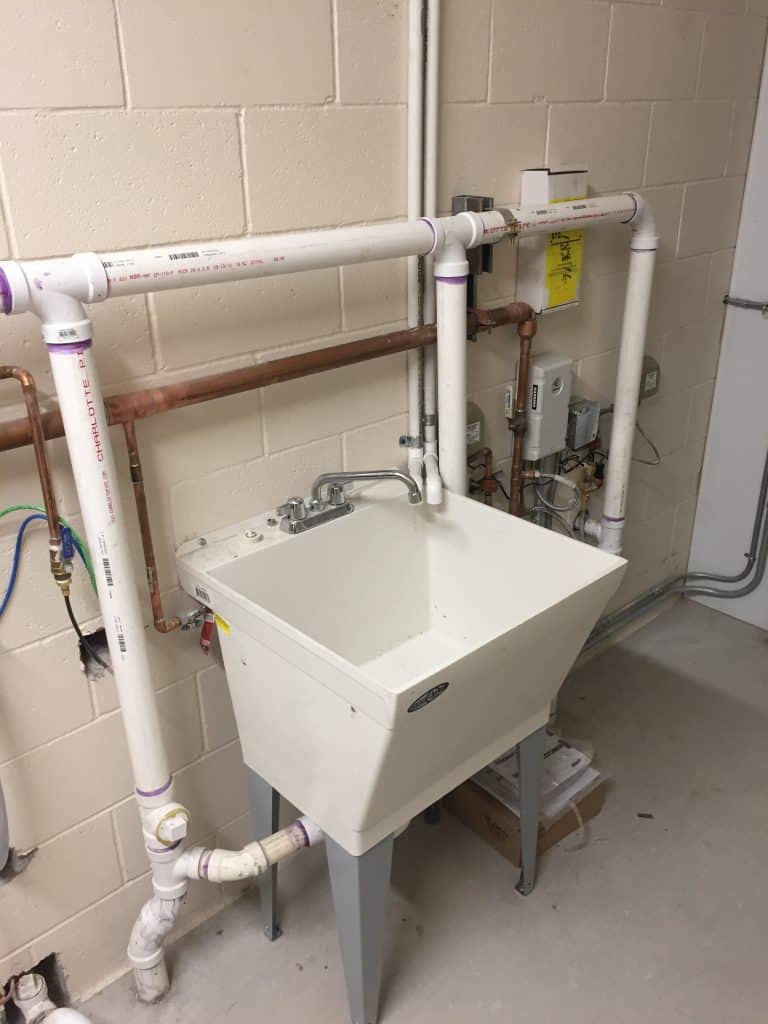 Utility Sink
Adding a utility sink to your mechanical space is convenient for maintenance staff and building upkeep.

Mechanical Space
Romtec recommends including a central mechanical space for housing plumbing and utilities.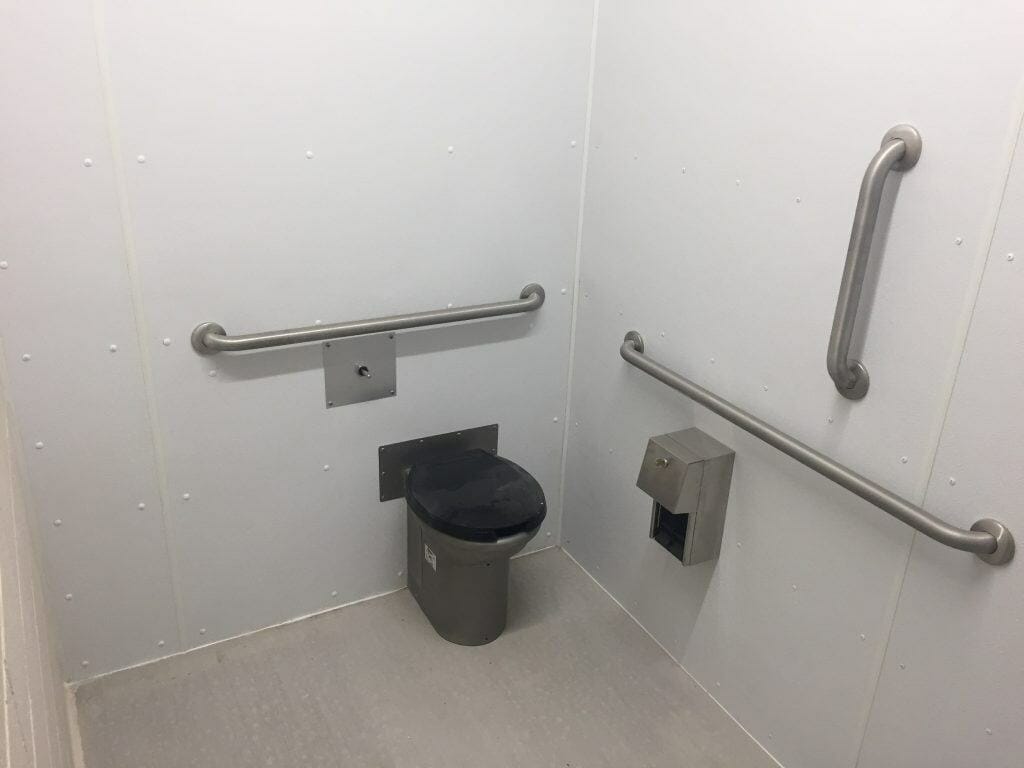 FRP
It is important to include insulation with a heated or cooled building, FRP is an affordable option as the finish for interior insulation.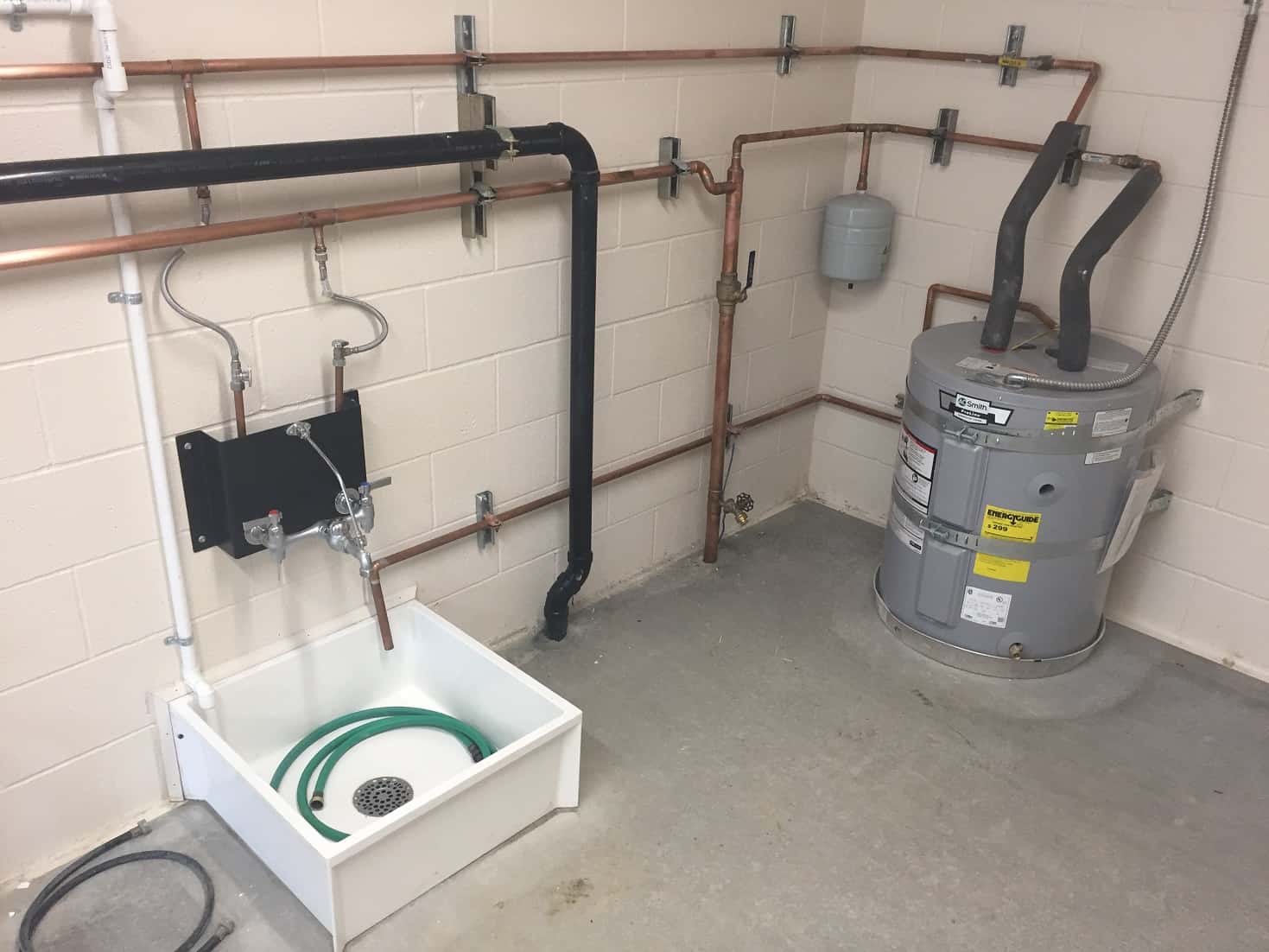 Mop Sink
A mop sink may be a beneficial addition to the mechanical space of your building.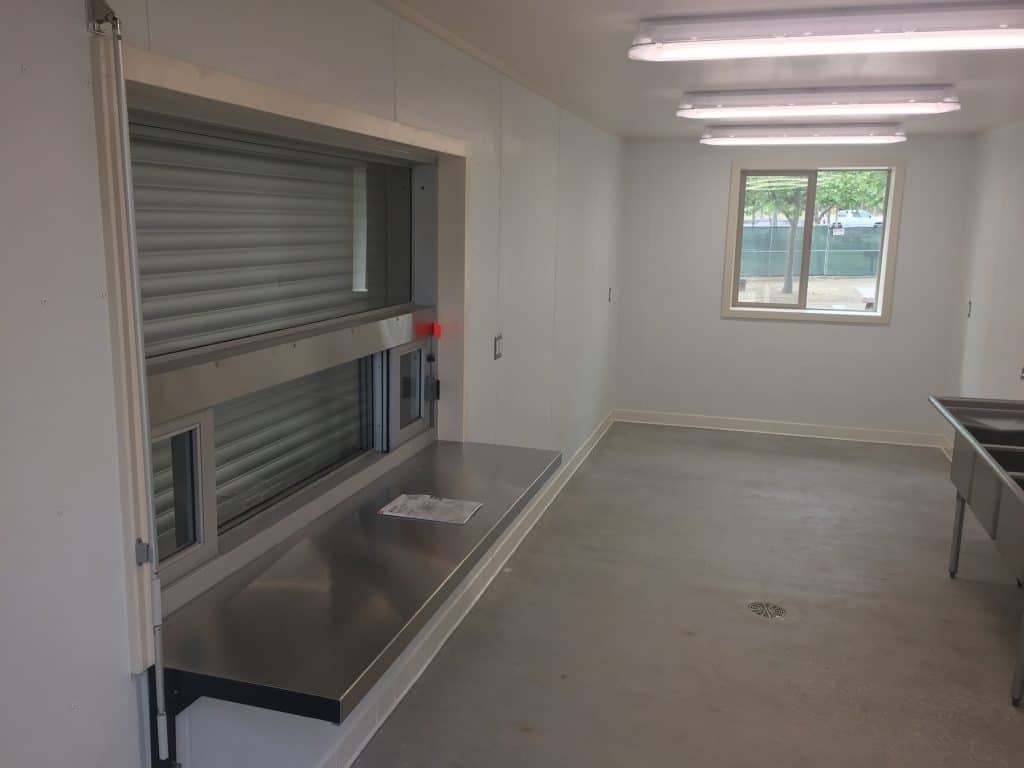 Concession Window
Standard for concession buildings, Romtec offers the design and supply of Concession Windows with and without stainless steel counter space.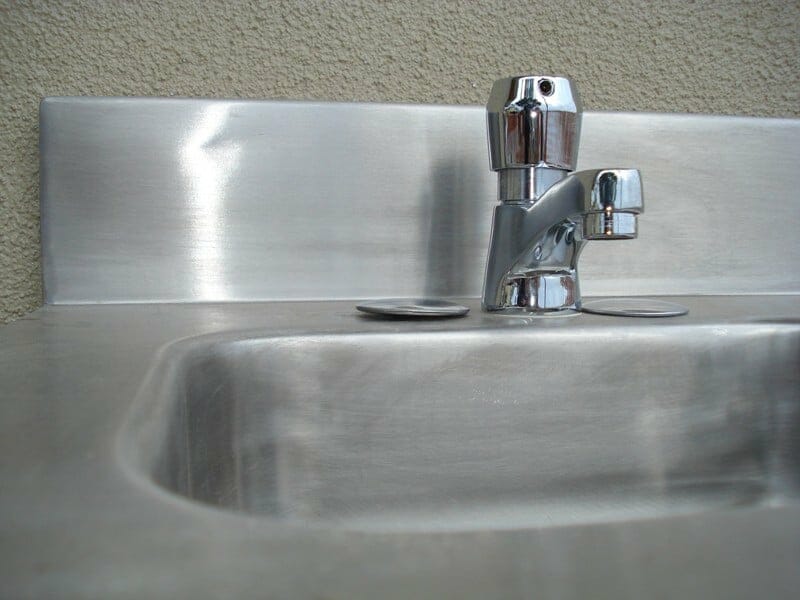 Push Button Faucet
The most vandal-resistant option, Push Button Faucets are a timed/ metered use to avoid flooding.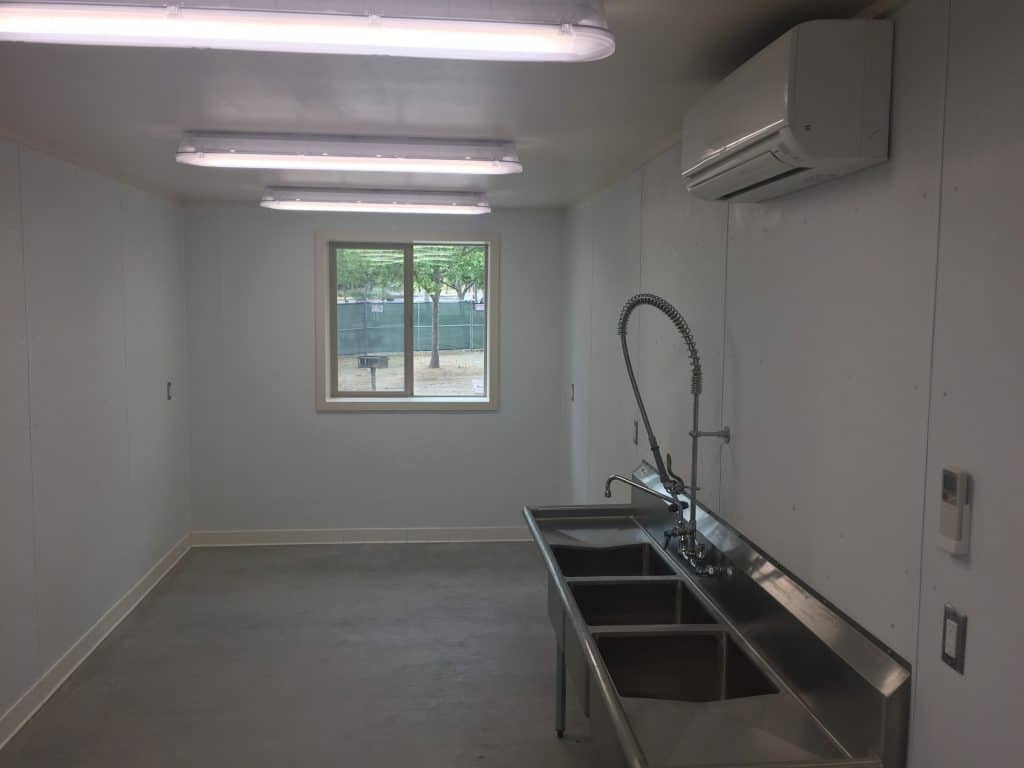 Concession Sinks
Stainless Steel concession sinks are required by the Health Department with 1 to 3 bays depending on what will be served.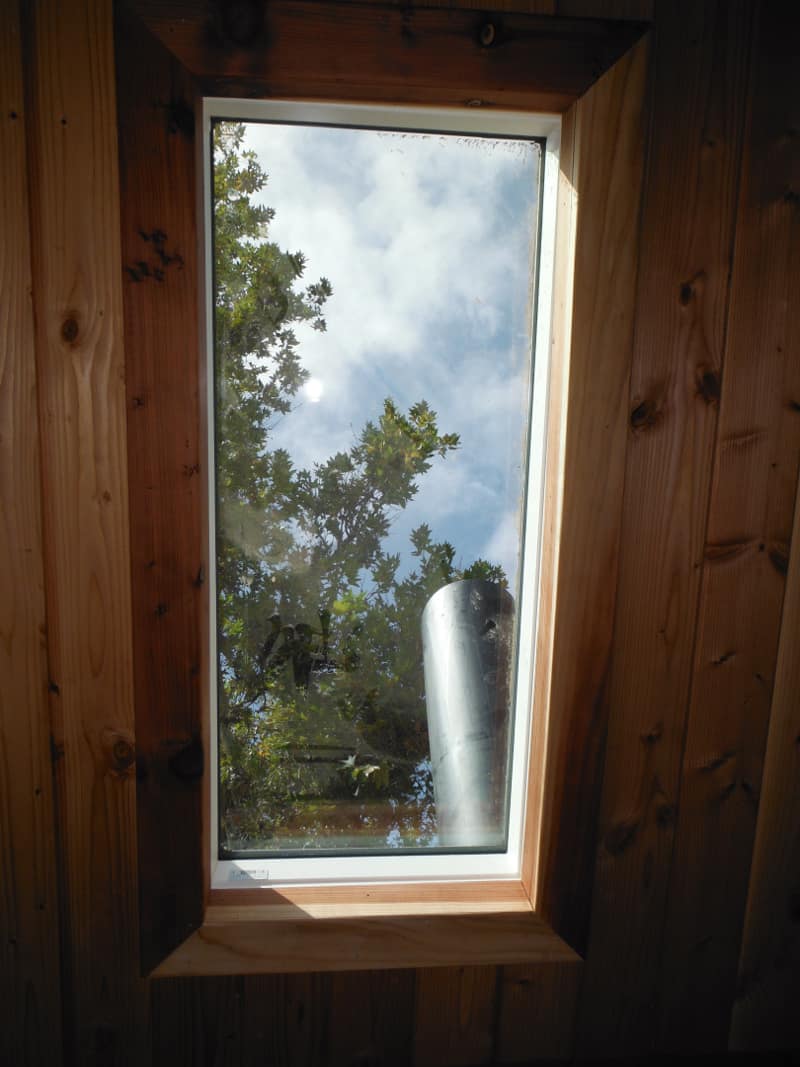 Skylights
Adding skylights to your public structure offers additional light and saves energy.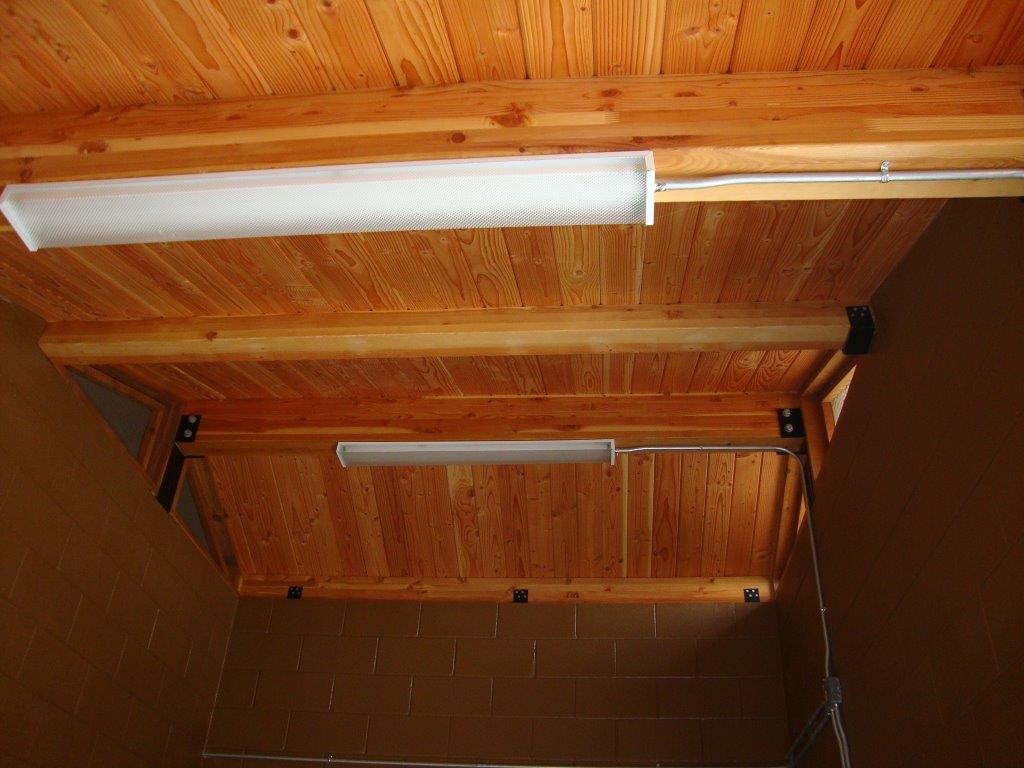 LED Lights
LED Lights are provided standard with all of Romtec's buildings for energy efficiency.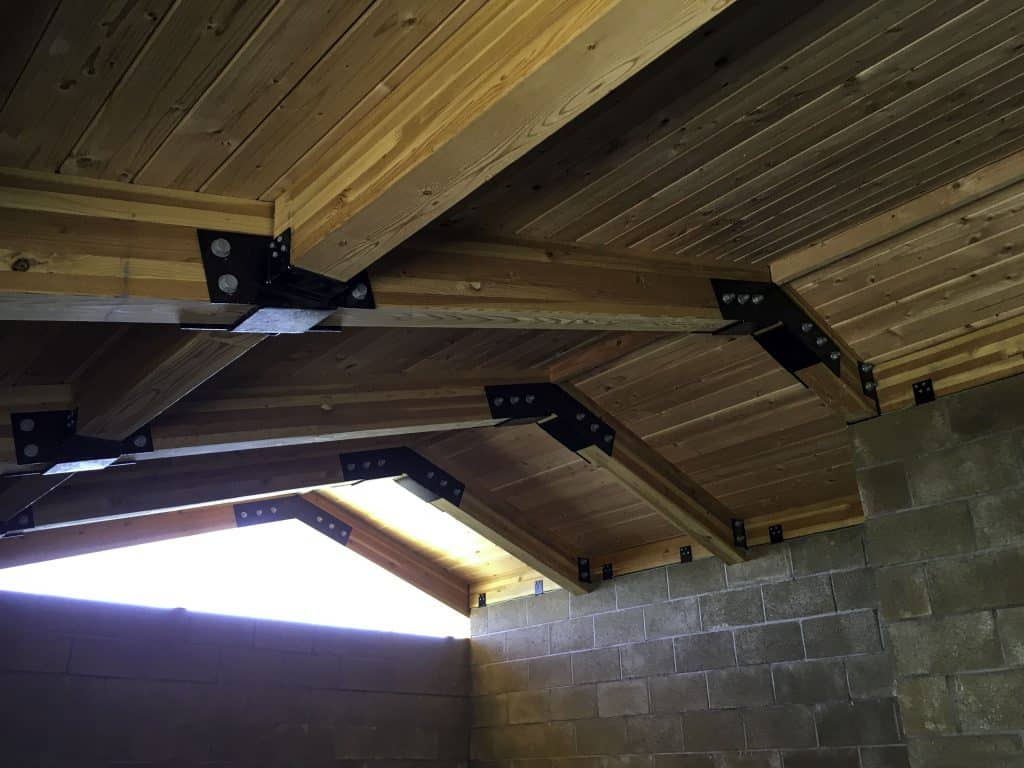 Glulam Beams
Douglas Fir Glulam Beams and Tongue and Groove provide a sturdy and aesthetically pleasing roofing structure.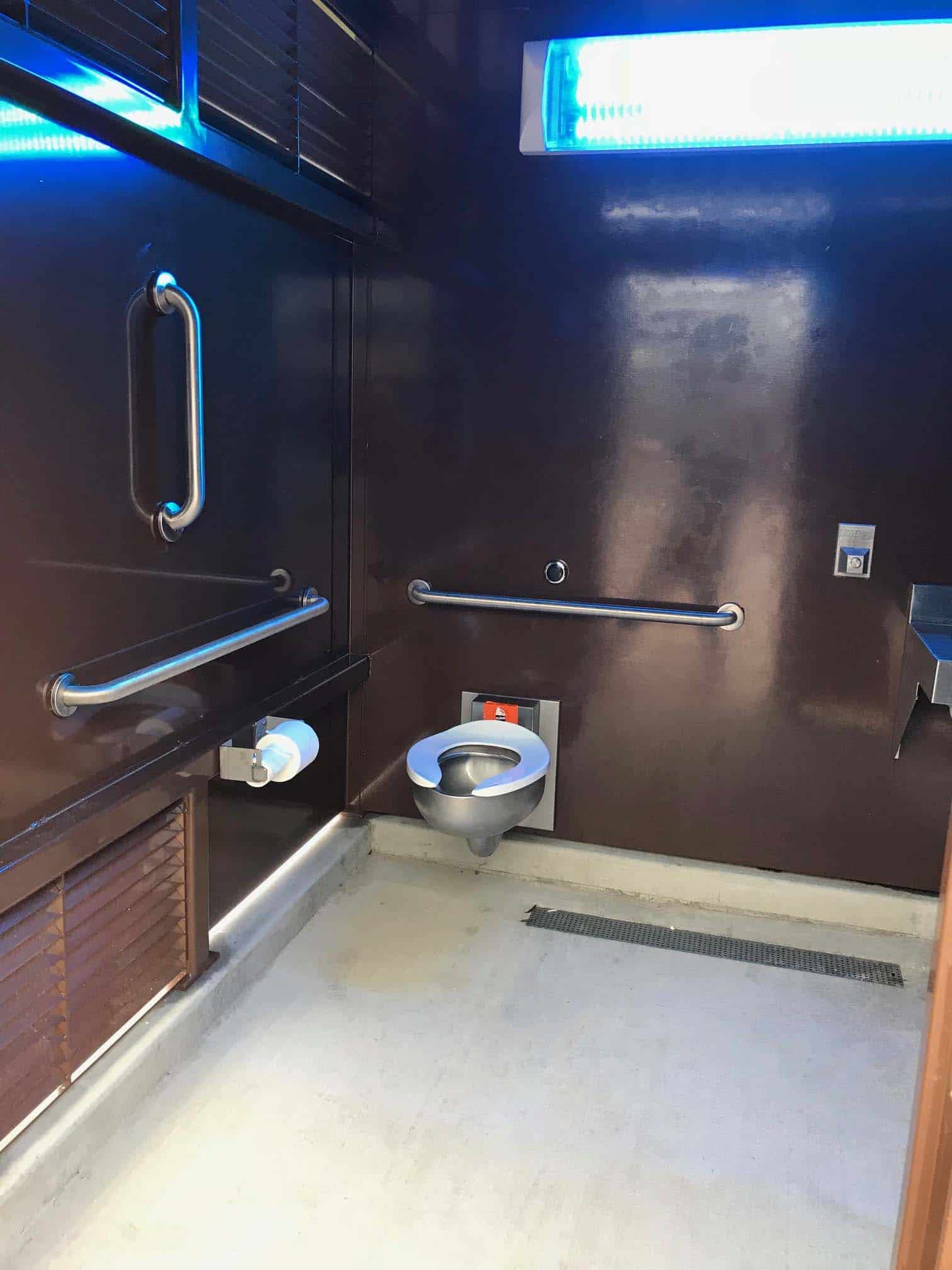 Sidewalk Restroom
The Sidewalk Restroom is composed entirely of steel with steel fixtures and components for a vandal resistant design.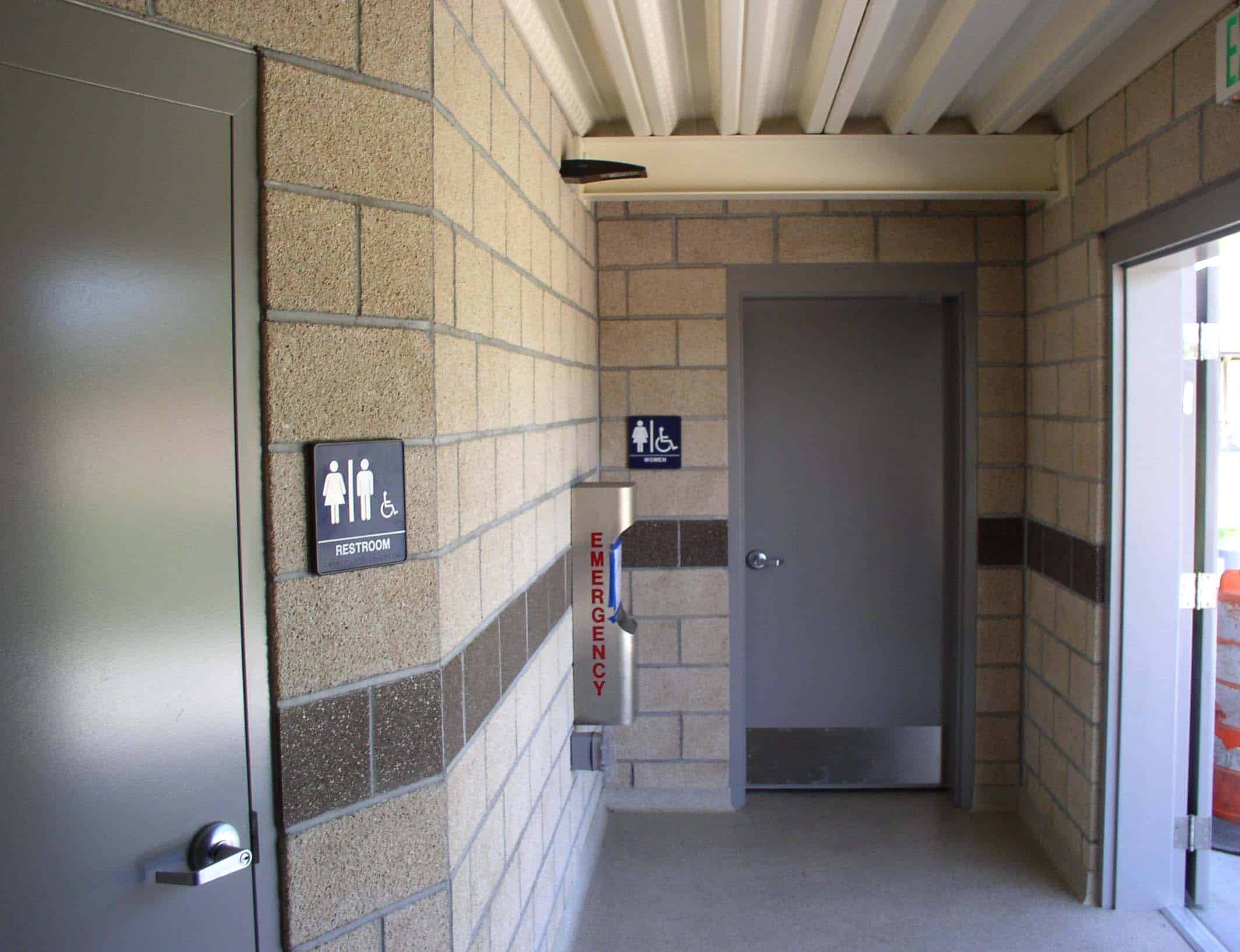 Storm Shelters
Points of ingress and egress are of vital importance in storm shelter design.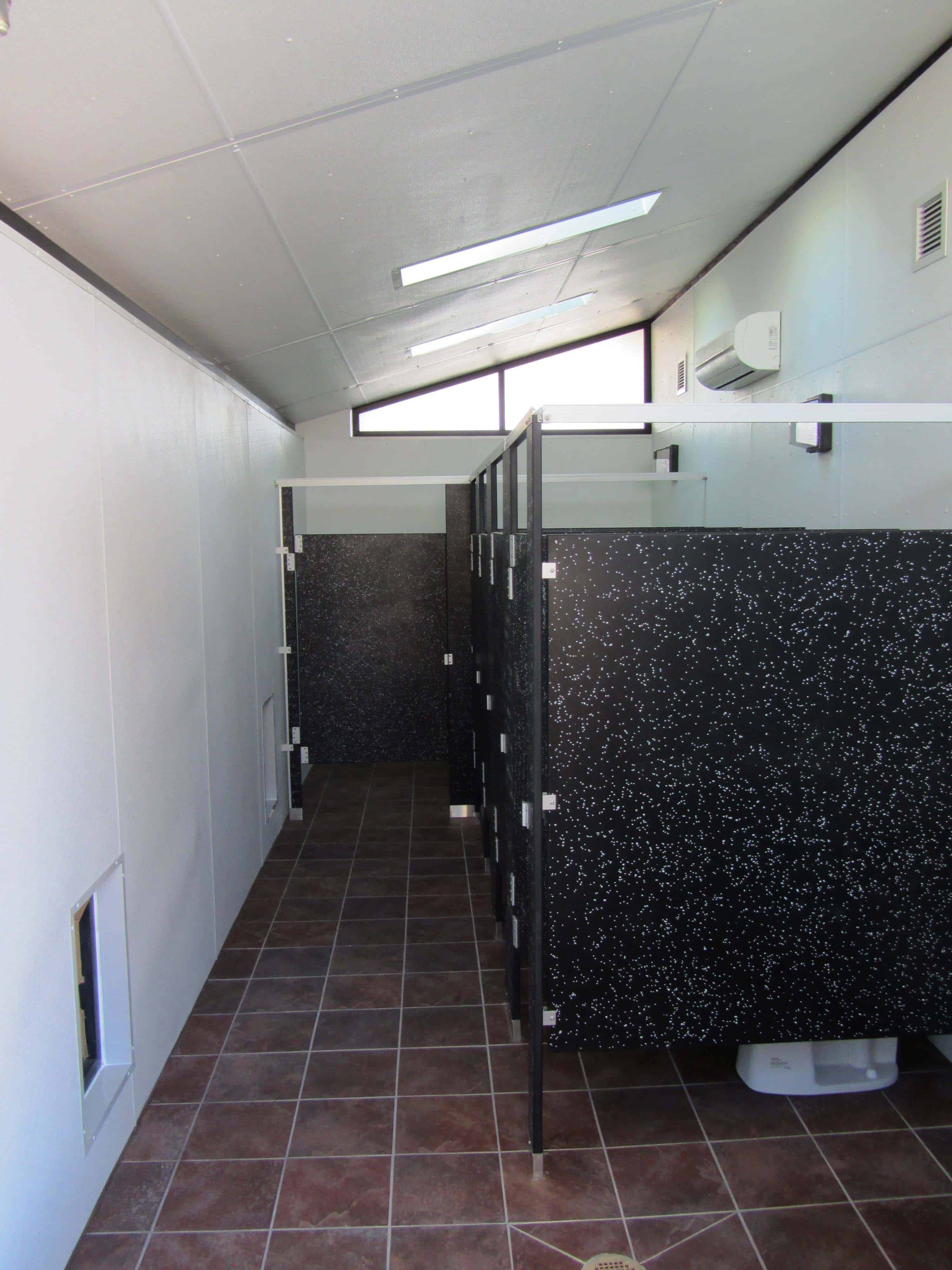 Phenolic Partitions
Phenolic Partitions are Romtec's standard for multi-user restrooms.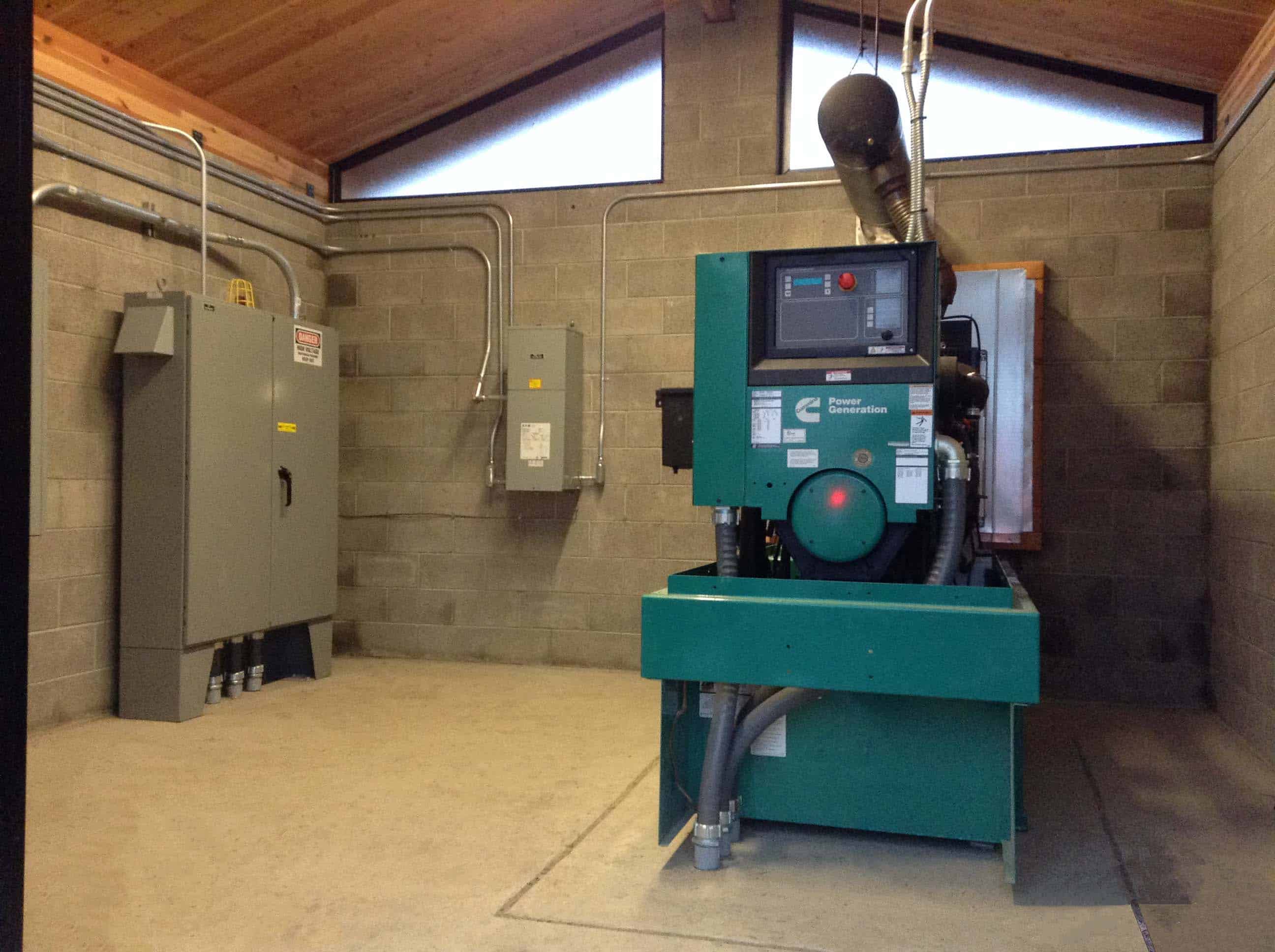 Control Space
Romtec can design a space specifically for housing specific mechanical and electrical equipment.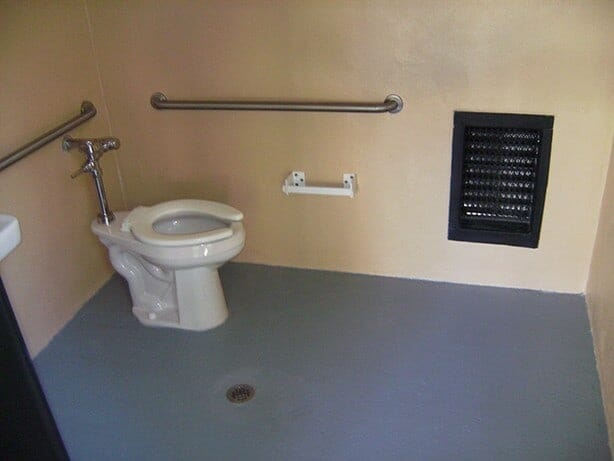 Restroom Interior
Romtec buildings are equipped with the best quality accessories and hardware.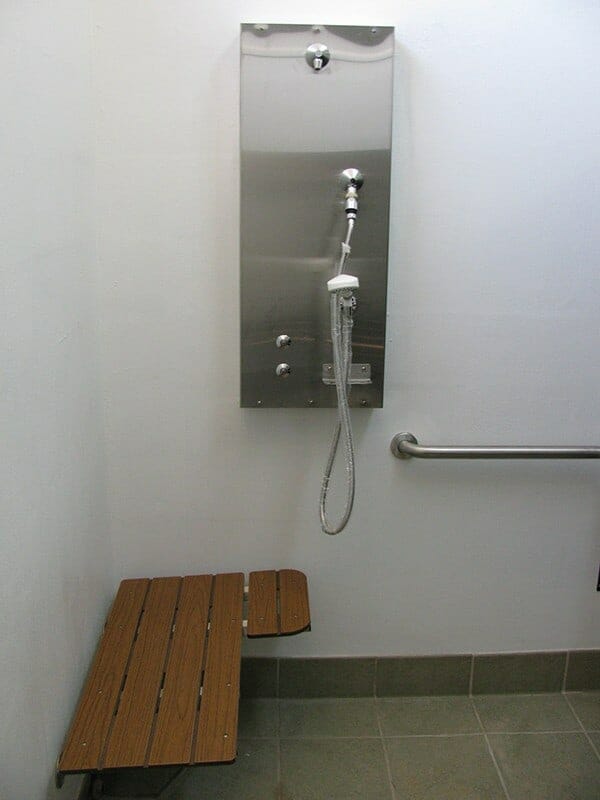 Shower Fixture
The shower rooms in Romtec restroom-shower buildings are designed for user comfort, convenience and safety as well as durability and ease of
maintenance.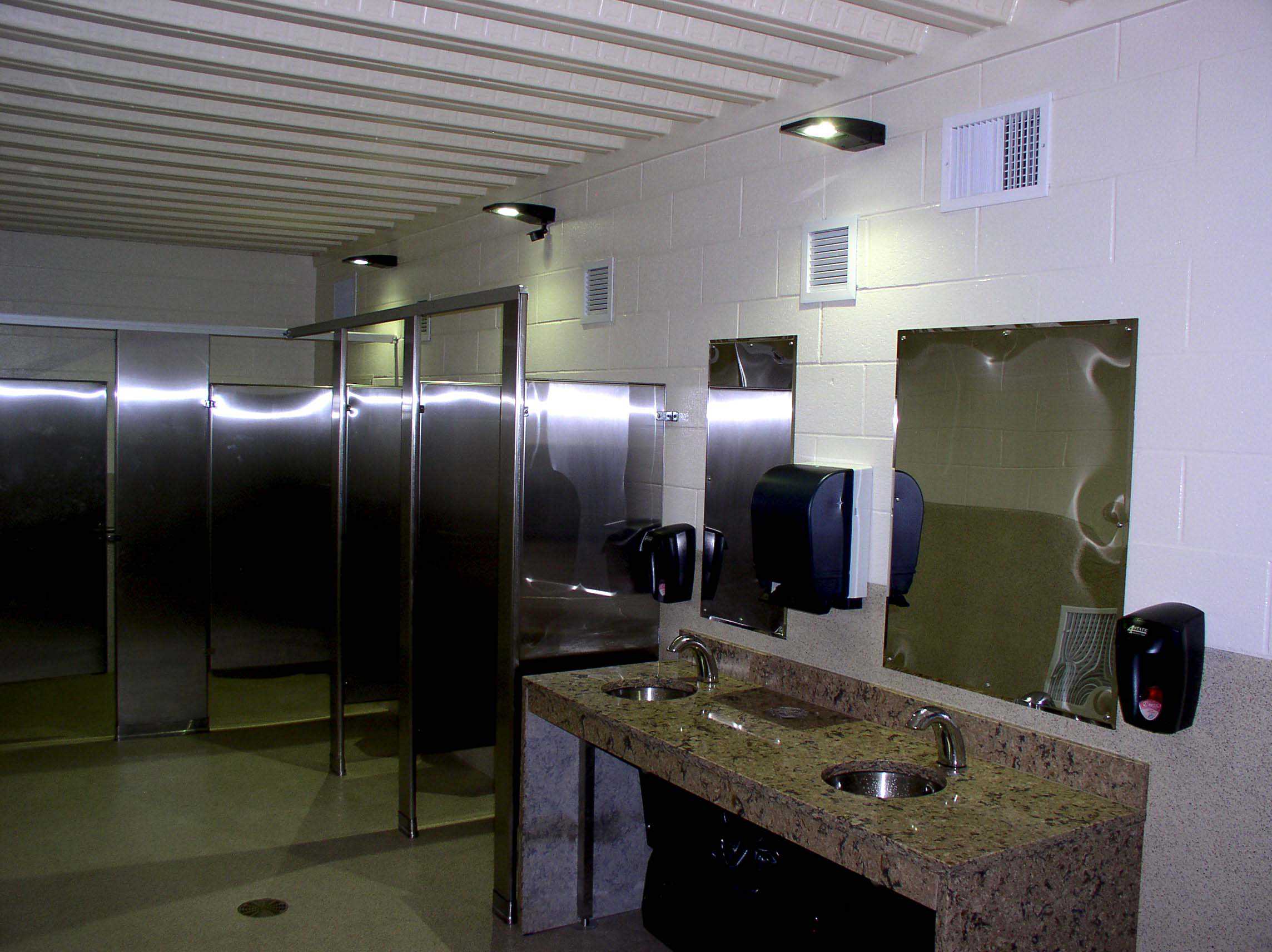 Steel Partitions
Steel partitions, as well as other steel components are a great option for vandal-resistance.

Wall Tile & Epoxy Flooring
Add a touch of sophistication to your restroom with tiled walls and epoxy flooring.
Request a Quote
Fill out our short and easy form and receive a quote on any building.