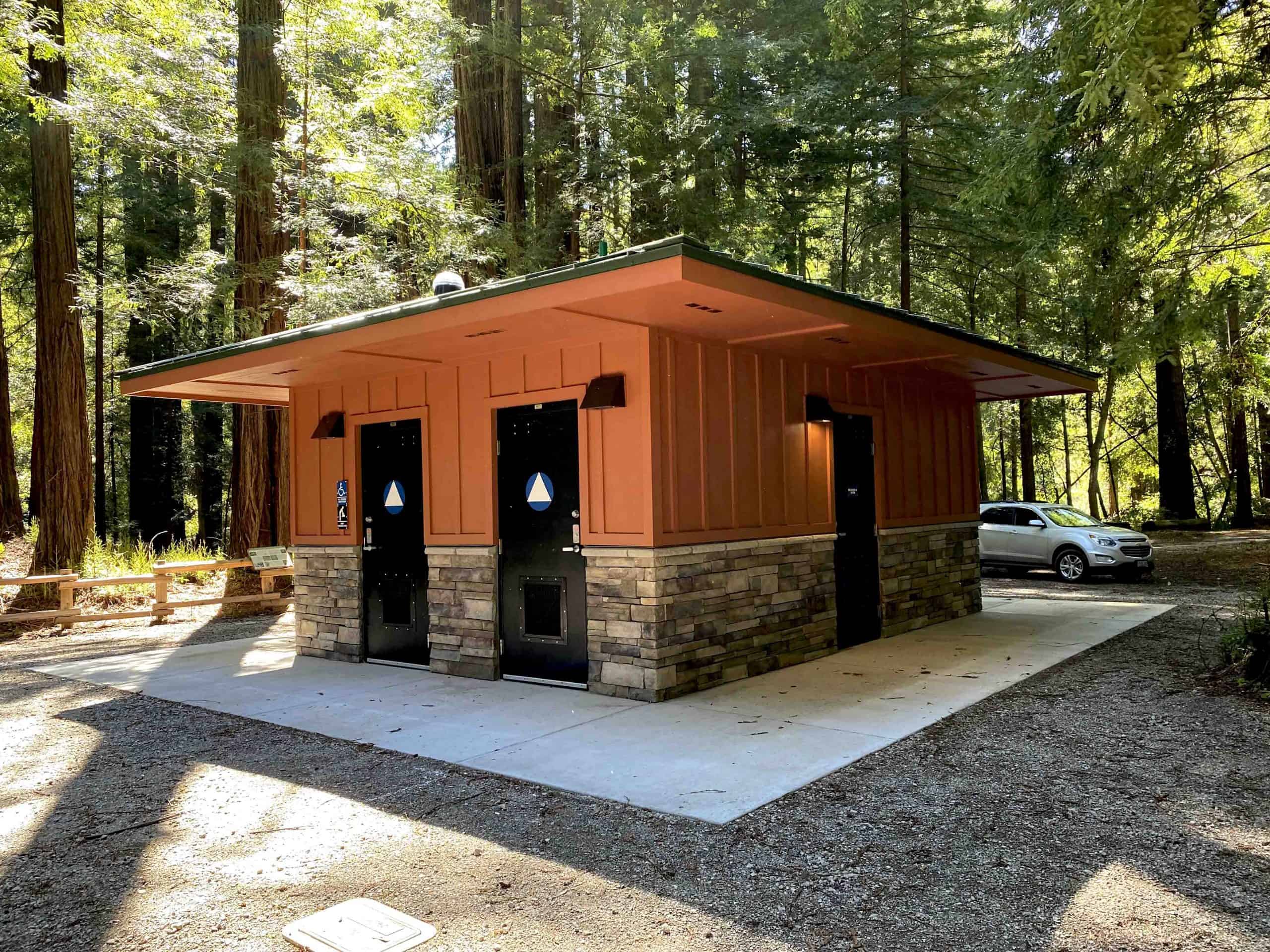 Memorial County Park in Loma Mar, California has been a retreat for many San Mateo County residents for the last 100 years. Dedicated on our national holiday, July 4th, in 1924, Memorial Park has 300 campsites that have served as an annual tradition for families and visitors. San Mateo County understands the value and impact Memorial Park has on the community and has placed a significant amount of effort into improved infrastructure and building replacement for the Park's 100th anniversary in 2024. ("Memorial Park Facility Improvement Project", 2021)
The heavily forested Memorial County Park is a large wilderness retreat with a variety of activities for guests of all ages, abilities, and interests.  Among massive redwoods, guests can picnic at Huckleberry Flat Picnic Area, or hike the Mt. Ellen Nature trail that extends up Mt. Ellen to the summit. The camp areas feature youth camps, an Amphitheater, camp stores, and more. Pescadero Creek winds throughout the park for guests to sit and enjoy the quiet stream or walk the trail along it.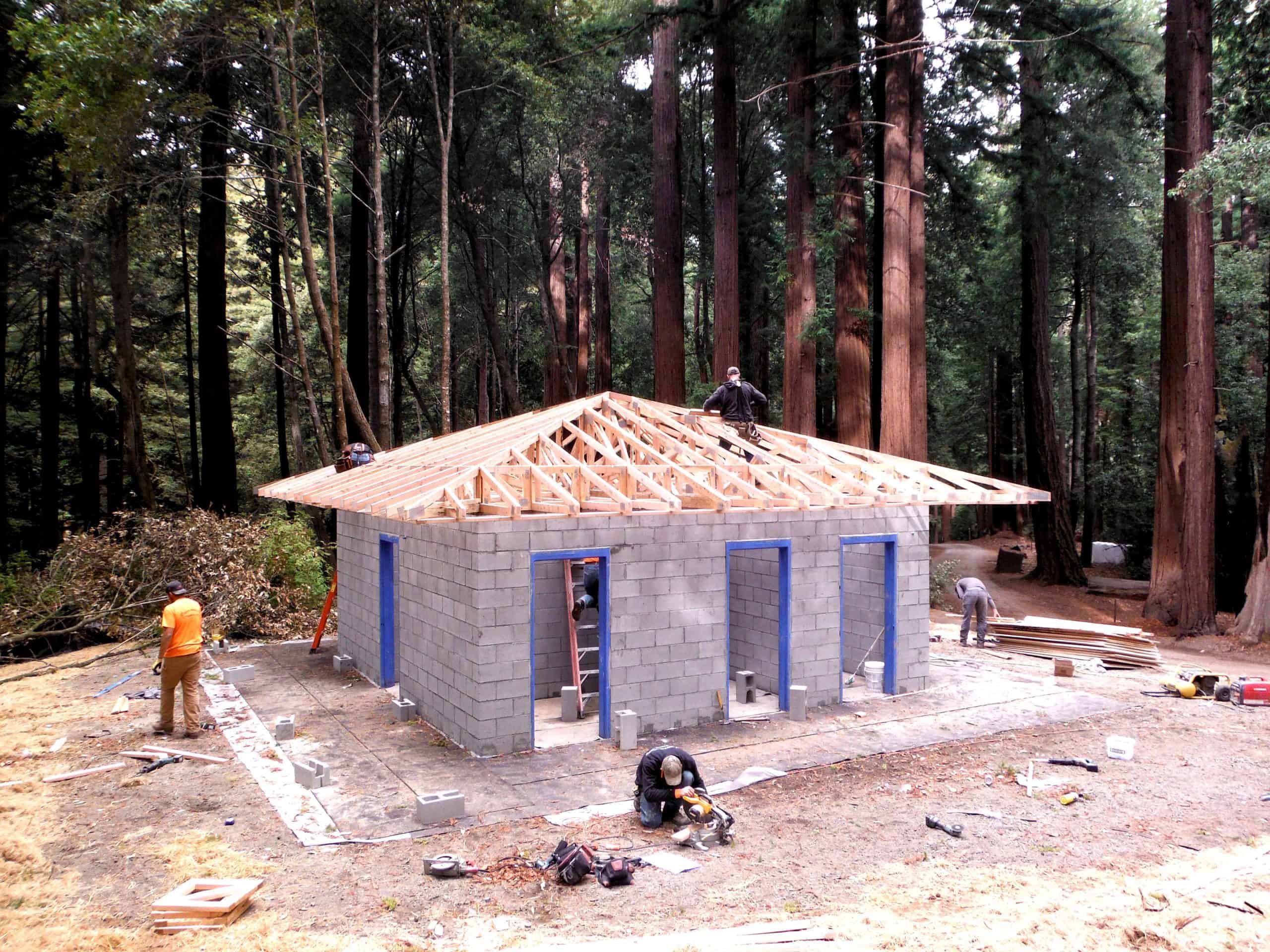 The lush environment at the park is a valuable resource for the County, both in means of tourism and conservation. For the 100th anniversary renovation project, San Mateo County Parks worked with Capital Project Management, and came to Romtec for the design, supply, and installation offered via our "turnkey" design-build approach.
For Romtec, the Memorial Park Facilities improvement Project included the site civil design, electrical design, demolition of existing structures, site preparation, and the supply and construction of seven custom restroom and shower buildings at the Park. The structures are spread throughout the campsites, with 4 structures at Sequoia Flat, and one structure each at Tan Oak Flat, Wurr Flat, and Redwood Flat.
Each of these structures has a mechanical room that runs between each side of the facilities, and is large enough to accommodate storage space and a mop sink for easy cleanup of messes. All the structures are composed of a smooth face gray block with a stone veneer wainscoting and a board & batten siding for an aesthetically pleasing and welcoming look to the structures, as well as a unified design throughout the campground.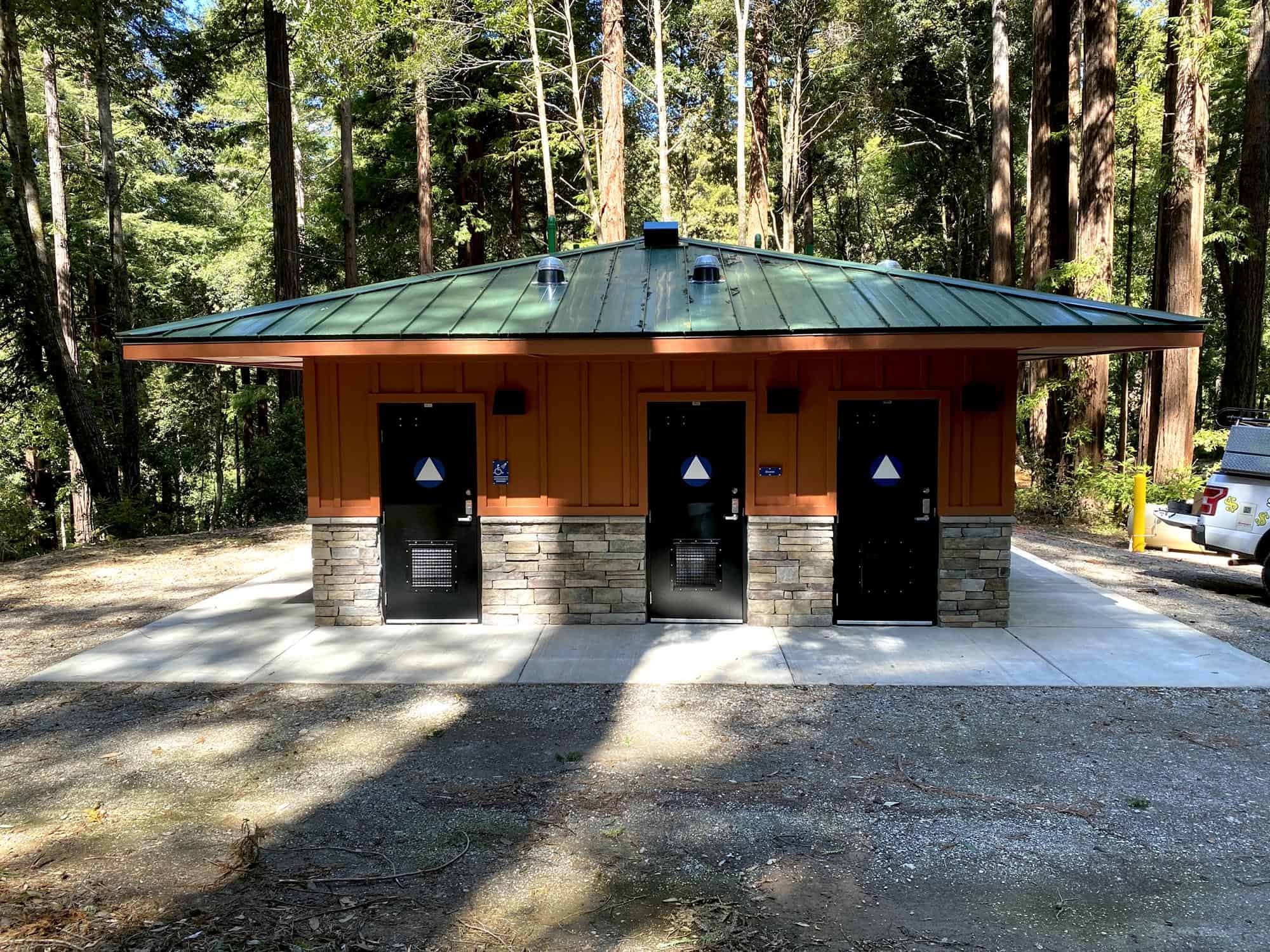 Memorial Park is a special place for families but during the improvements, and throughout the pandemic, it was kept closed for the renovations and new construction. Romtec worked hard and fast to complete the installation of all seven buildings prior to the Spring of 2021, when the park was opened back up to visitors. What better way to return to your favorite camping spot after a year indoors, than to find brand new restroom and shower buildings for a more comfortable stay.
The Memorial Park Facility Improvements project was a big project, but Romtec was able to deliver both the buildings and services that San Mateo County Parks needed for Memorial Park. The successful installation of the structures by Romtec's own construction crew ensures that guests and families can continue to connect with the great outdoors, vast redwood forests, Pescadero creek, and everything that calls the park home.
Memorial Park Facility Improvement Project. County of San Mateo Parks Department. (2021). Retrieved 10 June 2021, from https://parks.smcgov.org/memorial-park-facility-improvement-project.