Wildfires cause destruction on a yearly basis across the nation and government officials are imposing new building codes in the areas most affected by fires. These updated building codes are requiring new structures to be fire-treated or fire-resistant to mitigate the spread of a wildfire. Romtec buildings are built for reliability and designed to meet all local building requirements. With over 50 years of experience, Romtec is adept at providing fire-treated and/or fire resistant structures to commercial and public customers.
For example, California is regularly subjected to intense fires that have wiped out many structures and homes in the past decade. As a result, the State of California has imposed minimum standards for building materials, requiring that they provide a "reasonable level of exterior wildfire exposure". According to the Office of the State Fire Marshal for California, "[t]he use of ignition resistant materials and design to resist the intrusion of flame […] will prove to be the most prudent effort California has made to try and mitigate the losses…" from frequent wildfire damage.
When designing a building for a specific area, it is important to understand the area's fire rating and the precautions that may need to be taken to protect the structure. Numerous factors are analyzed in determining which areas are at higher risk of wildfire, such as temperature, slope, vegetation, and burn history. An increase in these factors promotes the ability of wildfires to spread, and previous burn history indicates that a location is more susceptible to burns than areas without a history of fire.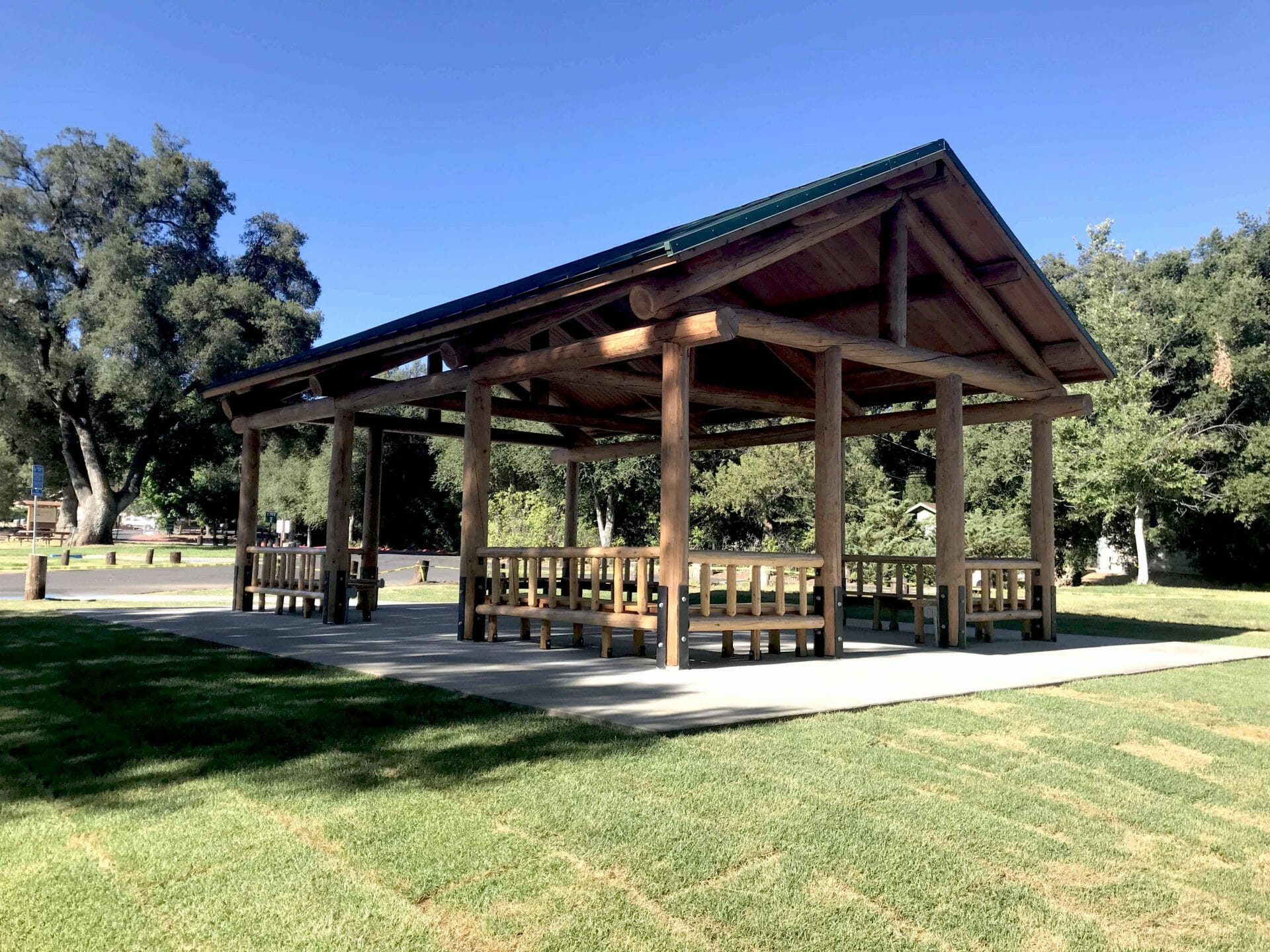 Romtec has designed buildings for urban and nonurban areas, both of which are subject to fires and may require fire-resistant materials. Nonurban areas will often have more vegetation that could catch fire, and urban areas have closer buildings and structures along which fire could spread. Ensuring that a building utilizes fire-resistant materials can be essential to the life of the structure, regardless of the type of location.
In projects located in California, Romtec has been able to meet the requirements to provide fire resistant materials in our structures. For example, in the Pine Valley project in California, Romtec supplied a log pavilion that needed added protection against fire. To achieve this, the logs in the pavilion were treated with an FRX fire-retardant solution. The treatment comes with a range of different fire resistance levels and works with a variety of wood types. With the FRX treatment applied, the structure of the pavilion will be more resistant to flame damage if a fire occurs in the area. The Pine Valley project was unique with its log construction, but proves that even logs can become fire resistant with treatment.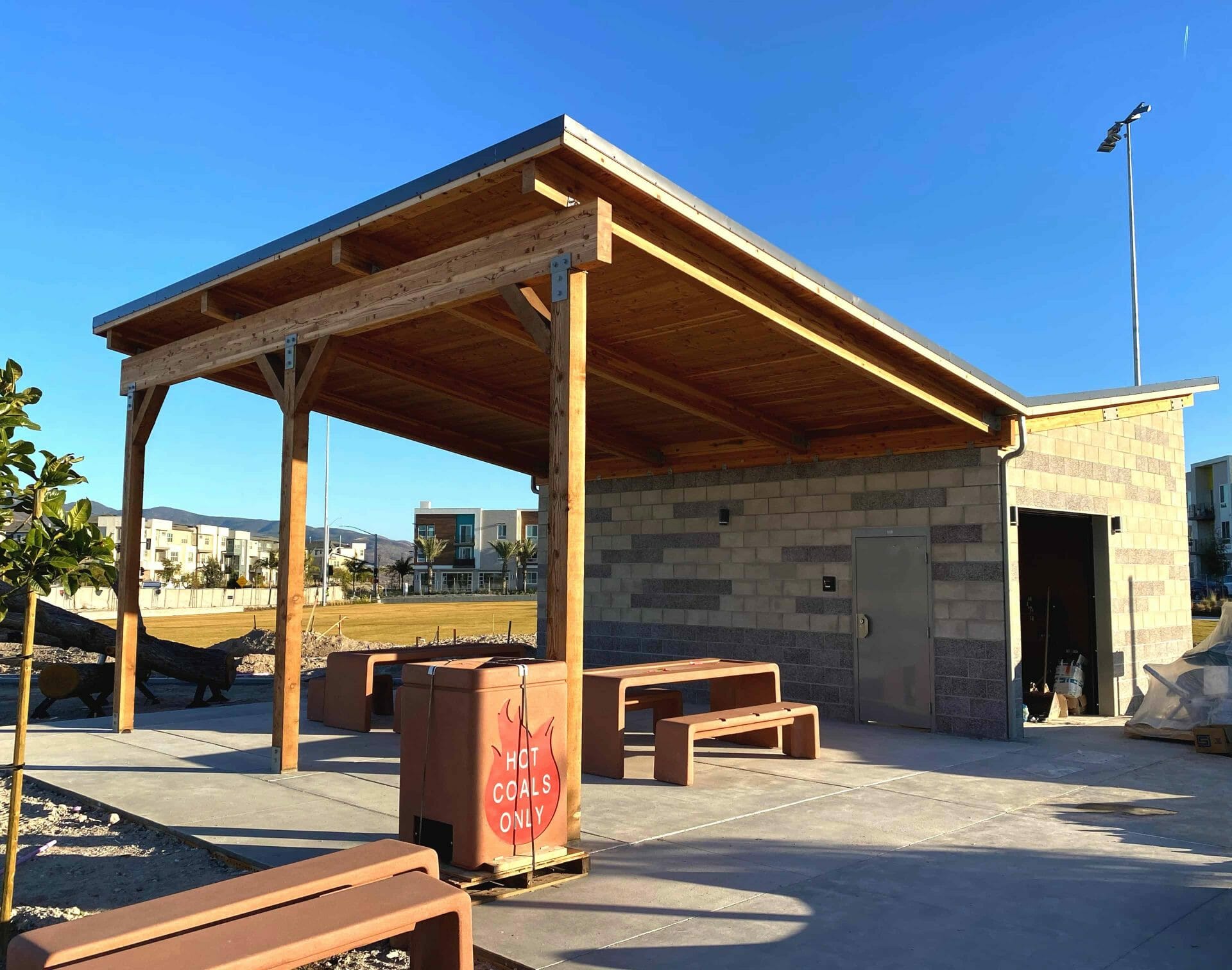 Romtec can also supply fire-resistant roofing materials, such as the metal roofing that is supplied on many of our buildings. Metal roofing will be able to withstand heat or flames much longer than traditional composition (shingle) roofing. In severe conditions, metal roofing will be able to provide protection to the structure better than other materials. In addition to metal roofing, Romtec supplies metal doors and door frames which will also be resistant to fire, and can prevent the fire from entering the building and causing more damage.
Fire regulations, such as California's, are one step towards preventing the uncontrolled spread of wildfires, but California is not alone with the struggle against fire. Many of the western states, such as Oregon, Washington, Idaho, Nevada, Colorado, and more, have experienced the serious effects of wildfires. In the western United States, it's important to take fire ratings and precautions into consideration.
Romtec structures that are designed with fire-resistant materials will experience less destruction from wildfires while also preventing the spread. With our experience in diverse environments nationwide, Romtec can supply visually pleasing structures that will meet the needs of our customer and their environmental concerns.