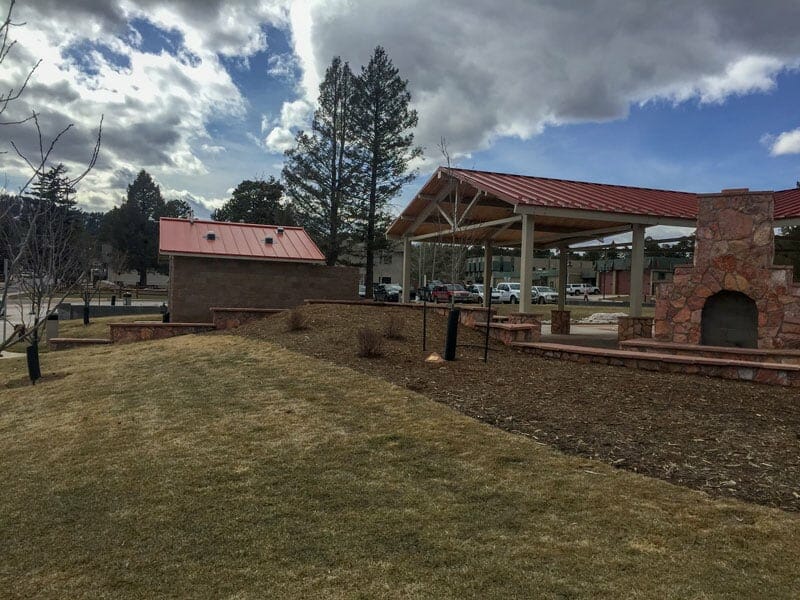 As a supplier of public infrastructure, Romtec stays up to date with building trends to ensure we can meet our customer's needs and desires for their new park structures. A rising trend in public infrastructure has been to take otherwise abandoned railroad tracks and turn them into new parks and trails to encourage the public to get outdoors and add a bit of peace in what can otherwise be a bustling city area.
Some examples of this can be seen in New York's High Line, a "public park built on a historic freight rail line elevated above the streets on Manhattan's West Side" ("Visitor Info", 2021). The High Line provides a lush green escape in an otherwise steel and concrete environment in New York City, and as an elevated park provides excellent views for guests to sit and take in.
Renovating rails, like the New York City Highline, prevents these areas from being abandoned and gives them a new purpose in their community. In the early 19th century, trains and railroad travel were at the heart of the United States and stretched from city to city and coastline to coastline to transport both passengers and materials. In the modern world, however, rail travel and freight have largely moved to other methods of transportation such as automobile or air travel.
As a result, many railroads lay unused, both in urban and rural environments. According to Railway Technology, "[t]he National Trails System Act in the US, adopted in 1983, has helped preserve and restore thousands of miles of rail corridors that would have otherwise been abandoned" and can be turned into parks, gardens, trails, and more ("From rails to trails: turning rail corridors into public spaces", 2016). Railway trestles also lay abandoned, still spanning over lakes and rivers, and offer the opportunity for cycling trails and scenic walking paths over the water.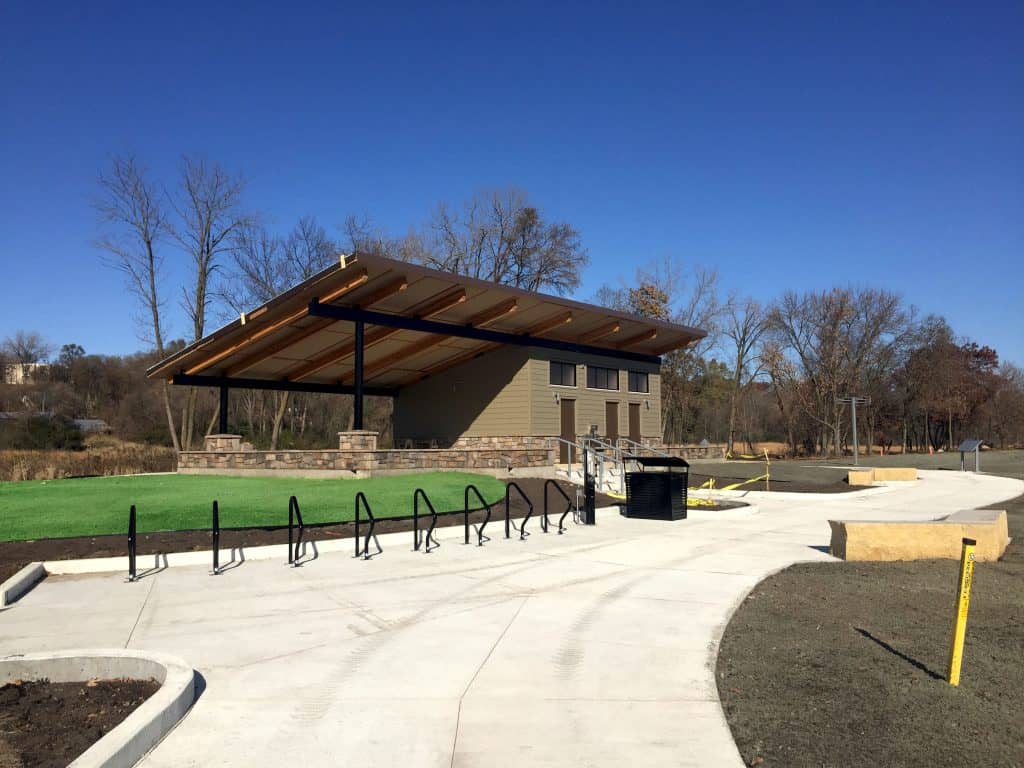 Romtec is no stranger to supplying unique restroom structures that can service the new parks built on former rail sites. For the City of Bloomington, Minnesota, Romtec designed and supplied a unique restroom and shade structure for the Old Cedar Avenue Bridge Trailhead. The building was part of a rehabilitation project to restore an old railroad bridge into an off road hiking and bike trail. In areas like the Old Cedar Avenue Bridge Trailhead, Romtec can supply simple or complex structures that can meet all the needs of our customers. All our structures can be customized to match the aesthetic of the area, with a variety of options for building materials, siding, finishes and more.
In urban areas that may not be able to accommodate a full-sized restroom structure, Romtec can supply a sidewalk restroom that is designed specifically for urban high-traffic areas and come mostly prefabricated and ready to install. Available in a single or double configuration, Romtec's sidewalk restroom is housed in a steel shell that will withstand heavy use and attempted vandalism, and features vents around the top of the structure for natural ventilation.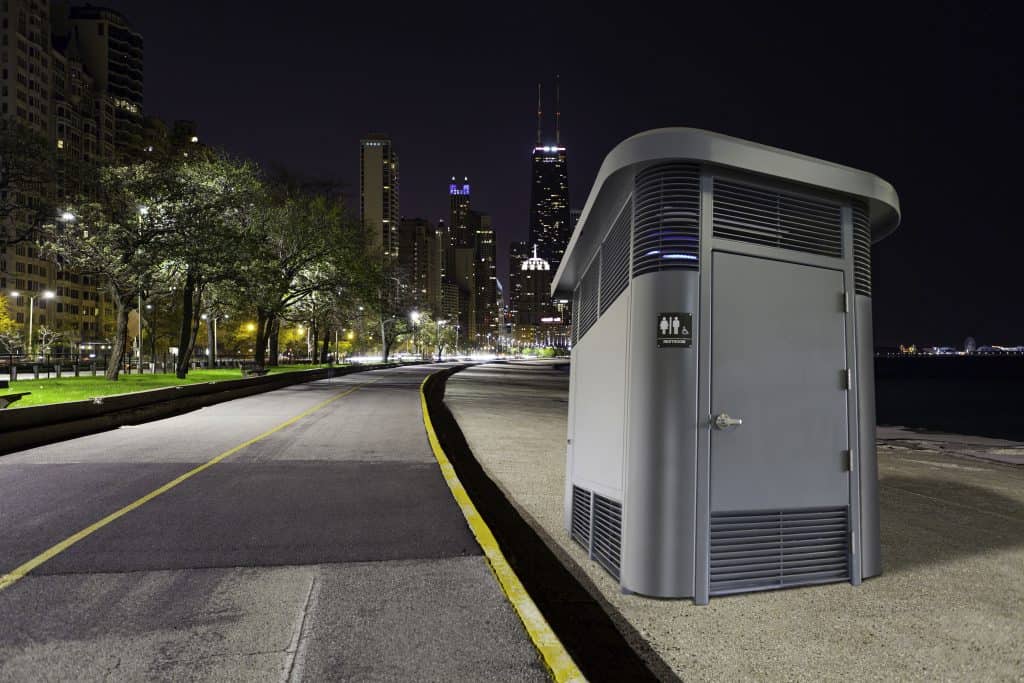 The trend of turning railways into parks can be seen in New York, and has also gained traction with Atlanta's BeltLine, a former rail line circling the city that now hosts cyclists and yoga sessions; Detroit's Dequindre Cut, a below-grade path once used by the Grand Trunk Western Railroad that features graffiti and urban art; and the Walnut Street Bridge in Chattanooga, a dog friendly walkway that hosts annual wine tastings ("Cities turn abandoned rail lines into popular parks", 2017).
Turning no longer functional rail lines into parks is a way for our society to adapt to the new needs of our modern world and allow these areas to still have use and impact in our communities. Over the years, Romtec has adapted to meet growing trends and expanded our company to be able to meet our customer's needs, and our experience and expertise will allow us to provide the perfect structure for the rail lines that are finding new lives as parks, gardens, and urban retreats for everyone to enjoy.
Cities turn abandoned rail lines into popular parks. USA Today. (2017). Retrieved 9 August 2021, from https://www.usatoday.com/picture-gallery/travel/destinations/10greatplaces/2017/04/20/cities-turn-abandoned-rail-lines-into-popular-parks/100690752/.
From rails to trails: turning rail corridors into public spaces. Railway Technology. (2016). Retrieved 9 August 2021, from https://www.railway-technology.com/features/featurefrom-rails-to-trails-turning-rail-corridors-into-public-spaces-5657565/.
Visitor Info. The High Line. (2021). Retrieved 10 August 2021, from https://www.thehighline.org/visit/.