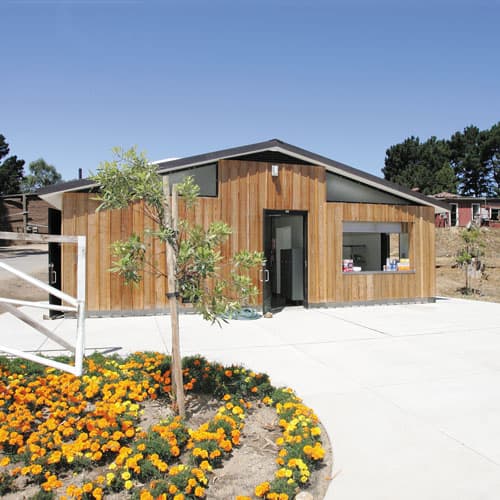 Americans love sports. Friendly competition is woven into the fabric of our national culture, and few things complement a sporting event like food and drinks. Anyone who's gone to a sporting event knows what happens at half-time or during the 7th inning. The lines form at the concession stand and at the restrooms. No one wants to miss the action.
Owners of sports complexes and city parks will know the value of a good concession stand and restroom facility, and Romtec designs both! There a many ways to configure these multipurpose facilities, and our engineers take in to account everything from the sport being played to the menu to the park capacity and locality. And isn't that a lot of fuss for soft pretzels and hotdogs? Certainly not.
Let's say you've got a baseball park; the season runs April to July, maybe longer if there are playoffs. You're looking at a lot of sunshine in most places, but what if there are some soccer fields too?
Now, you're looking at fans there in October and November. Now's the time to consider covering the concession window with a roof extension or even adding a pavilion-covered dining patio. Parks in Seattle might include this all the time, but in Tucson, maybe just for the winter sports fields.
The menu is also something to think about when designing a concession stand. Offering the whole spread of bleacher dining options requires some foresight in the design phase, while handing out candy bars and sports drinks will require much less. State and federal regulations will specify things like sink location and number, grease trap accessibility, fire hoods and additional ventilation, refrigeration needs, counter and fixture materials, smoke alarms, lighting, and many other aspects. The entire design process can be made simple just by knowing the menu items for sale at your concession stand.
The size and locale of the sports park in question can also have ramifications while designing a pre-engineered building. In Texas, a high school football field will be a popular spot that requires more than one concession window. Yet in other venues, security might be a bigger priority then services. In those areas, it will be proactive to supply security bars or screens for the concession window and upgrade the door hardware for increased protection. Thinking about these aspects of the location will ensure a long lasting and enjoyable concession building for managers and patrons alike.
Romtec has over 20 years of experience in designing and building concession stands. We love sports and want to be sure that your sports complex or park has a fully functional, secure, and attractive concession building for fans to enjoy for a long time. Contact our sales staff with any questions you have or simply to talk about your project, or you can visit our building solutions page to see some real projects Romtec has completed at sports complexes around the country.